Making an Heirloom
Posted June 11, 2014 by Texas Two Steppin' - 3 comments
"It's four months after your birthday; you gotta pick something," said The Texan. UhOhhh. Now, I wasn't exactly in trouble for not giving him any hint what I would like to celebrate this year's milestone. I had told him over and over that I didn't want anything. After all, I had just made a major fashion purchase. But he wasn't hearing it, so I finally settled on an heirloom piece of furniture.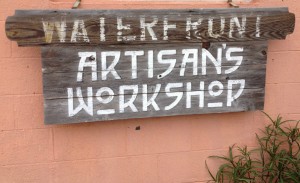 I had seen this sign several years ago and fallen in love with the work coming out of this little shop in the historic district of Rockport, Texas. The owner, Ron Blue, was so personable and welcoming. He was never too busy to share the story about the piece of wood he was sanding or photos of his past projects using reclaimed wood, tin, old surfboards and teak. Everything was unique and special, and I really, really wanted a custom piece.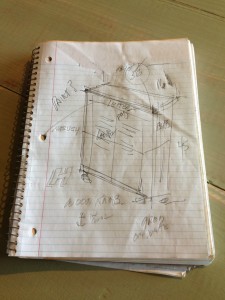 It all started with this quick sketch. I wanted a cabinet made with some old louvered doors that I had seen in the back of his shop. The Texan told me I had full creative control, the only thing he asked is that it be made with real wood and that it incorporate some bead board he liked (who knew we both liked that coastal style?). So he left the shop and Ron and I started planning the size of the piece, number of shelves, and the custom paint treatment. As I've mentioned several times before, I am slightly obsessed with anchors, so we decided to add those to the knobs. And I wanted our last name featured somehow.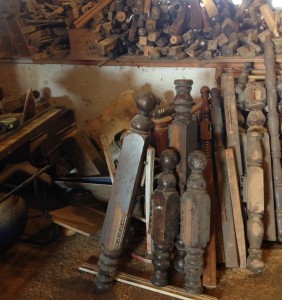 I also got to decide how the feet of the cabinet would look, and sifted through the wide range of antique table, chair, and bed scraps until I found something that would work. I changed my mind a few times about the color of the piece, but by the time I left the workshop I knew the cabinet would be absolutely fabulous. Now all I could do was wait for Ron to call and tell me that the heirloom piece was ready.
I got the call this past Friday, so The Texan and I stopped by the shop bright and early on Saturday. There was my incredible birthday present.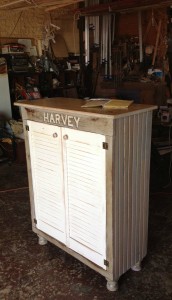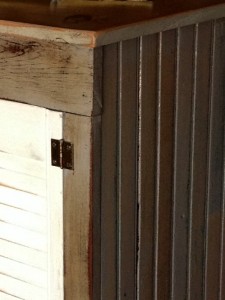 This closeup of the cabinet shows you the level of craftsmanship and artistry Ron and his assistant, James, produced. The bead board was taken from an old home in Flour Bluff, Texas, and they had sanded it back so the original paint showed through. The grey paint was a subtle, better-than-neutral color, and the dark brown stain they used really highlighted the beautiful wood grain. Having the family name painted freehand on it was truly a great decision, and I knew the kids would cherish it as much as I do one day.
But wait, I have two kids and only one incredibly beautiful cabinet! I bet you know what The Texan will be getting me for my next birthday…
Categories: Life As It Happens
Tags: , artist, furniture, heirloom, recycle, Texas, wood