I Gave Up Shopping for 40 Days and This is What I Learned
Posted April 4, 2018 by Prairie Wife - 9 comments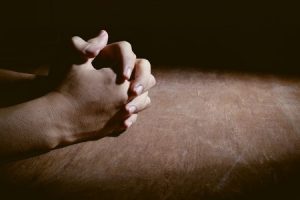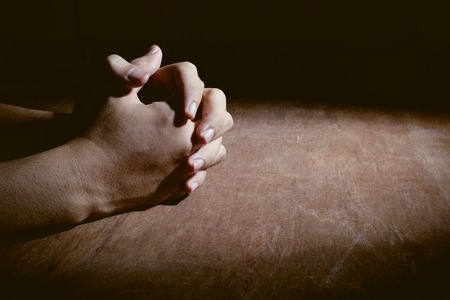 This Sunday, the time in the Catholic church known as Lent ended. Lent lasts 40 days and is a time of contemplation for Catholics. Besides fasting and abstaining from meat on Fridays, Catholics often give up something for the next 40 days. This is not supposed to be a punishment, but rather a way to deepen our understanding of the sacrifice of Jesus, and an opportunity to remove a habit or vice that hurts our relationship with God.
Many of you may have noticed friends that gave up sweets or coffee or Facebook for this time…and my regular readers may recall that I gave up online shopping for Lent a few years ago. This year I decided to take it another step further and give up shopping entirely….yeah…ouch.
I obviously had to still buy groceries every two weeks, and we have three Cowkids with birthdays in Lent so I still bought them gifts. The main focus of this was to not buy anything for myself.
No clothes, no makeup, no subscription boxes, no lotion and bath products, no extra treat yourself goodies, no online shopping, no new fit bit bands, no makeup, no shoes…NOTHING.
To make it extra hard I didn't stock up on anything beforehand.
So, how did it go?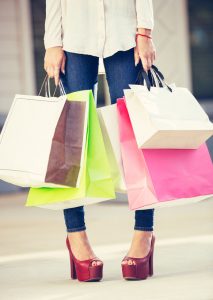 I'm not a shopping addict and my shopping has in no way forced us into any kind of debt, but I admit that I totally use shopping as my feel-good "drug" of choice.
My quarterly subscription boxes are something that I look forward to immensely. Anyone that has watched our unboxing videos knows how much I love trying our new styles and brands. The absence of unboxing videos on the blog has been noticed by several readers (don't worry there will be some this month)!
I use Amazon.com more than I should for little things here and there that I can do without, and I'm blessed to never think twice about throwing a fancy lotion or bath salt into my cart.
I knew that giving up shopping would make me grateful for the things I have, appreciate more the blessing of being able to get just about anything I want when I want it, and force me to look at the real reasons I make all these technically unnecessary purchases. Not to mention, I knew it would be a major exercise in self-control and honesty.
The Cowboy was (of course) TOTALLY behind this plan, but expressed some concerns about what would happen the first week after Lent.
The first week was fine. I was filled with the holy feeling of self-denial that comes with making a choice to do something as equally good for you as it is painful.
The second week I realized that I had run out of lotion. I was faced with the choice of using all my travel-sized lotions or finishing up all those half-empty jars of face cream. You know the ones I'm talking about, the ones that get relegated to the back of the drawer when you find the newest latest and greatest must-have product. It felt good to not let those jars go to waste, and I swear my elbows are looking and feeling more amazing than ever before.
Then in the middle of week three, I broke my pop socket. You know, the popup thing on the back of your phone that you don't really need but once you have one causes you to wonder "how did I ever live before?" No biggie right? Except it really bugged me that it was gone, it made taking pics for Instagram so much easier. And then I saw a cheap knock-off in the checkout line at Walmart and a little gruff voice in my head said I should buy it, no one would know…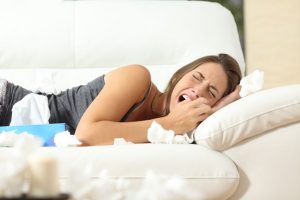 I resisted the temptation but the blows kept coming.
We had two formal events to attend and I couldn't buy anything new! My phone was dying a slow and painful death and I couldn't replace it. I was feeling stressed and I really felt like a fun floral dress would boost my morale. I traveled to Denver for three days without kids and my hotel was walking distance away from some of THE BEST SHOPPING EVER! We attended a charity auction event and I couldn't bid on anything. My favorite author released a new book, and I hadn't pre-ordered it. My friends had their first trunk show for their new business and a baseball hat that read "not today Satan" was screaming my name…the irony was not lost on me.
I admit that halfway through Lent I broke down and bought some deodorant. You can watch me share the whole tale with you on this Facebook LIVE. That evening as penance I did an entire Rosary.
As Lent drew to a close last week, it occurred to me that a sense of peace had come over me.
Yes, I was looking forward to purchasing a few new items, but overall I noticed that the stress-inducing feeling of "I want that but I can't have it" was gone.
My first thought when I saw an adorable outfit on Instagram was no longer "ohh I wonder how much that is?" When I was feeling stressed and overwhelmed I put down my tempting phone with its easily clickable Facebook shopping links,  and read a book instead. The clearance racks at Target no longer gazed at me accusingly as I walked by without a glance…
This week I made a few purchases online and locally, a new dress that had been on my mind for weeks, and some desperately needed new bras.
I even went to Target kid free…I was giddy with the power and the freedom…but walked out with only 2 things that weren't on my list. Yes, I know it's an Easter miracle!
Giving up shopping for 40 days helped me to adjust my overall attitude.
I found myself repeatedly being grateful for our family's financial stability, and The Cowboy's hard work that has put us in this position.
I learned to control the "I want that" impulse that I had grown so used to giving into.
I fell back in love with the process of shopping. The fun of slowly wandering around a store (or website) looking for an item, for thinking about it and mulling the purchase over, rather than a simple click and it's on the way.
And, when my mother sent me two super cute flowered tops for my birthday, I was so much more excited to receive them than I would have been before. They were my first new clothes in weeks and the amount of joy her gift brought was surprising to me!
I may soon slip back into my old habits of thoughtless purchasing and mindless consumerism…
But, maybe not…or at least, I hope not.
I'll leave you with the quote below and ask you to tell me in the comments, is there anything you could give up that may lead you to develop a new perspective?
"Self-denial in the pursuit of purpose generates true pleasure, while self-indulgence in the pursuit of pleasure generates true misery."
Orrin Woodward
Categories: Life As It Happens, Prairie Life
Tags: , attitude change, giving up shopping, Lent, sacrifice, save money, shopping, shopping addiction, support