I am #StrongEnough
Posted September 26, 2016 by Prairie Wife - 2 comments
I am a runner (I run therefore I am a runner), and today I hit the dirt road for the first time since my last surgery.
You know what?
It never gets easier…never…
I envy those of you that talk about how running gets easier for you, that the distances seem shorter each time. I'm jealous of runners that can effortlessly add miles on every week.
I have to fight for that first mile every single time I run.
I have to push through to meet whatever goal I have set…even if I know I did it last week or even last year, I have to push, push, push…
In my 6 years as a runner I have started over from scratch three times because of pregnancy.
Feeling the extra weight dragging (and jiggling) as I slowly run down the road, I force myself to keep moving.
This year I've started over twice because of my preventive mastectomy.
Running through pain, fear, and getting used to my new body and balance.
Over the years I've proven to myself that I am #StrongEnough.
Eventually, I've met every distance, time, and race goal I've set for myself.
Using bribery, friendship (TallGirlJ is the best running buddy a girl could ask for), and a chance to get a break from the Cowkids, I hit the road over and over.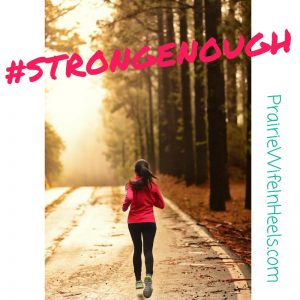 Today I met my distance goal but I was a over 40 seconds slower on my mile time than I was 6 weeks ago.
Tomorrow I'm going on a 5 mile hike with TallGirlJ and this Thursday we are traveling down to Denver for more doctors appointments (and to be guests on a radio show).
I've got plans to invest in a new pair of running shoes while there, in the hopes that they'll keep me motivated to keep pushing.
Next year I've got my sights set on a half marathon, I may not be #StrongEnough today…
But, I know I'll get there.
When have you known you were #StrongEnough?
Read our guest post from JellyBeanJournals.com Sometimes we Don't Choose to be Strong, Life Forces us to Be #StrongEnough and stop by next week to read when TheTallMom.com felt #StrongEnough!
Categories: Health and Wellness, This and That
Tags: , #strongenough, fitness, health, motherhood, motivation, motivation to run, runner, running, starting over, strength, support