The Honest Company Discovery Set #Giveaway
Posted August 23, 2017 by Prairie Wife - 51 comments
I can't lie…one of the major perks of blogging is getting free goodies to try.
I'm sure most of you have heard about The Honest Co. and have even used some of their products.
The Honest Co. was formed by Jessica Alba because "I wanted safe, effective products that perform. After all, you shouldn't have to choose between what works and what's good for you!"
I have to admit, while I've seen the products on the shelves, I've never tried them.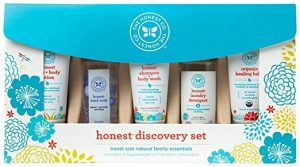 When the folks at Freesamples.us reached out to PrairieWifeInHeels.com and offered to send me The Honest Co. Discovery Set to try I was pretty excited.
When my package arrived I was immediately taken with the chic labeling. I opened up the shampoo and body wash first and smelled it…and I was hooked.
The sweet orange vanilla scent was the perfect combo of fresh without being too floral. I was a bit disappointed that the lotion didn't have the same scent, I had plans to sneak it into my personal traveling stash!
Over the course of a week I used all the products in the discovery set. The light lavender scent in the hand soap was lovely AND the soap didn't leave my hands feeling tight and dry.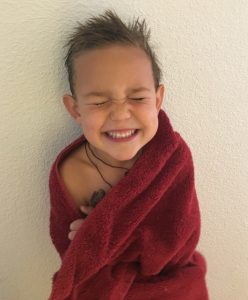 I used all the baby products on the two youngest Cowkids and I'm happy to say that not only did I love them but, they did too. I used the shampoo/body wash in the bathtub as a bubble bath rather than on a washcloth and it bubbled up perfectly. There were no tears or complaints of irritation as they splashed and played like usual. The lotion had no scent and was thick enough to make a noticeable difference in the moisture of their skin but, still soaked in nicely with no greasy residue!
The healing balm was perfect for Cowboy W's dry cracked hands and rashes he sometimes gets behind his knees. Unlike some other products we have tried, there was no stinging. I could tell that it was creating a barrier of protection on his skin and allowing it to heal.
I was the most interested in the detergent. Our family is tough on clothes! Animal chores, playing outside all day, and my biweekly runs result in piles of smelly stained clothes. I was pleasantly surprised at how well it worked, and how little I needed to wash a full load. I even tried it out on my smelly workout gear and my leggings and tops came out smelling fresh with no residue. It worked just as well as my regular powder detergent on the kids' muddy jeans and food stains. If you have a family member that's sensitive to laundry detergent this is for sure worth a try!
Speaking of trying these products…did you notice that this is a #Giveaway post?!
Yup that's right! Just tell me in the comments what product in The Honest co. Discovery Set you'd like to try and you'll be entered to win your own Discovery Set! You can earn more points towards the giveaway by following us on social media using the Rafflecopter form below!
Do you want even more free samples? You can follow this link to freesamples.us and receive your own free samples delivered right to your door!
Looking for more great giveaways? You can check out this link!
Categories: #GiveAways, Reviews
Tags: , baby products, Giveaway, honest discovery set, household products, product reviews, the honest co.