Holiday Fashion for Kids #giveaway
Posted December 11, 2017 by Prairie Wife - 46 comments
It's that time of year again! The Holidays are officially here!
If you're like us your weekends and evenings are full of Christmas programs, holiday parties, family pictures and gatherings.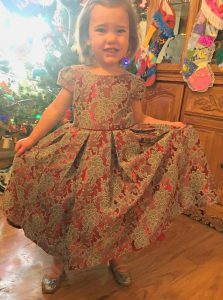 I LOVE this time of year (despite the sometimes stressful moments) and my kids enjoy nothing more than getting all dressed up and hitting the holiday party scene.
Ok…let me be honest…now that Cowboy J is an 11 year old boy he gets a bit frustrated. He prefers his sweats and athletic wear to jeans and a cowboy shirt but the other kids REALLY do love it.
Cowboy C recently bought a bolo tie and rocks it with his t-shirts and sweater vests lol!
My girls are all about sparkly fabrics and LittleMissG tests every dress with a spin. As you can see this dress from Noori Dresses passed the test 😉
Over the years I've learned a few tricks to make holiday fashion work for you and your kids.
Fit: It's better to have their clothes fit a bit loose. This allows them to move and play comfortably, and they won't be pulling and tugging at sleeves and waist bands when you're trying to take pictures.
Fabric: Picking items made of softer fabric (and washing the clothes before they wear them) reduces the whining factor by 50%. I always make sure the girl's dresses are lined so the tulle isn't irritating their legs.
Fun Colors: The joy of dressing kids is the fun colors and patterns, so go with the flow! Non traditional colors can still give a holiday vibe when the dress is done in a traditional style.
Future Use: I always make sure our holiday dresses don't SCREAM Christmas so I can get lots of use out of them. Not only do I think about color scheme, but sleeve length as well. Short sleeves make a dress work year long and we can put a cardigan over a sleeveless dress to make it work for the colder months.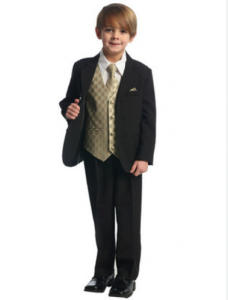 As a mom with three boys I'm always surprised when people complain about the lack of cute clothes. To me, nothing looks more dapper than a little boy in a vest! For extra wow add a blazer and matching pocket square. My Cowboys love to wear their vests with jeans and cowboy boots, and I love that they get so much use out of them.
I'm SO excited to announce that Noori Dresses has offered a huge giveaway just for our readers to help you get your kids looking their best for the Holidays.
One lucky reader can pick ANY OUTFIT from their site…yup you read that right. There is NO MONETARY LIMIT! All you need to do is head over to their site and tell me your favorite outfit in the comments.
All of our readers also have access to the coupon code PRAIRIE for 12% off any item on their site through Dec 31, 2017. They have outfits for all sizes from infants to adult and TONS of accessories and special occasion items.
You can earn more points towards the giveaway by following us on social media. 
You can find more great giveaways at BlogGiveawayDirectory.com
Categories: #GiveAways, Fashion, Prairie Wife Style, Product Reviews, Reviews
Tags: , dresses, Giveaway, holiday fashion, holidays, kid fashion, noori dresses, special occasion clothes