Help for Winter Skin and Hair
Posted January 25, 2016 by Prairie Wife - 1 comment
Winter has officially hit the prairie…cold days, blustery wet wind, and lots of snow has settled down to stay for at least a few more months. I've noticed that around this time of year not only does my attitude need rescuing but, my skin and hair are both suddenly seeming dry and dull. Since a trip to the beach and a skincare spa are decidedly not in my future, I've been trying out a few new products to try and bring the luster back to my look. I've got my top four favorites to share with you.
If you have any tried and true products you like to use to revive your skin and hair PLEASE help a girl out and let me know in the comments!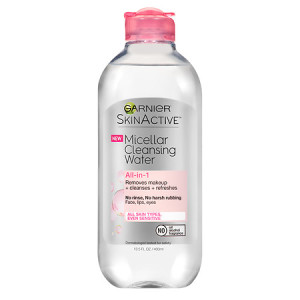 Garnier Skin Active Micellar Cleansing Water
So, my face has been a wreck for the last few months. Some of it is caused by my not so healthy eating (lets face it, I ate my own body weight in chocolate) and exercise habits (as in I didn't do anything) over the holidays. But, most of it is due to hormones. I'm weaning LittleMissH and it is making a mess of my face. I've been doing better sticking to my normal mostly healthy eating habits and I've been exercising at least three times a week as well as religiously drinking my detox water. Things are looking better but I didn't start to notice a big difference until I began to use cleansing water. I've been reading about it in all the magazines, and when I came across a bottle at Walgreens, I decided to try it. Think of it as a new type of toner…without the stinging, tight, dry feeling you may remember from your teenage years. I thought I was doing a good job washing my face until I used this for the first time. I was shocked that AFTER washing my face it still took two cotton pads gently moistened with cleansing water before my face was truly clean! I was left with refreshed and dewy skin that absorbed my night cream much better than it had previously. My skin even looks fresher in the morning, without me doing anything to it. Seriously ladies, it only adds 15 seconds more to your beauty routine to use this…and the difference is nothing short of a miracle.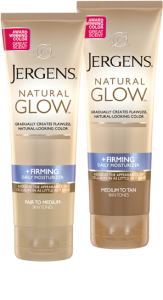 Jergens Natural Glow + Firming Lotion
I feel like I don't really need to explain why I love this stuff so much. Let's just say that all the other moms and dads at the Cowkids' swim lessons really appreciate this product because, it keeps them from being blinded by my white pasty Wyoming winter skin! It moisturizes, shimmers, adds a bit of natural looking color over time, firms and it can be bought for under $10 at your local drugstore! What more could you want in a lotion? I also like that it doesn't have an underlying chemical smell and it soaks in quickly so I don't have to wait 15 minutes before I can get dressed (ain't nobody got time for that).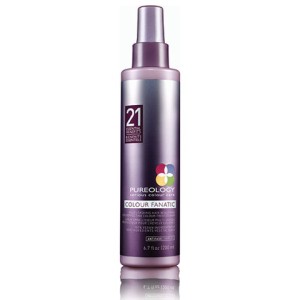 Pureology Colour Fanatic
This Spray is simply amazing. My hairstylist David gave it to me to try (you can purchase it at most local salons) and I can't tell you enough how much it has changed my life. OK, that sounds a bit crazy but, it did fix all my winter hair woes! I was struggling with greasy roots, dry ends, limp locks, and fragile hair that was still recovering from my last pregnancy and all the coloring I force on it. After using this for two weeks my hair was back to it's old self, if not better! Simply spray it on wet hair and comb it from your roots to your ends…that's it…you're done. Let your hair air dry for a frizz free light and airy look or, blow dry it and marvel at your smooth and sleek strands with just the right amount of volume. Pureology Colour Fanatic has 21 benefits including (but not limited to) working as a detangler, priming hair for styling, protecting hair and color from heat and the elements, and perfecting each strand. I only shampoo my hair twice a week and this product didn't add any buildup to my hair in between shampoos, my hair was fresh and flowing even when all I did was get it wet in the shower or use dry shampoo.
Natural Beauty Facial Serum from Vintage Body Care
I first talked about this product in November and I told you I'd let you know how I liked it after a few months of use. I'm here to say that I still love it! I normally have a dry spot on my forehead that stays from December until March. I am pleased to say that it hasn't shown up at all this winter! If you're looking for something to pump up your winter skin routine I can't recommend this enough.  Click this link to stop by their site and purchase some of their amazing Wyoming made, all natural products! P.S. I just have to brag that Eliza and Vintage Body Care have been invited to attend the Academy Awards Gifting Suite this year. They will be gifting all of their our awesome Vintage Body Care products to the celebrities as they walk off the red carpet! I can't wait to say "We knew them when…"
Categories: Prairie Wife Style, Reviews
Tags: , Garnier Micellar Cleansing Water, hair care, Jergens nartual glow lotion, pureology colour fanatic, skin care, vintage body care facial serum, Winter beauty, winter hair cair, winter skin care