Get Started on Your Summer Reading!
Posted June 9, 2017 by Prairie Wife - 3 comments
Summer is here and if you're like me the slower pace means there is more time to pick up a great book. From thrillers to light beach reads we have the perfect Summer reading book for everyone. I even found more two series that are FREE with KindleUnlimited that have kept me up late quite a bit the last few weeks. Not that I mind, I just love finding an author that makes me say over and over "Just one more chapter!"
The Lioness of Morocco by Julia Drosten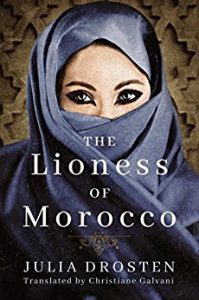 Sybilla Spencer lives in 19th century London and is the daughter of a rich merchant that sends ships all over the world. She longs for the adventure of living in a land far from home, and through a cleverly arranged marriage finds her escape. Her move to Morocco results in her full emersion into the rich and vibrant desert culture. The result is lucrative business deals and friendships with the wives of many local diplomats. Her husband's betrayal forces Sybilla to learn what she is truly made of, and it is up to her to ensure the survival of her family. Exotic trips across the desert, forbidden love, war, tangled politics, and unforeseen tragedy weave together to form a gripping tale that spans over decades and will captivate you to the very last page.
Curse the Day (Spellbound Paranormal Cozy Mystery #1) by Annabel Chase
Emma Hart doesn't believe in magic but, that doesn't mean that it isn't real. Through a series of unfortunate events, she finds herself trapped in Spellbound for an undetermined amount of time. Attending school to strengthen her witchy powers and acting as the town's new public defender (while trying to discover who murdered him) keeps her busy enough. Throw in a handsome fallen angel and a charming vampire and you can see why this book will keep you interested. Deep thought provoking literature this is not…but it's super light and enjoyable and definitely will make you smile! And if you love it, there are 7 books in the series #win.
The Einstein Prophecy by Robert Masello
This book takes place in the hallowed halls of Princeton in the final years of World War II. Lucas Athan is a professor that is called into service for his country not once but, twice. The first call results in a near fatal wound while trying to rescue priceless art from the Nazis. Much to his surprise, his second call to duty sees him again in the presence of the same mysterious sarcophagus that was present at his tragic accident. Brilliant archeologist Simone Rashid and her father enter the picture and bring with them mystery and murder…but,is it their fault? Assassination attempts, government secrets and paranormal activity turn this into a can't put it down thriller!
Shades of Pink by Gina Lamanna
If you're looking for a light hearted romance Shades of Pink is perfect for you! Lola Pink is reeling from her grandmother's unexpected death. Her dreams of a sunglass hut/psychic reading coffee shop are shattered. Cue handsome awkward billionaire Dane Clark with an offer too good to resist. As his new personal assistant Lola is thrown into the world of money and tech industry intrigue. Will she be able to finish her tasks in time? Can she resist Dane Clark and focus on her future plans? Are her friends helping her or hurting any chance she has of success? So many questions, and they are all answered in a fun and lighthearted way that leaves you with a warm sunny summer feeling! I'm really looking forward to reading the next book in this series when it is published.
My next book to read is Clinton Kelley's I Hate Everyone but You but, I'm always looking for more recommendations so let me know what I should read next in the comments!
You can find more great books to read by clicking this link 😉
Categories: Book Reviews, Reviews
Tags: , beach reads, Book Review, curse the day, Fantasy, Mystery, shades of pink, summer reads, The einstein prophecy, the lioness of moracco, thrillers