Formal Fashion For Kids #Giveaway
Posted March 9, 2018 by Prairie Wife - 27 comments
I know, I know…I can hear you all saying WHAT?
Formal fashion for kids…has Prairie Wife lost her mind?
Doesn't she know that it's still windy winter weather?
Trust me ladies, I do.
And while I have a few months left before I can wear strappy sandals, I still find myself dreaming of floaty (yes spellcheck that is a real word) pale pink dresses. It's hard to imagine, but Easter Dress time and peak Wedding Season is approaching fast (23 days away actually)!
Previously, you would never have heard me say Formal Fashion and Kids in the same sentence. But Noori Dresses changed all that when they sent me a Christmas Dress for LittleMissH. Not only was it adorable, but I can wash it in the washing machine! If I'm being honest I even accidently dried it in the dryer and it was totally fine…100% OK! Bonus: It was made of some super secret fabric that doesn't need to be ironed!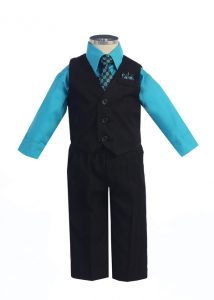 When the crew at Noori Dresses approached me about working with them again this Spring I jumped at the chance.  Cowboy W has his First Communion coming up and their little boy suits are ADORABLE! Stay tuned for some Instagram pics of him all dressed up.
Don't forget Noori Dresses has beautiful first communion dresses, pageant dresses, and even dresses that will work for middle school dances and Quinceneras.
I have to admit that I had WAY too much fun browsing through their site and picking a few pictures of my favorite items to share with you in this post.
Noori Dresses has offered to give away one clothing item from their store (with no monetary limit) to one lucky reader!
All you HAVE to do is head over to NooriDresses.com and find your favorite outfit. Let us know what it is in the comments, and tell us why you love it!
You can earn more points towards the giveaway by using the Rafflecopter form below and  following us on social media!
Categories: #GiveAways, Product Reviews, Reviews
Tags: , Easter dresses, first communion, flower girl dresses, formal clothes for kids, Giveaway, noori dresses, suits for boys