Crock Pot Tortilla Soup
Posted April 13, 2016 by Prairie Wife - 4 comments
I love my crock pot…really I do (just type crock pot into our sites search engine and you'll see a dozen recipes). It's an easy practical tool that allows me to make healthy homemade meals for my family and skip the dinner time rush and stress. Mornings are usually my most productive time, and I find it simple to throw ingredients into the crock pot and then come home to a perfectly cooked meal. A few weeks ago I created this zesty new soup and it was a hit with the whole family. To turn this into a vegetarian meal simply use vegetable broth instead of chicken and leave out the chicken breast.
Crock Pot Tortilla Soup
Prep Time: 8 minutes Serves: 6-8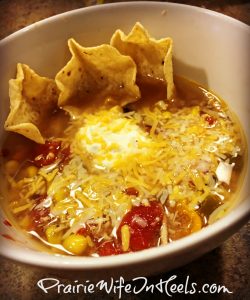 Ingredients
1 box (32oz) of chicken broth
2 cups of water
1 can Rotel (I use mild because of my kids)
1 can diced tomatos
2 cans corn drained
1 can black beans (drained and rinsed)
2 cloves garlic minced
1 cup sweet peppers diced
1/2 cup onions minced
3 thawed uncooked whole chicken breasts
salt and pepper to taste
1 cup shredded cheese and sour cream for toppings
tortillas or tortilla chips
Combine all the ingredients except the cheese and tortillas/tortilla chips in your crock pot.
Set the crock pot to cook for the desired amount of time (I usually set it for 6 hours).
30 minutes before you plan to serve the soup take out the chicken breast and shred it. I place it in my stand mixer with the regular attachment and it shreds it beautifully. Place shredded chicken back into the crock pot.
Serve the soup hot with some of the shredded cheese sprinkled on top. Dip the tortillas or tortilla chips in the soup for an extra hearty meal.
Categories: Recipes, This and That
Tags: , chicken, Crock Pot, dinner, Homemade, Main Meals, mexican food, recipe, recipes, soup, tortilla soup, vegetarian