Cow Christmas Ornaments
Posted November 30, 2018 by Guest Poster - 13 comments
Guest post by Past Prairie Wife of the Week Ginny Butcher
I am an artist.
But I wasn't always an artist.
First I was a kid, a kid who liked to "make things". When I was growing up, painting was just a small part of the many things I made. Christmas time, in particular, was a flurry of combining parts and pieces for all sorts of things. I loved the varied activity of "making things". The only time I really did much painting was when making Christmas cards.
Then I grew up, and eventually earned a degree in Fine Art and launched into a career as a "fine artist." I paint in oil on canvas in my studio or outside on location. I love painting and am glad I chose that path.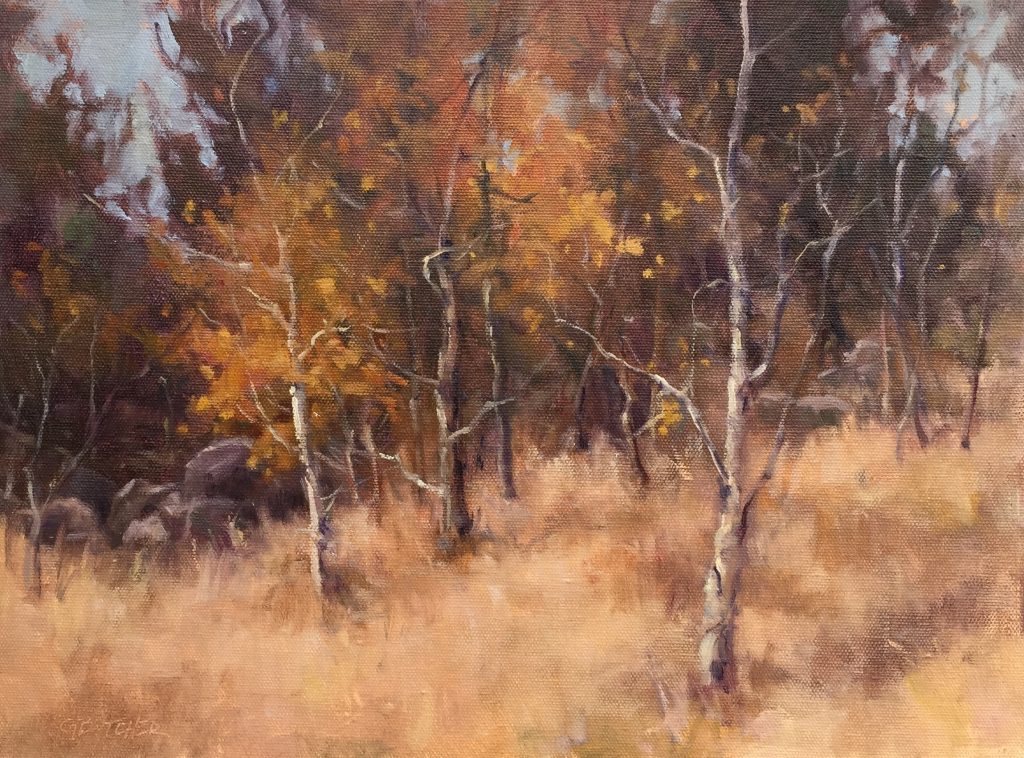 This year, my friend Cheryl asked me to be a part of a local Christmas Shop.
I liked the idea but didn't have any crafty ideas.
I thought about my paintings, and although I'm currently crazy about painting landscapes, I'm more known for my paintings of cows, especially those cute quirky faces. That's when I decided the only really appropriate thing I could make was painted cow face ornaments. If I'd had more time, like months, I would I might have crafted my own surfaces, but without much time I found some cute ones online.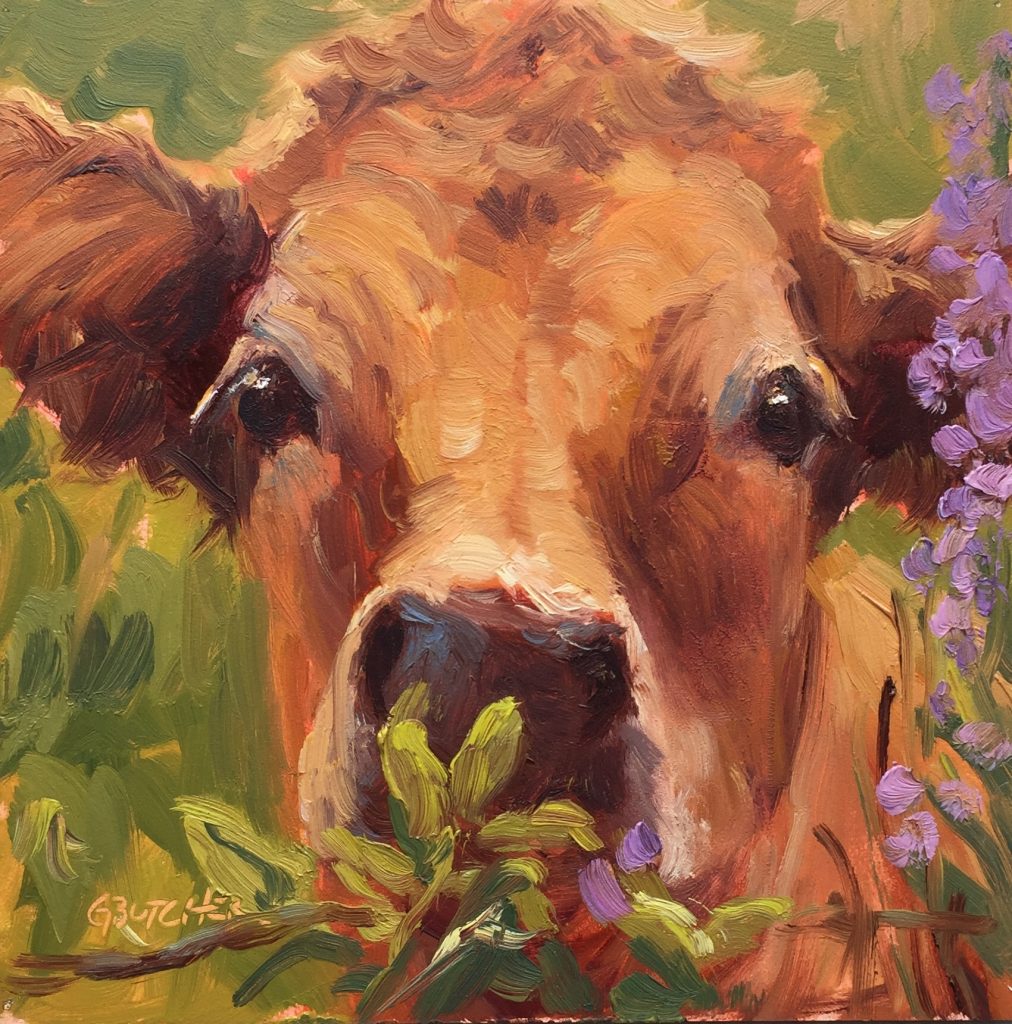 I chose two different styles of surfaces, both wood. Once I gathered all my pieces and parts in one place – surfaces primed, a tiny brush, red, blue, yellow and white oil paint, walnut medium, various hanging materials and boxes for packaging…the work commenced.
A kitchen table littered with parts and pieces gradually began to be clear as the days and weeks went by, and a nice little collection of Cow Christmas Ornaments appeared.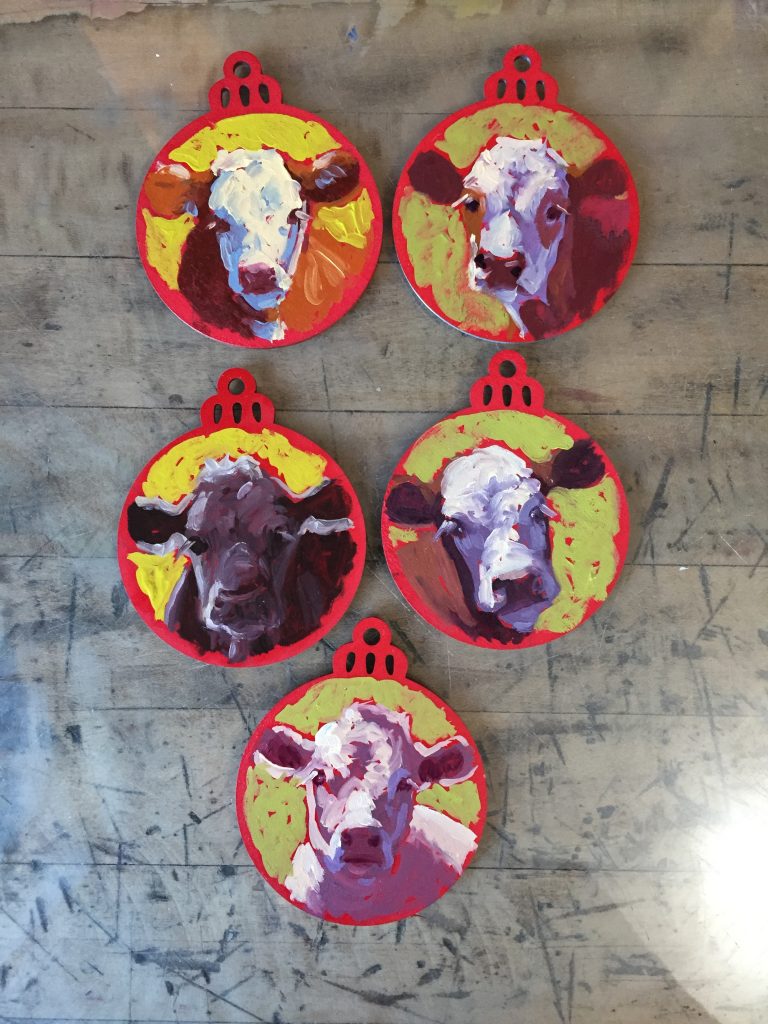 Each one a tiny original oil painting.
And the best part of it all?
It has awakened that inner younger me who loves making things.
Pure bliss!
From my place to yours, Merry Christmas!
You can learn more about Ginny Butcher, and purchase her art (including ornaments) by following this link.
As a special Merry Christmas, we are giving away one of Ginny's unique hand painted ornaments away to one lucky reader! All you HAVE to do is let us know in the comments what you love about these cow ornaments. You can earn extra points towards the giveaway by using the form below.
Categories: #GiveAways, Reviews
Tags: , Christmas, christmas gifts, cow ornaments, Ginny Butcher, Giveaway, hand painted ornaments, oil paintings