Closet Cravings: September/October 2022
Posted September 6, 2022 by Prairie Wife -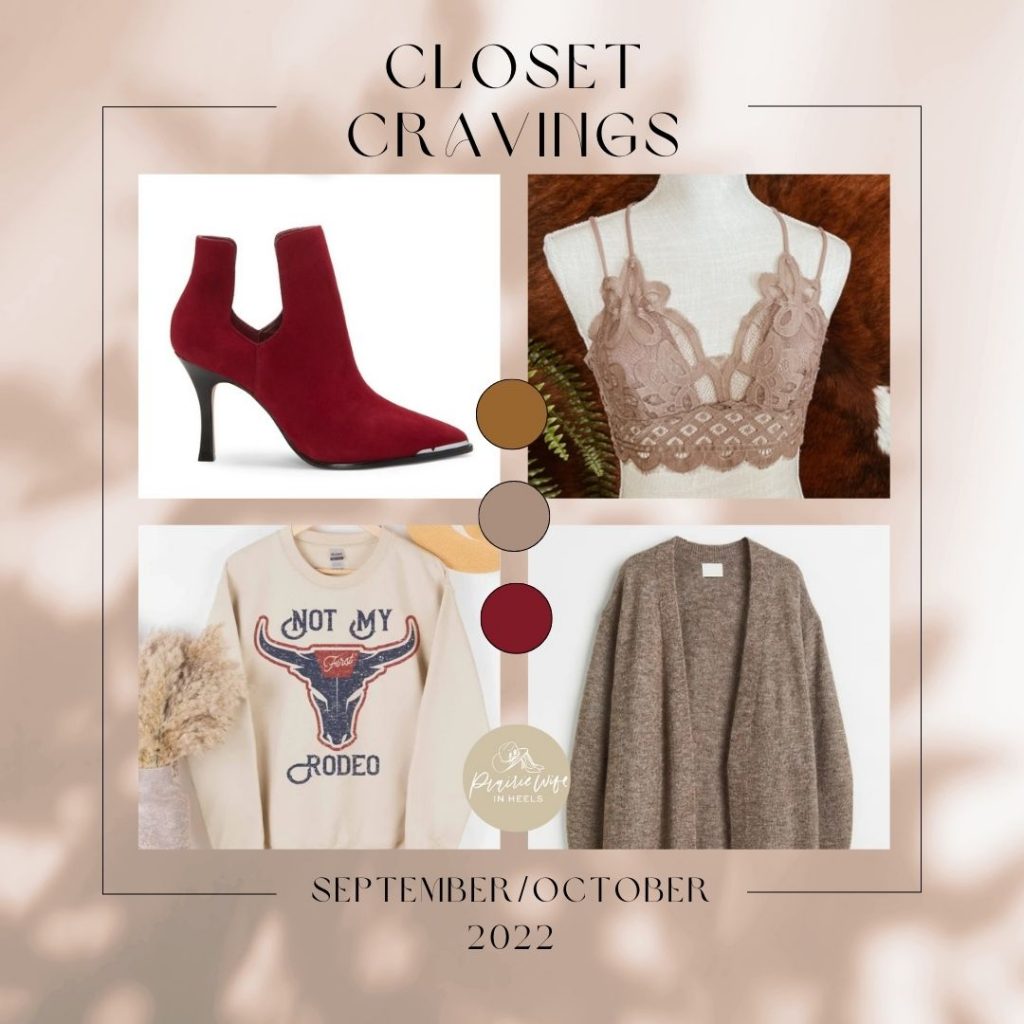 I feel comfortable saying that once it's September, Fall has officially arrived. This means, there are definite Fall vibes in the September/October 2022 edition of Closet Cravings.
Click the pic to go directly to the product (if it's available online), and when you can, make sure you use our PRAIRIEWIFE15 code for 15% off products from our Prairie Wife Partnerships.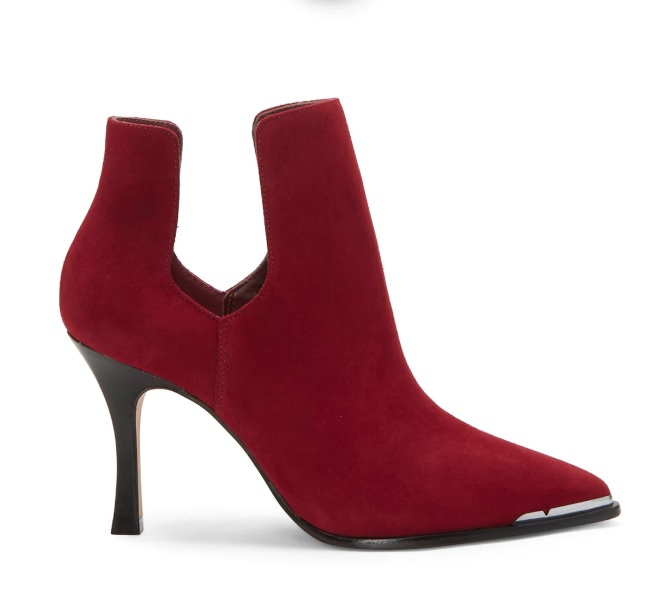 There were two names for this shoe style: bootie and shootie, so I put both of them here for you! This shoe is perfect for Fall because of the closed-toed style but still is a bit sexy and fun with the cutouts and thinner heels. I picked a thin, tall heel on purpose rather than a chunky one. A chunky heel is great for ice-covered streets and snowy weather…so that's why I have this particular style now for Fall. Soon enough, we will have to be practical with our shoewear. Let's not rush it! Wear this bootie/shootie with flares, skinny jeans, wide-leg dress pants, or a skirt/dress of any length.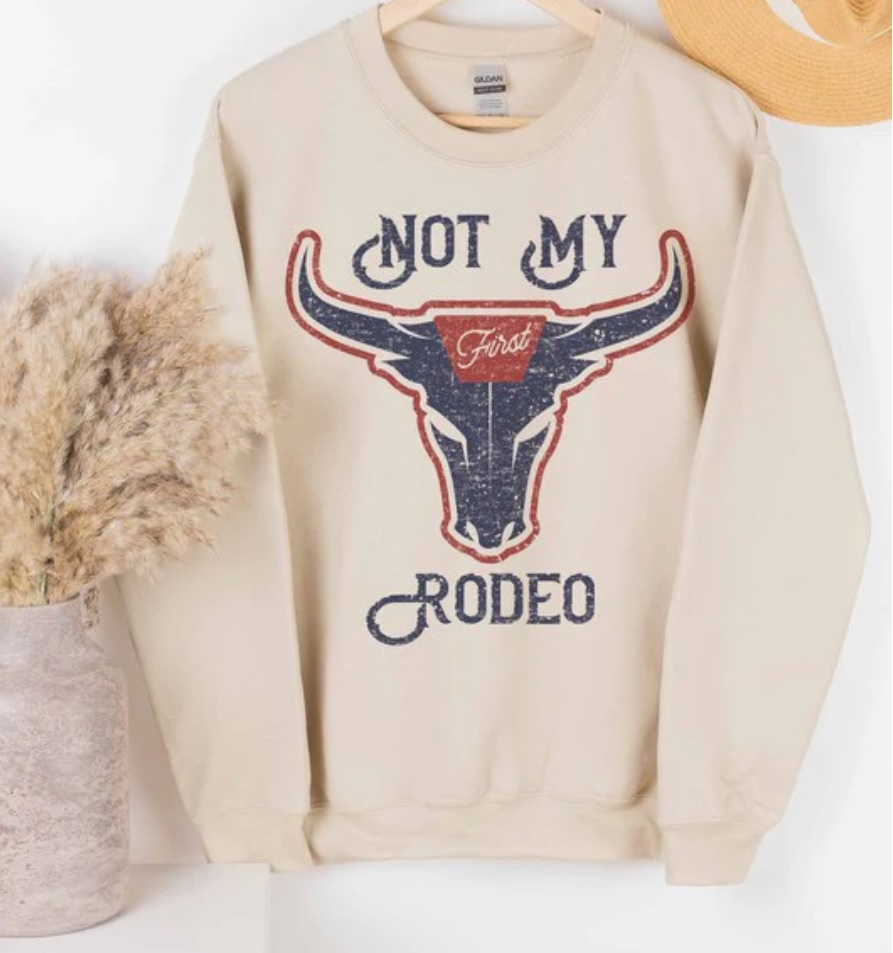 The Crew Neck sweatshirt is back! And while I will NEVER (never I say) give up my cozy hoodies, I love this style for a warm yet more sophisticated look. This means it's appropriate for ALL ages, and you can dress it up or down depending on the graphic and color and what you wear it with. Yes, you can wear it with jeans of any color, cut, or style, but also think how cute it would look paired with a black maxi-length skirt! This "Not My First Rodeo" sweatshirt is from The Shade Tree in downtown Casper (use PRAIRIEWIFE for 15% off), and you can find more styles at Wyoming Vibes (Use PRAIRIEWIFE15 for 15% off when checking out online).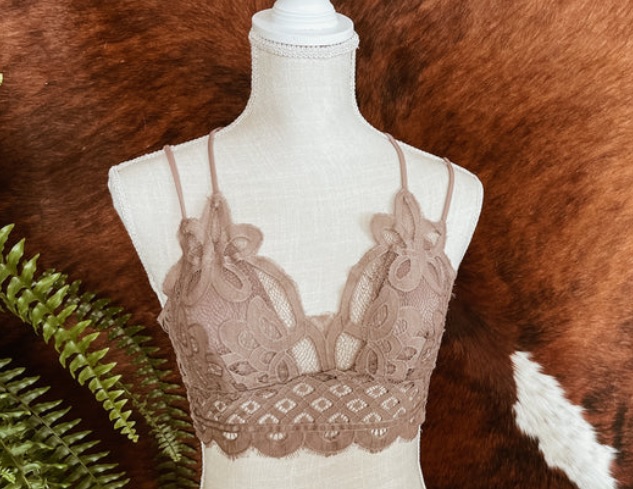 Fall is ALL about layering, and light layers like having a cute bralette showing through a loose-knit sweater or lightweight blouse are totally on trend right now! I know that not everyone likes visible bra straps or bras (my big sister HATES this look) so feel free to skip it when it's not for you. The trick to keeping it a bit sexy and a whole lot of classy is wearing it with something over that is see-through yet still full coverage. This bralette with a tight deep v-neck t-shirt might not be office appropriate, but wearing it under a loose linen crew neck t-shirt IS perfectly fine! This bralette is from The Painted Pony and has padding, which is a must for me (Use PRAIRIEWIFE15 when checking out online for 15% off).
A Cozy Neutral Colored Cardigan
I have a not-so-secret 87-year-old British Lady that lives inside my heart, and I can't resist a cozy cardigan! A neutral color like this one means you can wear it with anything. Throw it over a graphic t-shirt with jeans and boots on a chilly morning. Wrap it around you as you head out to drinks and dinner, wearing black dress pants and a blouse so you can stay warm while waiting for your Uber. It's chic and classic, and I feel you can NEVER go wrong with one of these!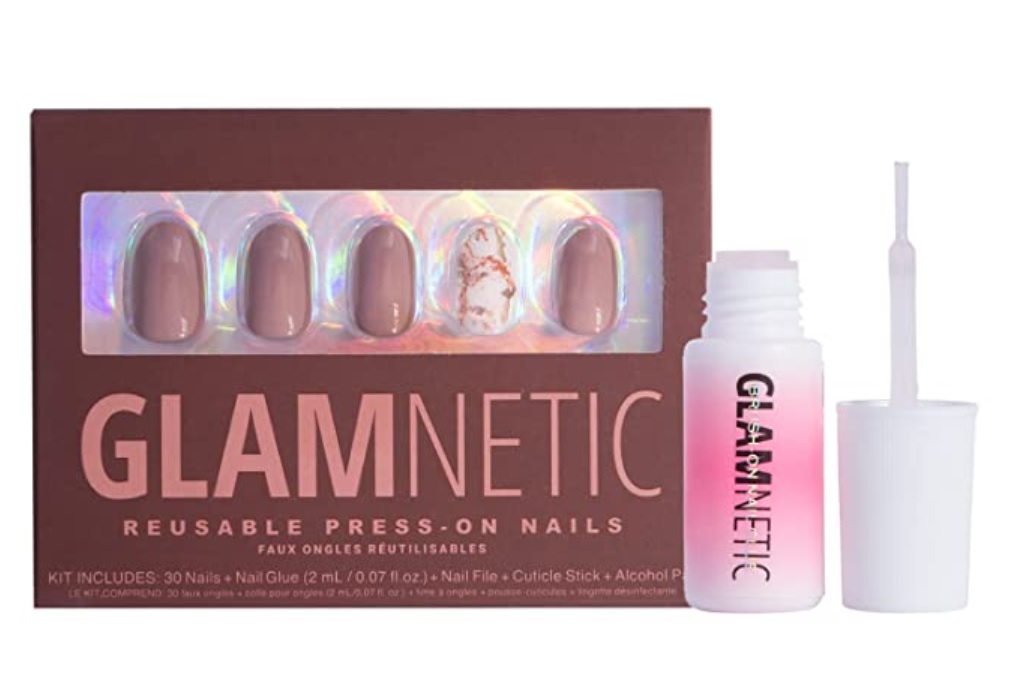 I know brown nails may NOT seem like the look you want, but it's a great color for Fall! Not only does it look good with every skin tone, but it's also a surprisingly sophisticated look. I have been crazy busy lately and haven't had time to do NailBoo dip nails like usual, so I thought I would share my quick "cheat" that I've been using. These nails stay on for at least a few days with no issues and are the perfect way for me to look glam for my big emcee and speaking events!
What are you craving for your closet this September/October 2022 Fall season?
Categories: Fashion, Prairie Wife Style
Tags: , crew neck sweatshirt, fall 2002 fashion, Fall Fashion, fashion over 30, fashion over 40, October, september, shooties