Closet Cravings January/February 2022
Posted January 25, 2022 by Prairie Wife -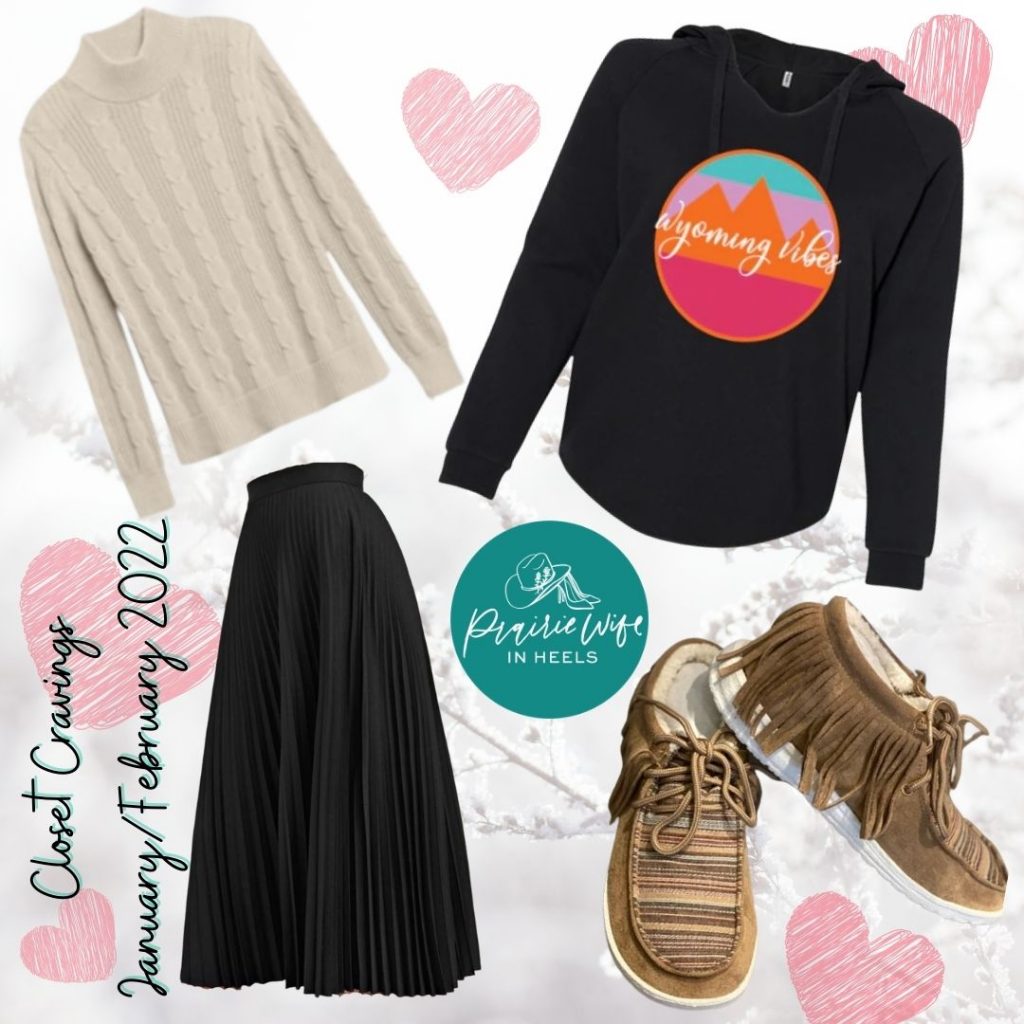 January and February are hard months to get excited about, but maybe these closet cravings for January/February 2022 will help cheer you up.
I know that many of you will have a Valentine's Day date (find some outfit ideas here) but, for us old married ladies these two months are all about staying warm and looking cute 😉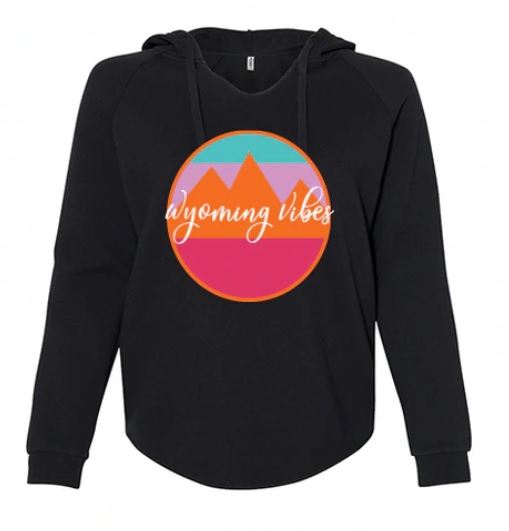 Let's be real, in Wyoming, I could put a hoodie on every single month's closet cravings…because we wear them all year long. But, in these frigid months, it makes even more sense to have a cute and cozy hoodie (or 12) to wear. Vintage logos and bright colors are a fresh new take on this classic clothing item! Look for new shapes too like this hoodie with a raw edge. When shopping at WyomingVibes.com use PRAIRIEWIFE15 for 15% off.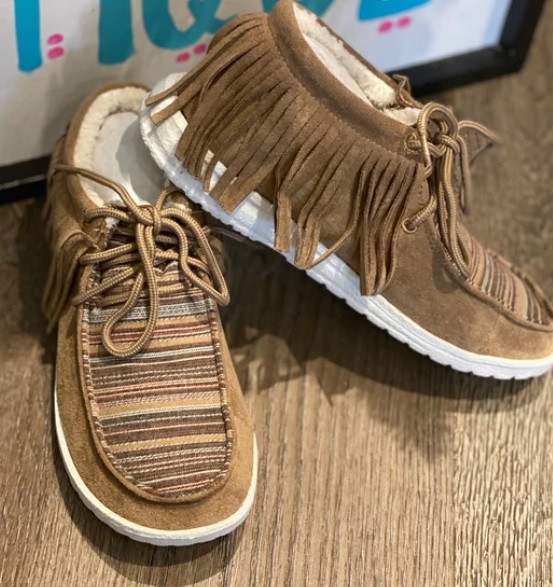 Moccasins
I now own three pairs of moccasins, and two of them are the Gypsy Jazz brand you see above. I bought them at a local boutique The Shade Tree (use PRAIRIEWIFE15 for 15% off), and I bet you can find them at a local western store near you. I love that they feel like you're walking around in slippers all day but offer support and warmth. They look great with a pair of sweat pants, skinny jeans, leggings, or boot-cut jeans. WARNING: I will 100% be wearing them this summer with cut-off jean shorts. This particular pair has definite Western vibes, but I have another pair that are solid red, which is more of a boho-chic look.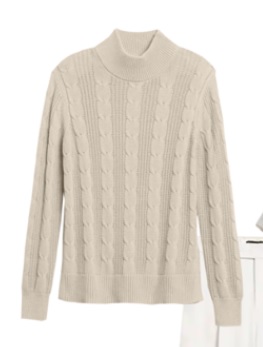 I'm sure you've seen pictures of me on Instagram wearing a cream-colored sweater similar to the one above. It's a wardrobe staple for me, and one of those classic pieces that are ALWAYS in style. I particularly love the mock neck because it allows me to layer underneath it for warmth, and wear whatever kind of undergarments I want underneath it. From dressing up a skirt (like the one below) to wearing it over a maxi dress it's perfect for date night. Throw it on over a pair of worn-out well-loved jeans and add cute sneakers to run errands or wear it over your favorite pair of black leggings with ugg boots and a cute coat for coffee with friends.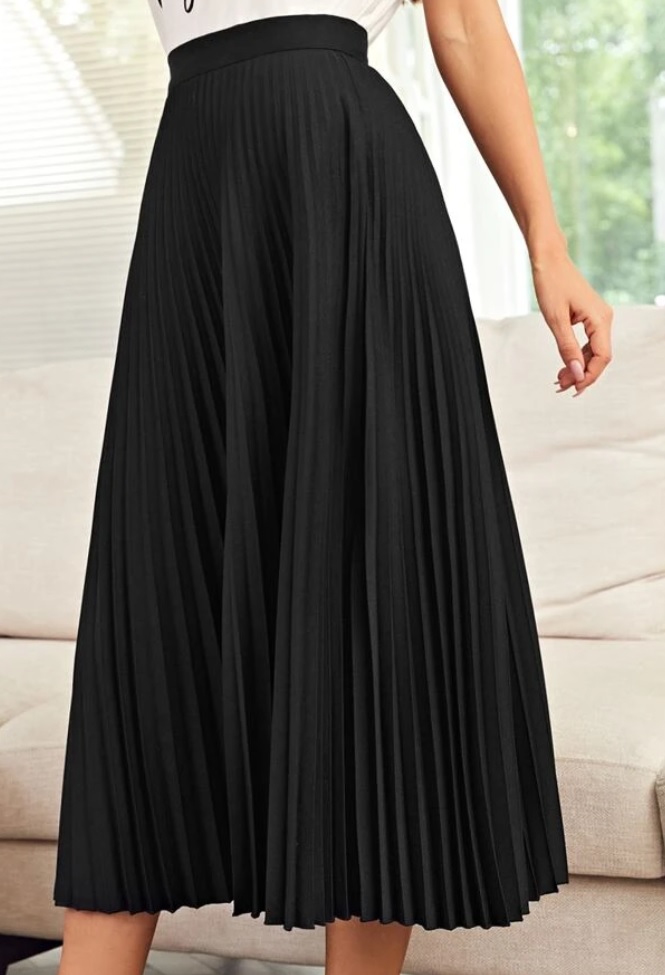 I have several versions of this skirt, and I absolutely love them all. My black one is definitely the most versatile but I love my blush pink version as well as the belted emerald green one I wore for Christmas mass. I wear my skirts with graphic tees tied up at the waist with sneakers, or with a solid colored t-shirt tucked in with a blazer and high heels. This style skirt looks lovely with a silk cami and a cardigan, or wear it with a tucked-in light-weight knit sweater. I find it's a chic and versatile item that looks good on every body type, just make sure you have the waist pulled up to emphasize the slimmest part of your torso.
What are you loving to wear right now?!
Categories: Fashion, Prairie Wife Style
Tags: , classic looks, closet cravings, cream sweater, fashion over 30, hoodies, midi skirt, moccasins, winter clothing, Winter Fashion