6 Ways to Turn Your Children Into Readers
Posted April 23, 2018 by Prairie Wife - 41 comments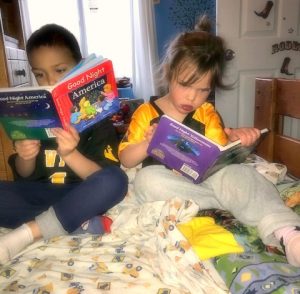 Last week I recorded a live Facebook where I showed a bit of our preschool homeschool lesson.
The response was waaaay more than I imagined, and I was reminded of how many parents want to help their children succeed in school but are overwhelmed with all the information out there.
I wrote this post about Homeschooling Your Three Year Old, but I understand that this simply isn't an option for many families out there. I encourage you to scroll to the end of that post and print out the Alphabet Chant. It takes maybe 5 minutes, and if you use it three times a week, your child will have all their letters and sounds down in no time!
I thought it would be helpful to give you a quick list of things you can do with your younger children (birth – 5 years) that will help you to turn them into readers!
Read to your children early and often.

It's never too early to start reading to your kids. From birth on, the best thing you can do is read to your children. Board books are a great way to start, they're short and really fun to read.

Let your children pick the books you read.

Let your children pick the books for you to read, it gets them excited, and they LOVE to be in charge!

Have your children hold the book.

When your children are old enough, let them turn pages and hold the book. One of the benefits of reading with your child is that they learn how to "use" books.

Read the same books over and over.

Every parent has a dozen books they can recite by heart because they've read them so many times. Trust me when I say this is a good thing! The first few times your children are likely focused on pictures, it takes many re-reads for them to truly begin grasping the story.

Let your children "read" to you.

Encourage your child to read the story to you. Chances are they will simply look at the pictures and retell the story, don't worry, this is a HUGE part of reading. Also, if they have a book memorized and tell you they can read it, don't respond with "all you did is memorize it." Simply cheer them on. After all, memorization (knowing T.H.E. is the word the) is a big part of learning to read.

Allow your children to see you reading.

Talking about reading and setting a good example by reading yourself is huge. Even mentioning that you are "reading the grocery list" or "reading a post on Facebook" will show them that reading is an important part of everyday life.
As I said before, reading to your children from birth on is one of the most important ways you can create a child who loves to read. One of our family favorites is the Good Night series of books. Every time we travel, we try and find one of the Good Night books that go along with the place we have visited. It's the perfect souvenir. Head over to their website and check out all the books they have…and don't forget they have books in Spanish as well!
NOTE: THIS GIVEAWAY IS NO LONGER ACTIVE
We are super excited to announce that THREE lucky readers will have a chance to win a Good Night Board Book.
The three books we are giving away are…
All you have to do is comment below with the title of one of your favorite children's books AND tell us what book you'd like to win.
You can earn more points towards the giveaway by following us on social media using the Rafflecopter form below!
You can find more great giveaways at https://www.bloggiveawaydirectory.com/
Categories: #GiveAways, Life As It Happens, Parenting
Tags: , books, children, getting ready for school, Giveaway, good night books, homeschool, preschool, reading, reading to your kids, tips