Best Baby Board Books
Posted November 4, 2013 by Prairie Wife -
As a mother of four I have read tons of books over the last 7 years. Add 5 years as an elementary school teacher and, the amount of books I have read is probably close to the thousands. That being said there are a few that still haven't gotten old. Those tried and true favorites, that I just can't wait to introduce to each new baby. Below are the top five baby board books in our house. They make great gifts for new moms, and I keep a few on hand in my gift closet for those toddler birthday parties.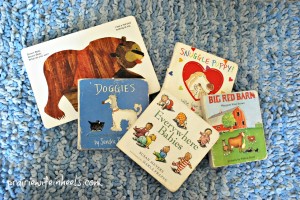 Doggies by Sandra Boynton
Boynton has so many great books it was really hard to pick my favorite (so I picked two) but this one is hilarious. Nothing is funnier than watching a baby's face as you read this book to them the first few times. All the barking and whining causes some big eyed stares. Soon enough they are giggling and then barking right along with you!
Snuggle Puppy by Sandra Boynton
I just had to add this one. The singing and rhyme is great but, mostly I just love the pictures. The little puppy reminds me so much of my little boys that it makes me smile every time. Plus, there is singing, shouting, whispering and kissing!
Brown Bear Brown Bear, What Do You See? by Bill Martin Jr.
This is a classic baby book and it is wonderful! The rhythm and rhyme is so important for babies and toddlers to hear. With a lesson in animal names and colors on every page it's like a preschool class every time you read it.
Everywhere Babies by Susan Meyers
This book was given to me by a friend when I had my first baby, and I'm so glad she did! The rhyme and rhythm in this book makes it a pleasure to read and listen to. The pictures are charming and my Cowkids love reading it together. We talk about which babies look like ours, and they love to see what our baby will do next. For some reason their favorite page has always been the same for each of my kids, the babies splashing in the pool!
Big Red Barn by Margaret Wise Brown
I have read this book so many times I am sure I will still be able to recite it when I am 100 years old. Cowboy J loved it so much that we actually had a Big Red Barn themed 2nd birthday party for him. The illustrations are colorful and the animal noises and unusual word choice keep my kids entertained time after time. "When the sun went down in the great green field, the big cow lowed, the little pig squealed." It just doesn't get better than that.
Categories: Book Reviews, Reviews
Tags: , babies, board books, books, gifts, reviews