Fall 2013 Nail Polish Picks
Posted November 3, 2013 by Prairie Wife - 1 comment
Fall 2013 Nail Polish
The season of office parties and family gatherings is now upon us. An easy way to bring an outfit together and to feel a little extra fancy is with some nail polish. In truth, I only ever really have time to do my toes but, on the occasion that I do paint my nails, I always feel so put together! Below are my favorite picks for fall. They were all purchased at either Walgreens or Target.
From Left to Right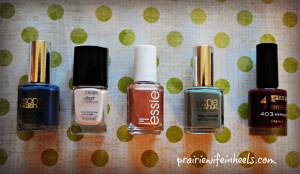 Blank Slate by Sonia Kashuk- This is a great blue grey tone. Depending on how the light hits, it can look more navy or smoky.
Forever Frosted by Covergirl- This is the perfect pale pink, it looks sophisticated rather than little girly, and goes with everything!
Buy Me a Cameo by Essie-This is a rose gold color that I love on my toes!
Fatigued by Sonia Kashuk-This army green is tough enough to make me feel like a rocker, but feminine enough to go with all my outfits.
Hypnotise by Rimmel-This deep purple/red is just plain sexy!
Maybe it's because I have five year old daughter, but sometimes I just need to add a little sparkle to my nails! Below are my favorite "special effects" polishes for fall.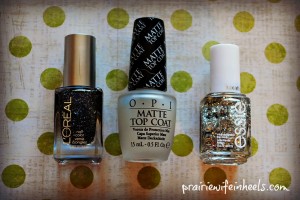 The Bigger the Better by L'Oreal Paris-This black sparkle instantly turns any polish into rocker chic. I love to put it on top of neon's and dark colors.
Matte Top Color by OPI- Even though the matte look is very trendy right now (according to all the fashion magazines), I was a little nervous to try it. I ended up buying this on a whim, and loving it! It looks great to have all your nails on one hand matte and leave an accent nail with the normal shiny coat.
Set in Stones by Essie-This is the perfect mixture of big and little silver sparkles, it makes me feel like a princess every time I use it!
Categories: Prairie Wife Style
Tags: , Beauty, date night, fall 2013, Nail Polish