5 Kids And 4 Days In The Popo Agie Wilderness Area In Wyoming
Posted August 3, 2021 by Prairie Wife -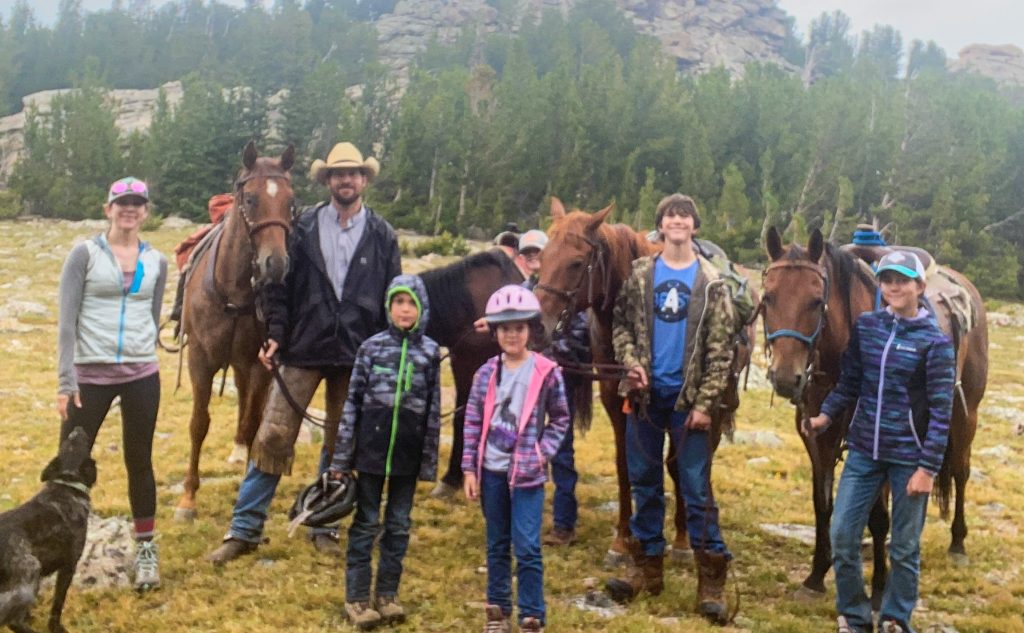 Well, we made it…5 kids and 4 days in the backcountry of Wyoming! Specifically, we survived a pack trip in the Popo Agie Wilderness Area in Shoshone National Forest.
That means we loaded up 5 Cowkids, 4 Horses, 2 Mules, 1 Zip the Wonder Dog, and 2 Parents and headed for the Wind River Mountains.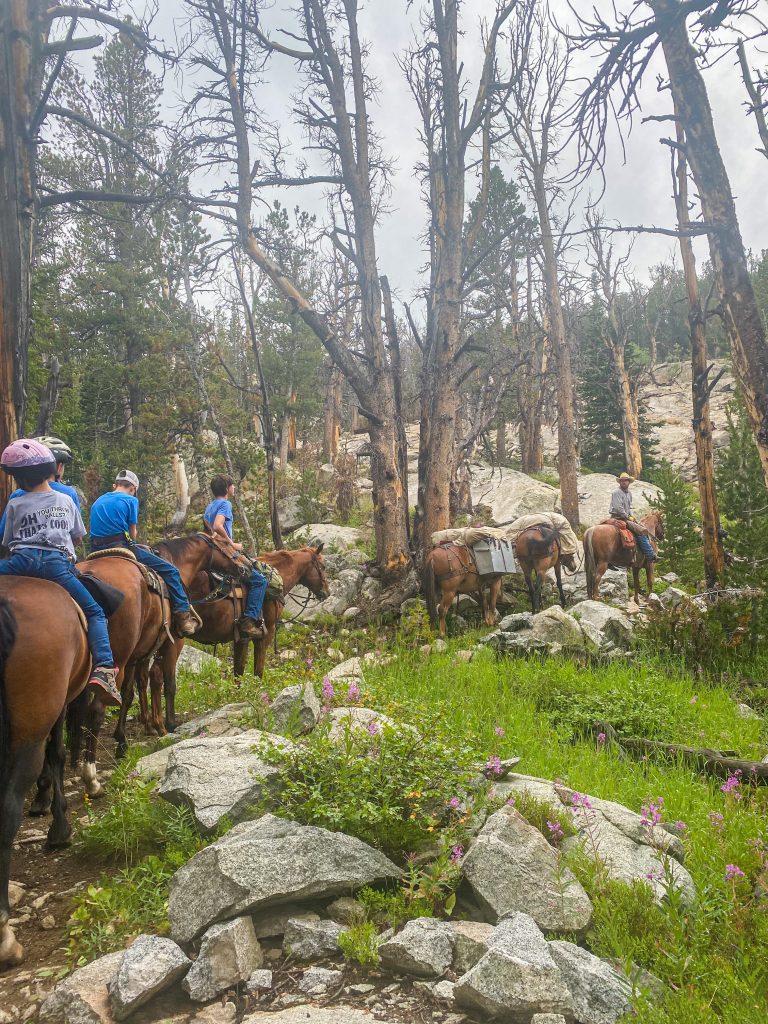 The trail we took was closed to motorized vehicles, which means the only way to get where The Cowboy wanted to camp was to hike or ride in.
Since I don't ride horses I hiked the 8.5 miles in, and because we didn't have enough horses for the whole family to ride at one time, the Cowkids took turns keeping me company.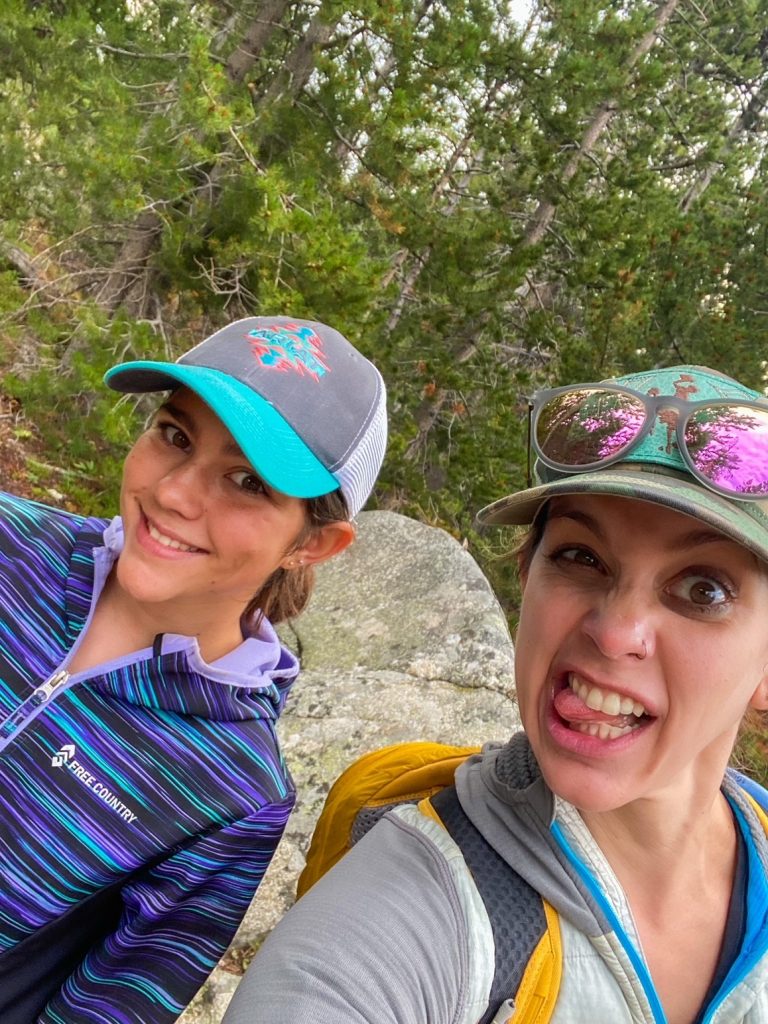 The Mules were used as pack animals, and they carried our food, tents, and clothing.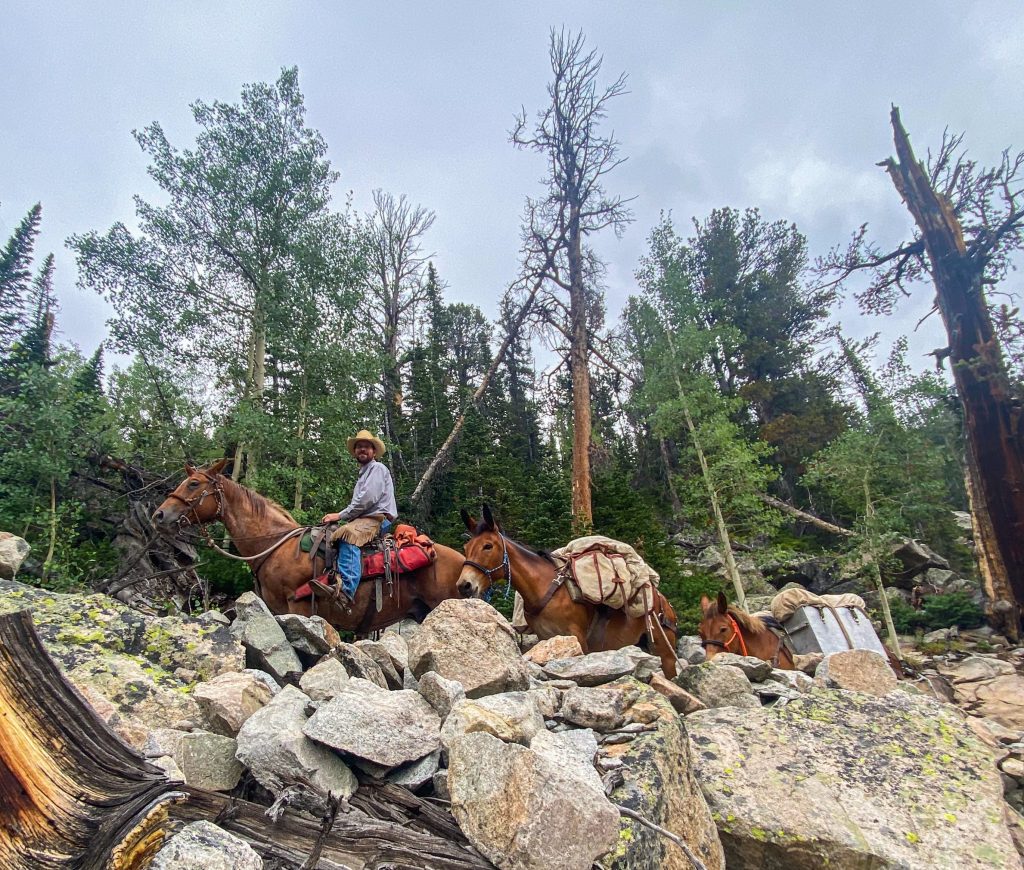 Last year we covered 30 miles in three days, but that would have been too long of a haul for our younger children. Also, with them along for the ride, we wanted to go somewhere that we didn't have to worry about Bears and Wolves.
The first night we camped at the trailhead and slept in our sleeping quarters in the horse trailer and the cars.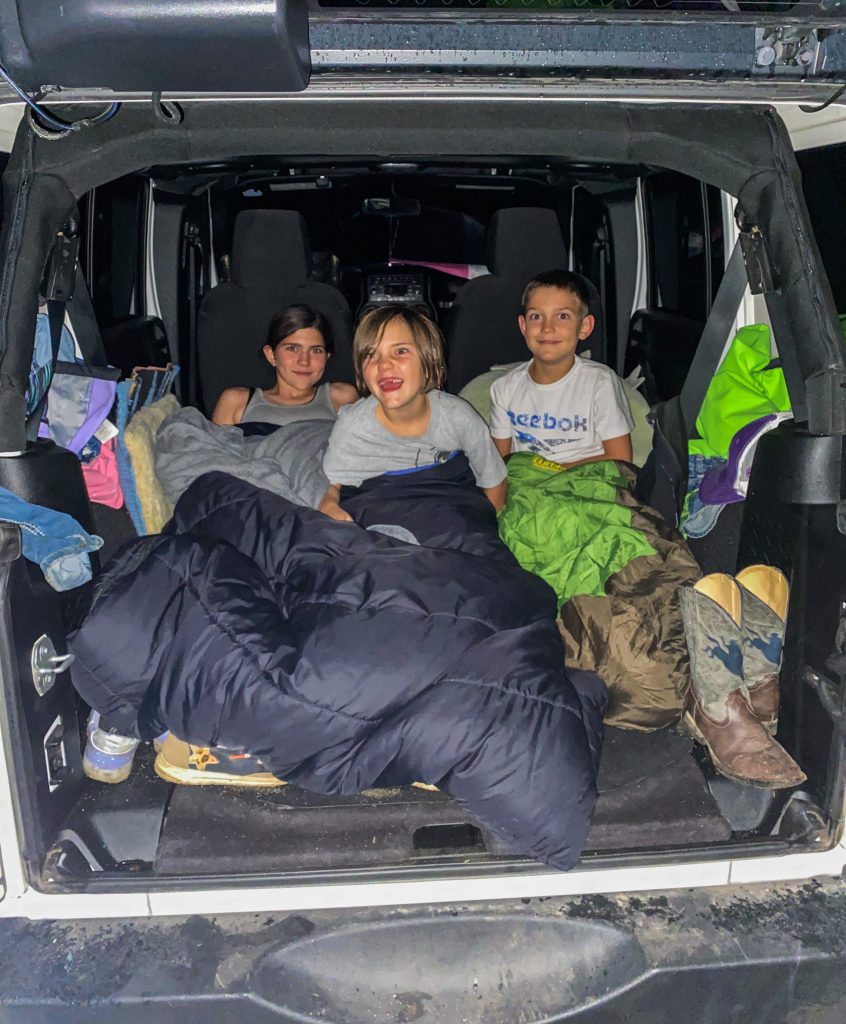 We hit the trail as soon as the sun came up and I was in love with the massive rocks and boulders tangled up in the trees.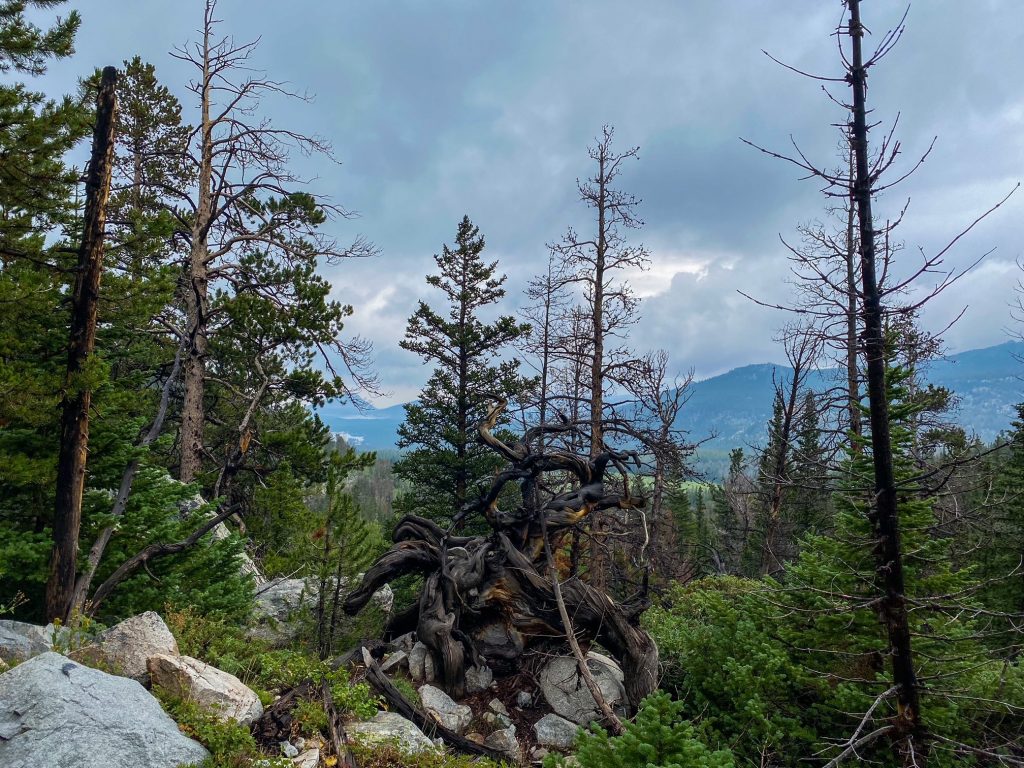 When we emerged from a line of trees and saw this open marsh with a wooden bridge over it, we all stopped and stared! It was so uniquely beautiful and unexpected that we just had to sit for a minute and take it in.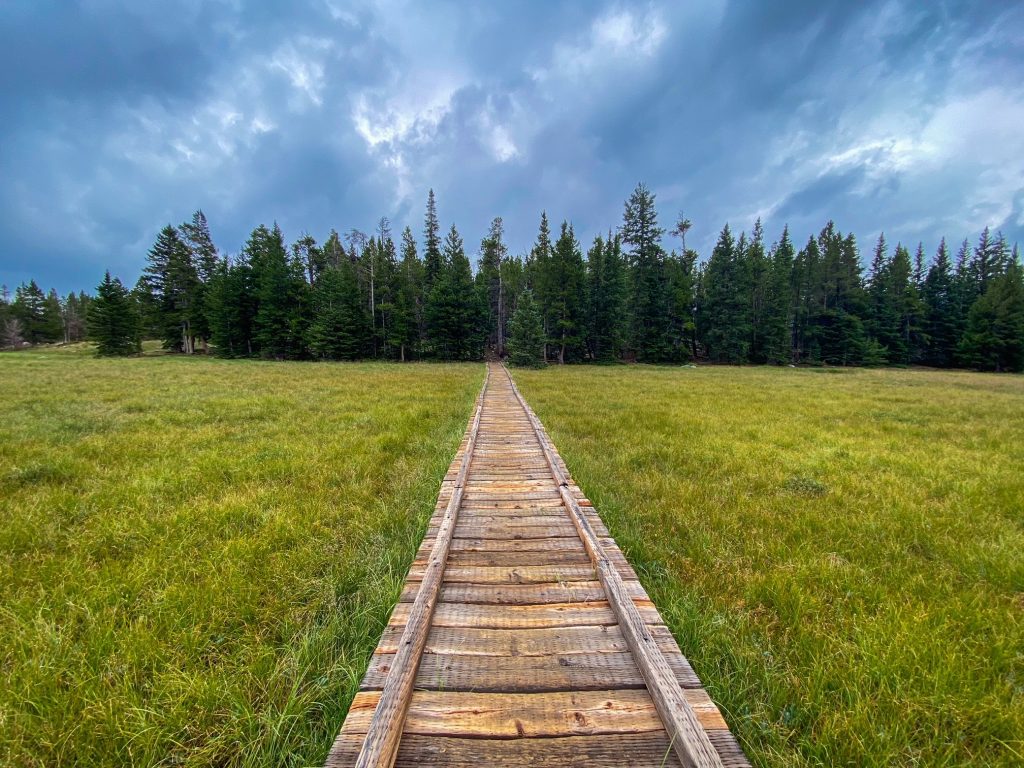 As we gained in elevation the trail became even rockier.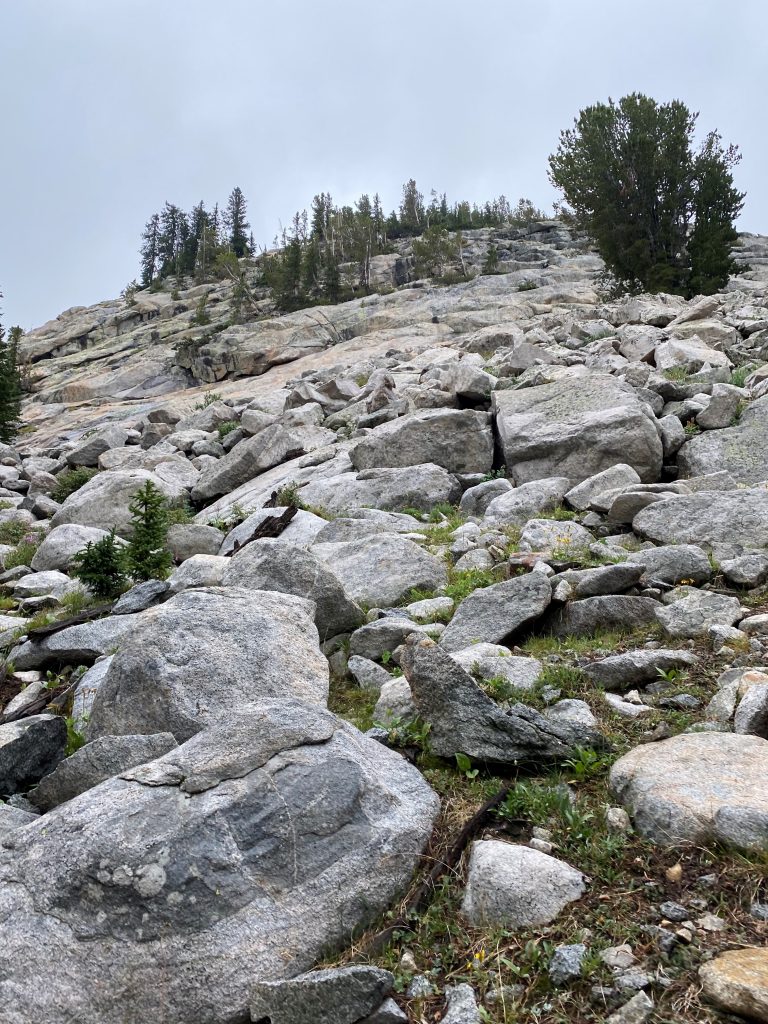 The fine mist and rain made all of the trees, plants, and flowers look lush and bright…and I couldn't stop taking pictures of them.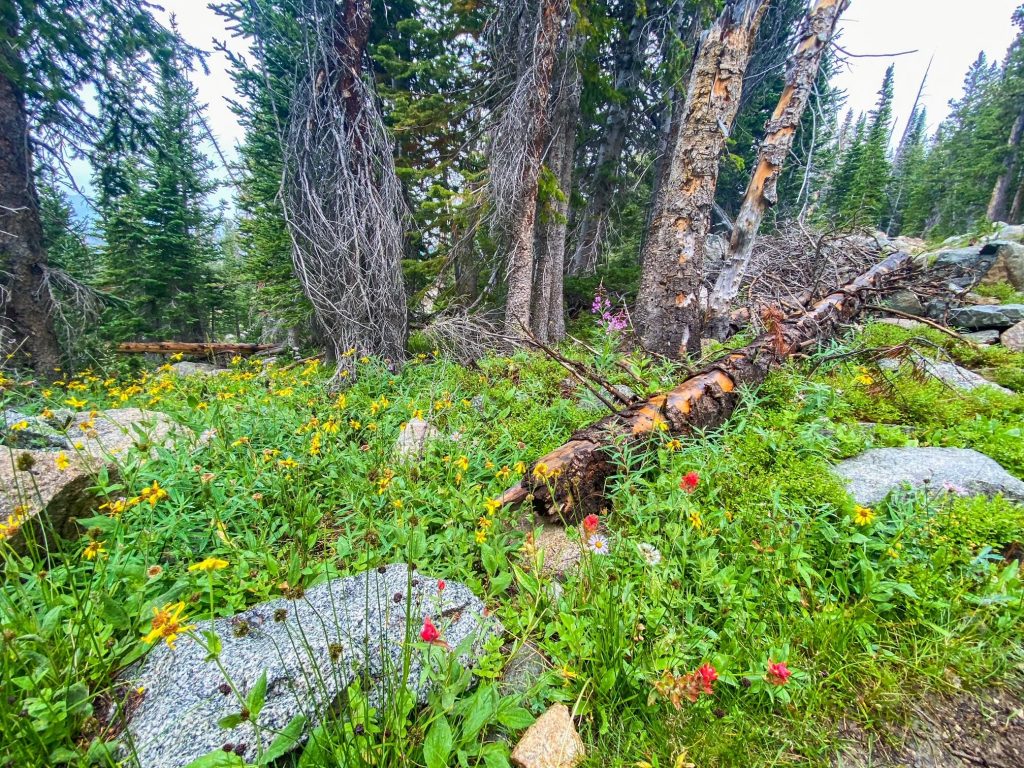 After we went over the pass, we began to see lakes surrounding us on all sides, they were absolutely beautiful.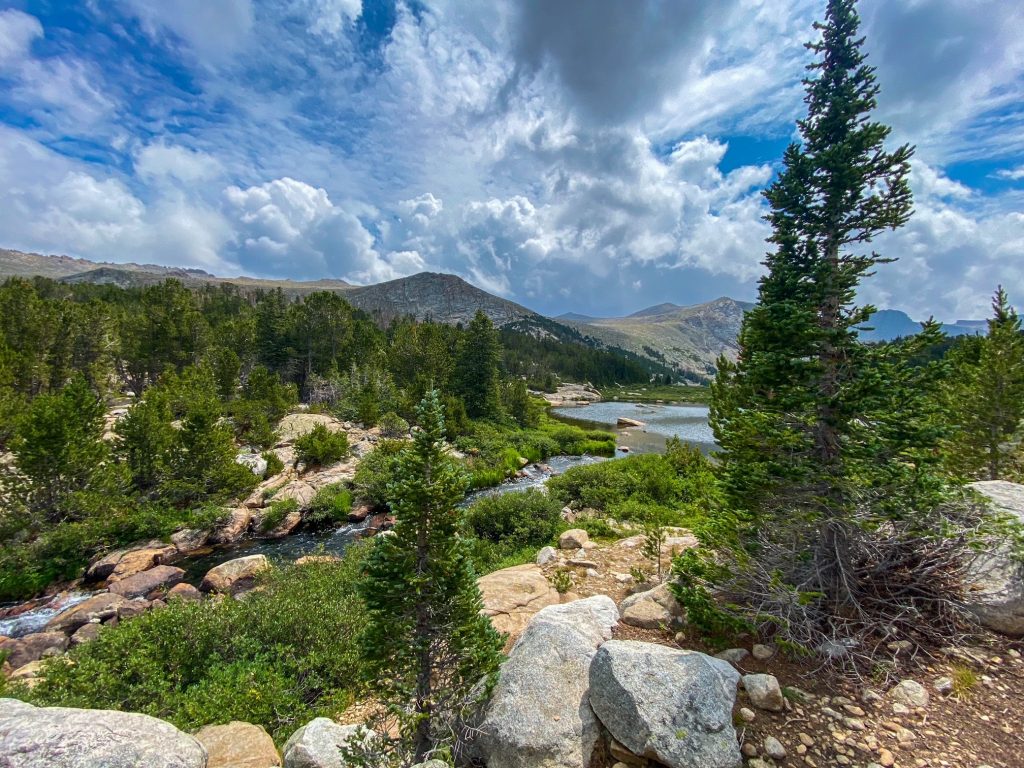 We ran into a Boy Scout camp where The Cowboy intended to stop, so we went another 1.5 miles and found a secluded spot surrounded on all sides by lakes and a rushing creek.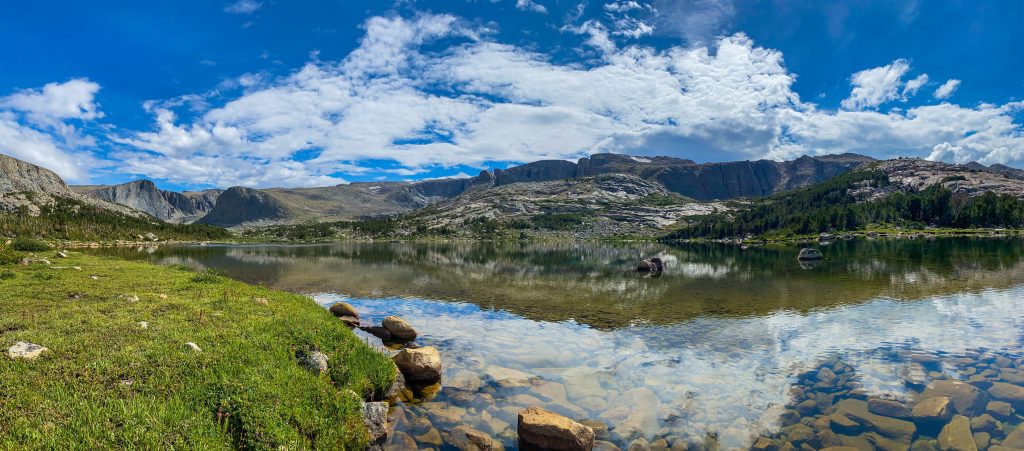 We took care of the animals and set up camp and then sat down to eat.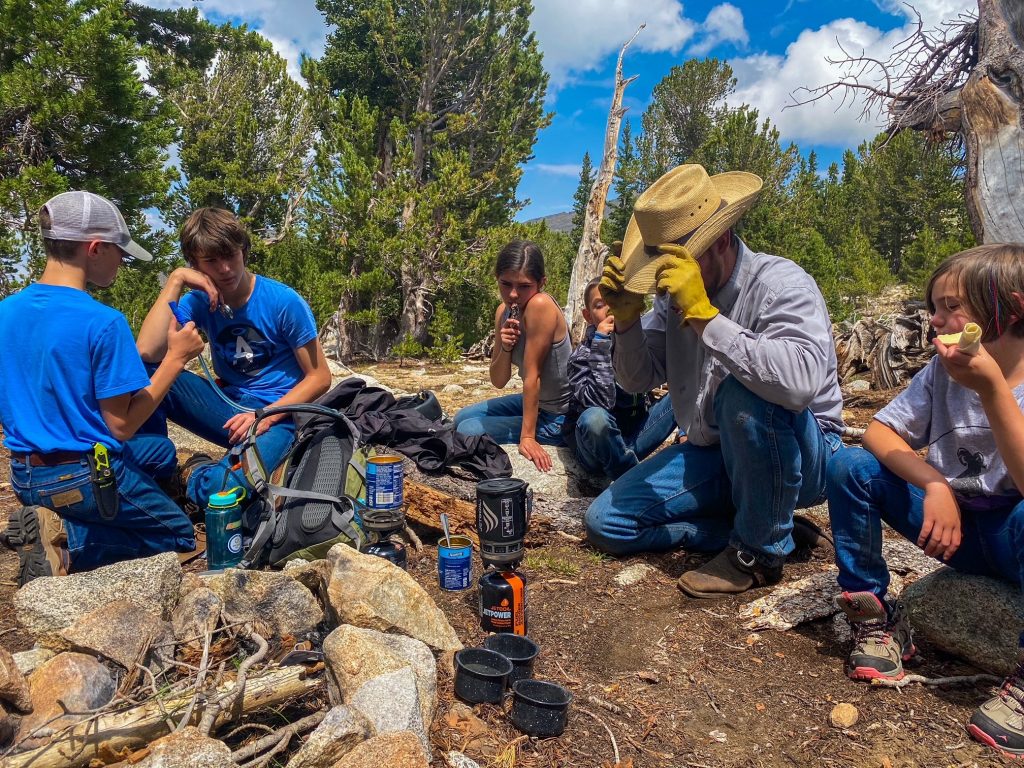 Then it was time to explore and spend quality time together.
A heavy storm headed our way cut our relaxation time short, and we all went to bed early.
The Cowboy and I could hear the Cowkids telling stories as the rain bounced off the roof of our tent.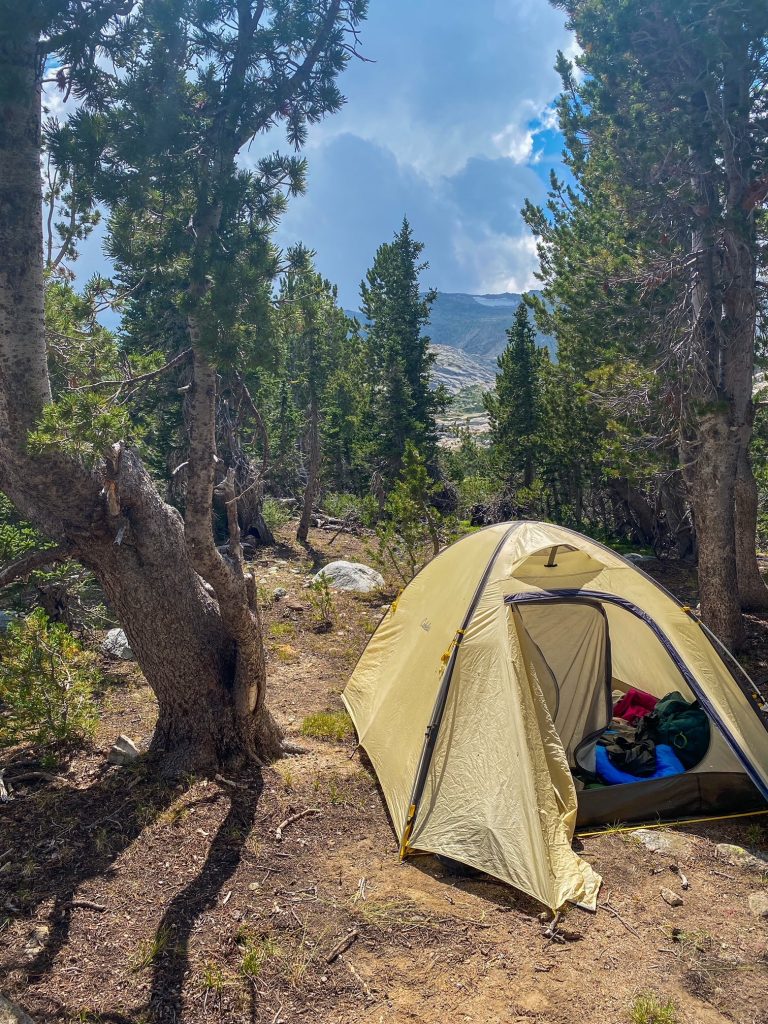 In the middle of the night, there was an incredible lightning storm that lit up the area. The thunder reverberated off the mountain tops and was louder than anything I've ever heard in my life.
The next day was damp but we had tons of fun fishing the creek and wandering around…and it worked out perfectly for all of us to take a nap during the afternoon storm that arrived.
When the storm was done we were (finally) greeted by the sun and had a good 3 hours of blissfully perfect weather. I took advantage of it to strap on my pack and go on a solo 4-mile hike.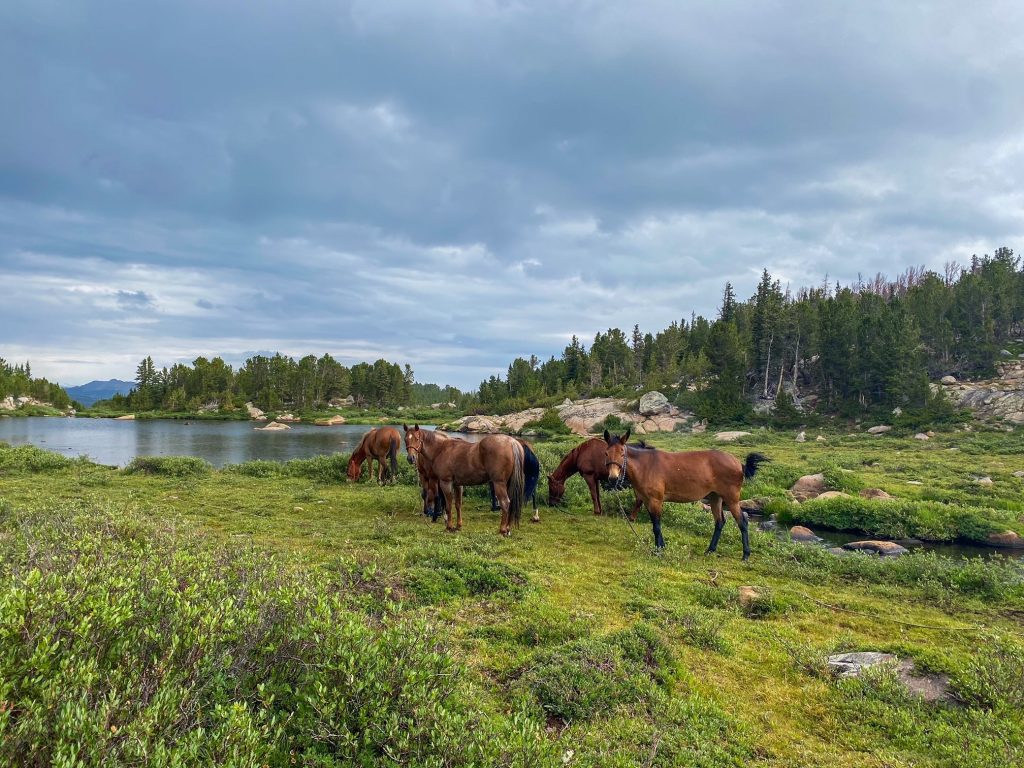 I took some time to sit and breathe in the beauty of the experience and connect again with my soul and God.
View this post on Instagram
Another evening storm sent us to bed early, and we decided that if the weather was "nice" when we woke up we would load up camp and head out of the Popo Agie Wilderness Area.
We wanted to try and avoid an 8.5-mile hike in the pouring rain on the slippery granite trail.
Thankfully while it was cold enough to see our breath, the rain was just a drizzle as we worked our way down from our camp at 10,600 feet to the trailhead.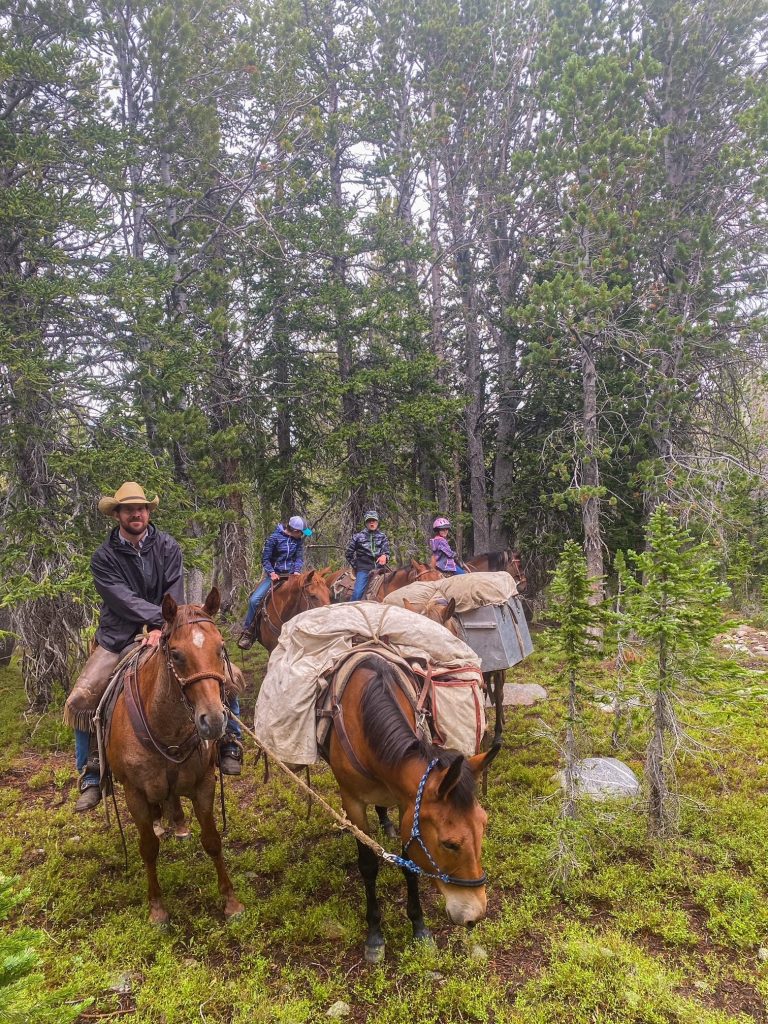 When we finally arrived home late Saturday night we sat around the table and per tradition asked the Cowkids what they liked best about the experience, and what they liked least.
It was absolutely heartwarming to hear them laugh and giggle about the silly antics of their siblings in camp, share their joy in the awesome fishing, and express that really…even with the rain…they didn't have a single complaint.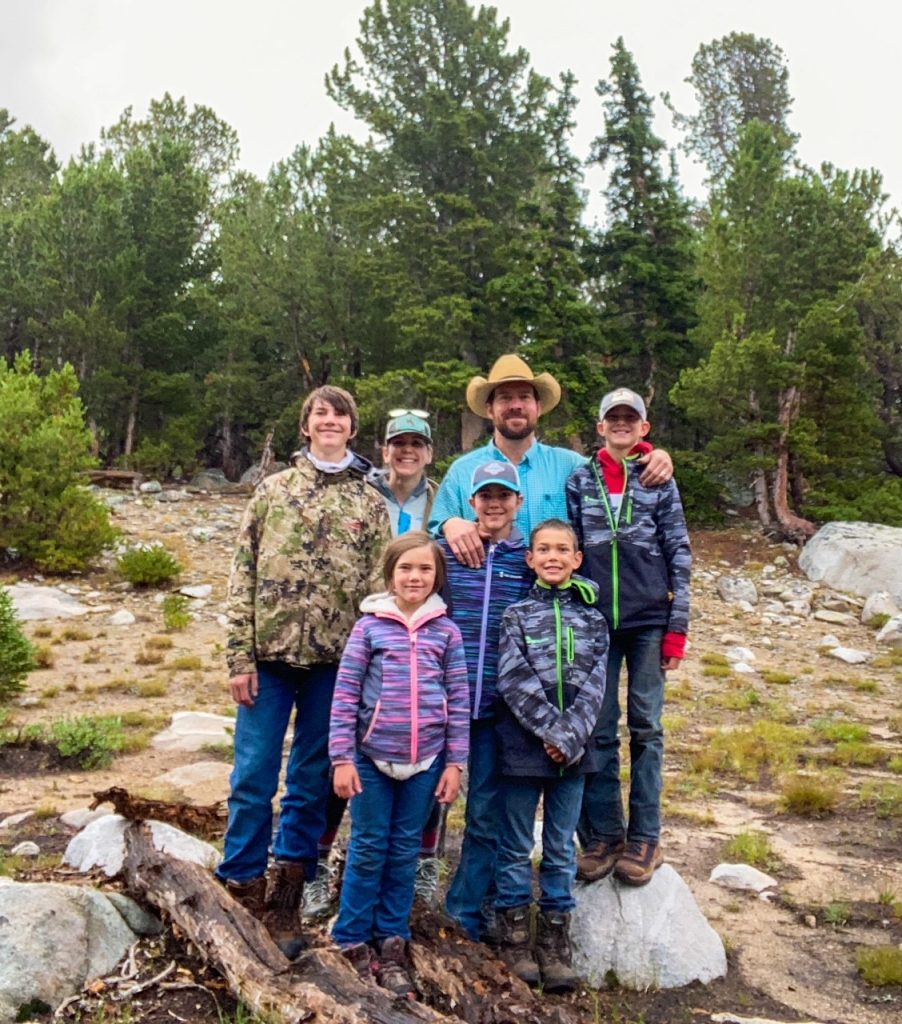 An adventure like this would be daunting to most adults, so I have to admit that I was dang proud of these Cowkids for not only embracing the experience but coming away from it elated and already planning for next year's trip!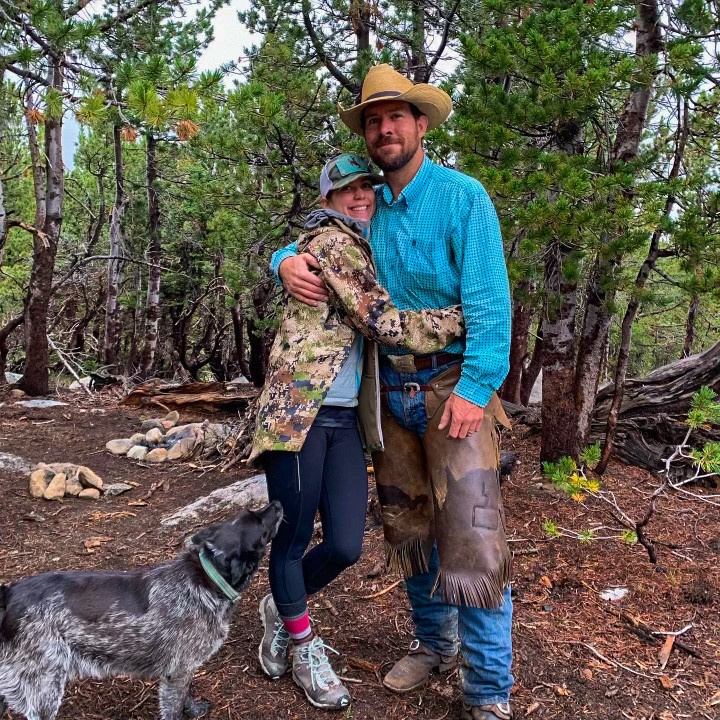 The Cowboy and I spent this trip grateful for the time together and the memories we created with our family of 7. And we were reminded yet again how blessed we are to be raising our children here in Wyoming…
Wyoming is what America was, and that's not a bad thing.
Outdoor Gear from Gear Up located in Downtown Casper, WY use PRAIRIEWIFE15 for 15% off
Location: Popo Agie Wilderness Area, Shoshone National Forest, Wind River Mountain Range
If you have any questions about our trip of the Popo Agie Wilderness are feel free to ask me in the comments or email me at prairiewifeinheels@hotmail.com
Categories: Life As It Happens, Prairie Life
Tags: , backcountry, camping, camping in wyoming, family vacation, hiking, popo agie, shoshone national forest, wind river mountains, Wyoming, wyoming life