10 Ways You Can Support Your Female Wrestler
Posted November 7, 2023 by Prairie Wife -
Wrestling is a complicated sport, and while we've been a wrestling family for almost a decade now, there ARE some differences in what we do for our two daughters versus what our three sons need. Women's wrestling is taking off and is one of the fastest-growing sports in the nation. So, I thought I would share what we've learned over the last two years that our daughters (ages 15 and 8) have been wrestling. I hope it's helpful to you and your female wrestler!
Hopefully, your team or club has provided a girl's cut singlet for female wrestlers to wear. If not, these tips below will be even more critical.
Provide the Right Underwear: Even for our younger daughter, having the right underwear is vital to your female wrestler's comfort. Traditionally cut women's underwear is incredibly uncomfortable and bunches up while girls are wrestling and can often show through thin singlets. For our youngest daughter, we have her wear boyshort style underwear, and for our older daughter, she wears longer length Woxers. Woxers is a brand of longer-length boxer brief style underwear made explicitly for women, but they are a tad expensive. If they're out of your budget, I recommend purchasing boys' or men's sports-style boxer brief underwear.  I also suggest buying their underwear in a solid color or the same color as the singlets.
High-Cut Sports Bras: A sports bra is necessary for female wrestlers; a regular-style clasped bra will not hold up to the rough action on the mat and could cause extreme embarrassment for your female wrestler if it pops open. A high-cut sports bra is better than traditional styles, and it's okay to have the top of the bra showing past the singlet. Larger-breasted girls may want to double up sports bras to ensure they are secure. DO NOT use sports bras with a zipper or back clasp. They will scratch the skin, may tear the singlet, and could possibly break during competition.
Period Underwear: If your daughter is older, they will likely have to wrestle while on their period. The best solution is to have them wear a tampon or cup and wear period underwear as well. Boy-cut styles act like a pad (you wash them in the laundry before you use them again) without any of the bulky uncomfortableness of an actual pad. If your daughter doesn't feel comfortable using a tampon/cup, have them wear a pad with their regular underwear and then layer long-length compression bike shorts over them…followed by their singlet. This will keep everything in place and help reduce the chance of leaking.
Put Their Hair Up: It doesn't have to be fancy…but your female wrestler needs to have her hair back and out of the way. A high pony that's then braided works fine, as long as it won't get in the way of the straps of her headgear. Many girls like to do tightly braided at the scalp styles, and while this definitely works well, you may need to ask teammates or other moms for help if you're like me and don't know how to create this style. For wrestlers with textured or curly hair, you may want to use a hair cap that is designed to go under headgear.
Use Clear Deodorant: With the higher-cut girl's singlets, regular deodorant can leave chalky white stains on the singlets. While this isn't a make-or-break situation, it could embarrass some girls. Wrestling is as much a mental sport as physical, so any bit of confidence we can give our girls is worth the effort.
No Makeup: Wearing makeup on the mat will, first and foremost, cause a mess on the mat. It will also likely result in skin issues for your wrestler. Also, no one wants a random set of eyelashes stuck on the mat…or to have to stop the clock because mascara or foundation has run into your wrestler's eye and caused vision issues. I recommend packing makeup wipes in your wrestler's bag just in case they forgot and for wiping their face off after they wrestle to help keep their skin from becoming irritated.
 Girls Can't Cut Weight The Same Ways Boys Can: First, I want to say that in our family, we don't allow ANY of our kids to cut weight to fit in a specific weight class. I don't think it's healthy physically or mentally for growing kids. We err on the side of having them wrestle up a weight class if we aren't sure where they will be, and so far, in almost a decade of wrestling, it has never caused an issue for our kids. Now that we have that out of the way, coaches and parents need to know that girls are generally NOT able to cut weight in the same way that boys can. Our son and daughter can do the exact same wrestling practice at the exact same intensity, and he will drop five pounds, while our daughter only loses one. Girl's bodies are made differently, and the pounds will not come off for a female wrestler the same way it will for male wrestlers. Also, girls who have hit puberty tend to weigh more (around 1 – 3 pounds) at various points of their menstrual cycle, and there is nothing they can do to change it. It's vital that they are not made to feel poorly about this and that you help them pick the healthiest (physically and mentally) weight class for them.
Girls Are More Flexible: Girls are more flexible than boys, and while there are times that this is an advantage on the mat, it can be a disadvantage, too. It's important that coaches take this into account in how they train their female wrestlers. This can also cause some unexpected struggles for girls who are used to wrestling boys and then switch to wrestling other girls.
Girls Have More Lower Body Strength: Girls tend to have more lower body strength, and this should definitely be kept in mind when working with them in practice. This should absolutely be considered when showing your female wrestler moves and when discussing strategy.
Positive Reinforcement Goes A Long Way: The best thing you can do for your female wrestler is to be her cheerleader. Wrestling is a demanding sport, and especially for newbies to the sport, it can be daunting and even devastating at times. Encourage your wrestler to compare herself to herself, not to others around her. Focus on setting specific goals and celebrating little victories. This doesn't mean you must sugarcoat mistakes, but be thoughtful about your tone and phrasing.
If you want to learn more about supporting your female wrestler, I strongly encourage you to take the Teal Coaches Certification Course provided by USA Wrestling and WrestleLikeAGirl.org.  It's incredibly informative and will take you less than two hours.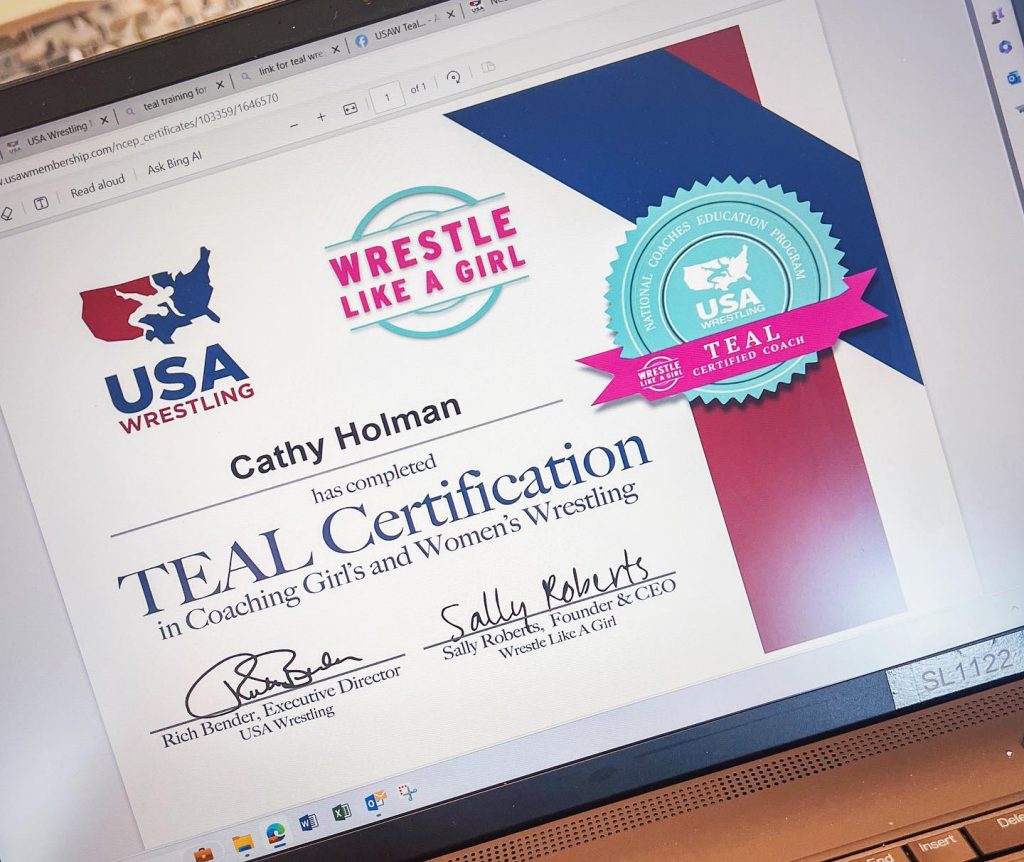 Something else I have done for our local girl's teams is to create a female wrestler backpack to be taken to each tournament.
Not all girls have a family member or older wrestler to help them know what they need, and this backpack has essentials that will allow them to wrestle comfortably and confidently. Have coaches put one female wrestler in charge of the backpack that can be counted on to make sure to communicate when items need to be refilled, and when needed can help teammates use items correctly.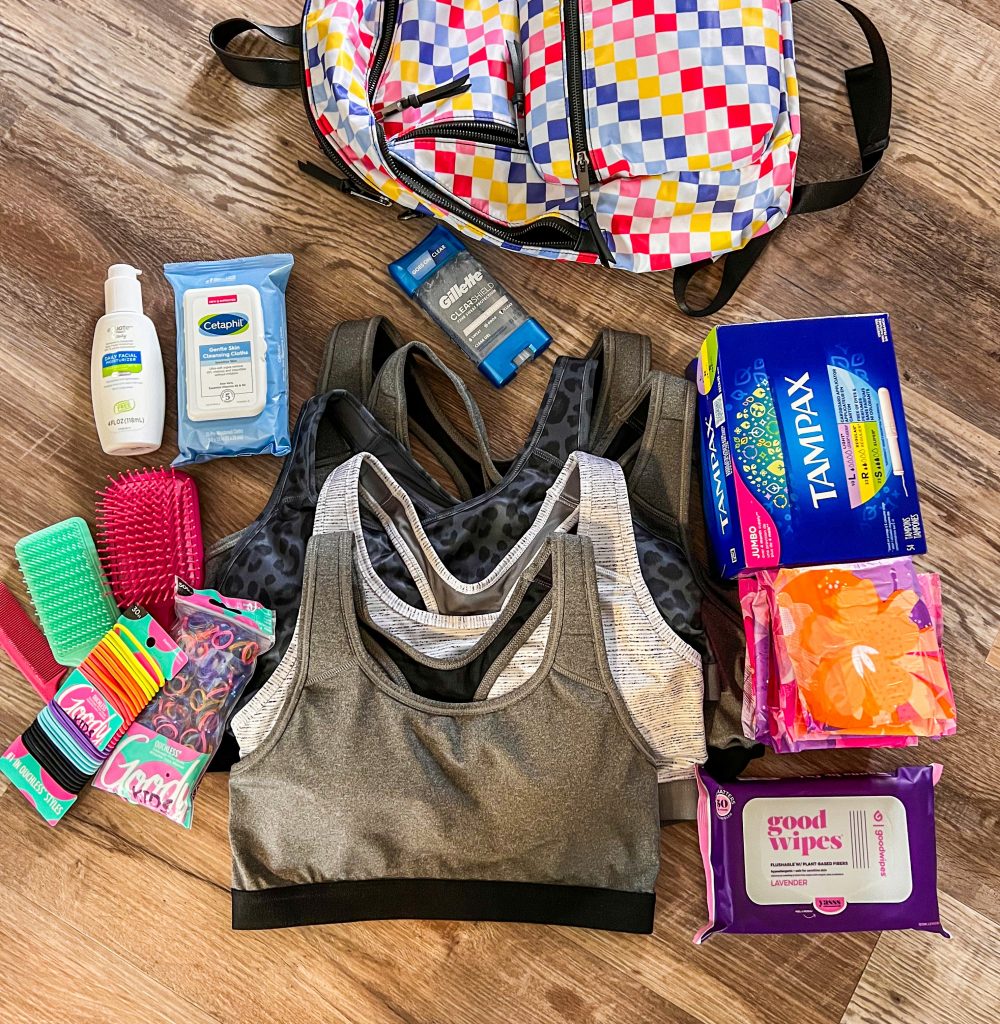 Below is a list of what I included in our backpacks.
10 Period Pads With Wings
1 Box of Assorted Size Tampons
Sports Bras sizes S to XXXL

Sign out sheet and pen so girls are held responsible for washing and bringing bras back after use

Cleansing Makeup Wipes
Face Lotion
Clear Deodorant
Flushable Cleansing Wipes
Hair Brush
Comb
Small Hairties
Large Hairties
One Hair Cap
Is there something you think I missed?
Let me know in the comments!
Categories: Life As It Happens, Parenting
Tags: , coaching wrestling, female wrestling, girls who wrestle, women who wrestle, womens wrestling, wrestle like a girl, wrestling