Wyoming Artist Shares Her Story of Grit, Grace, and Art
Posted March 22, 2023 by Guest Poster - 20 comments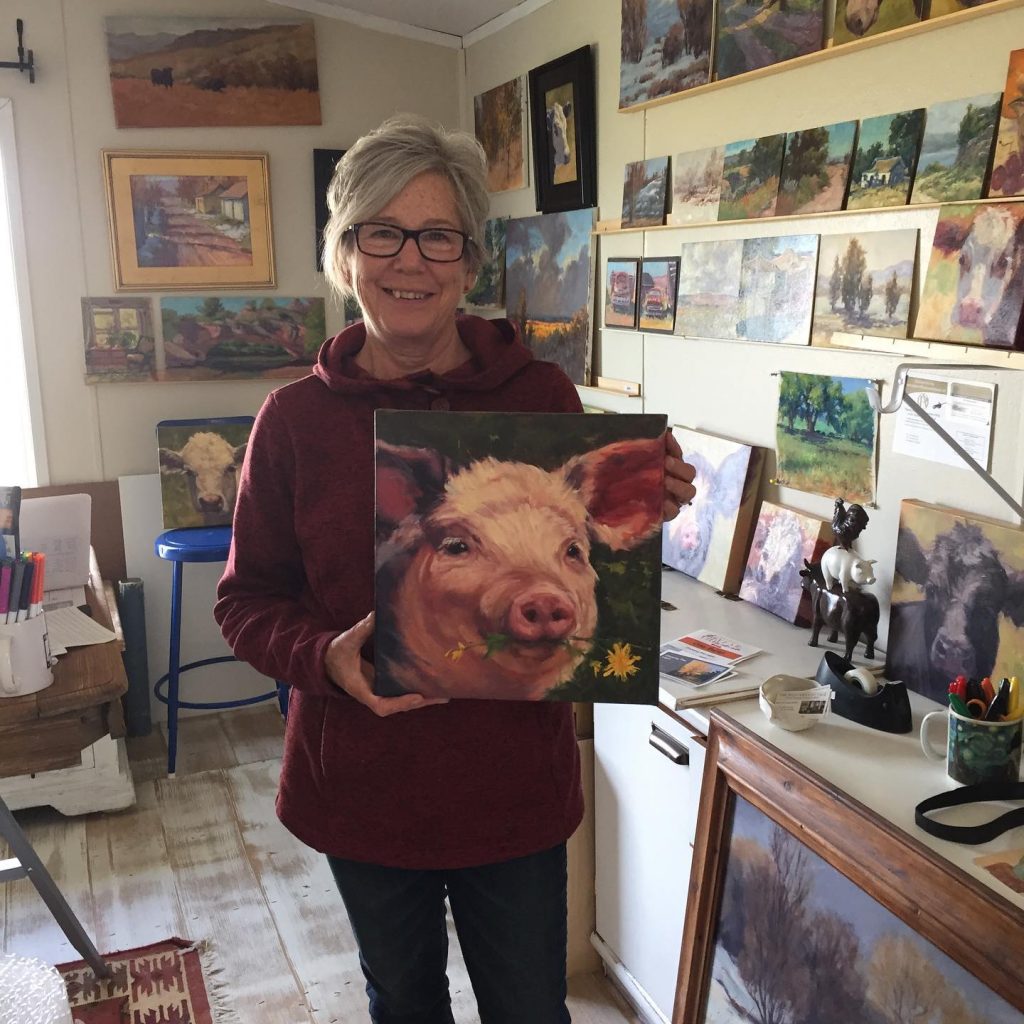 Ginny Butcher is my dear friend and neighbor and a well-known Wyoming artist. 
Our home is full of her art, and we have several commissioned paintings created by her, including this one titled "Home on the Range."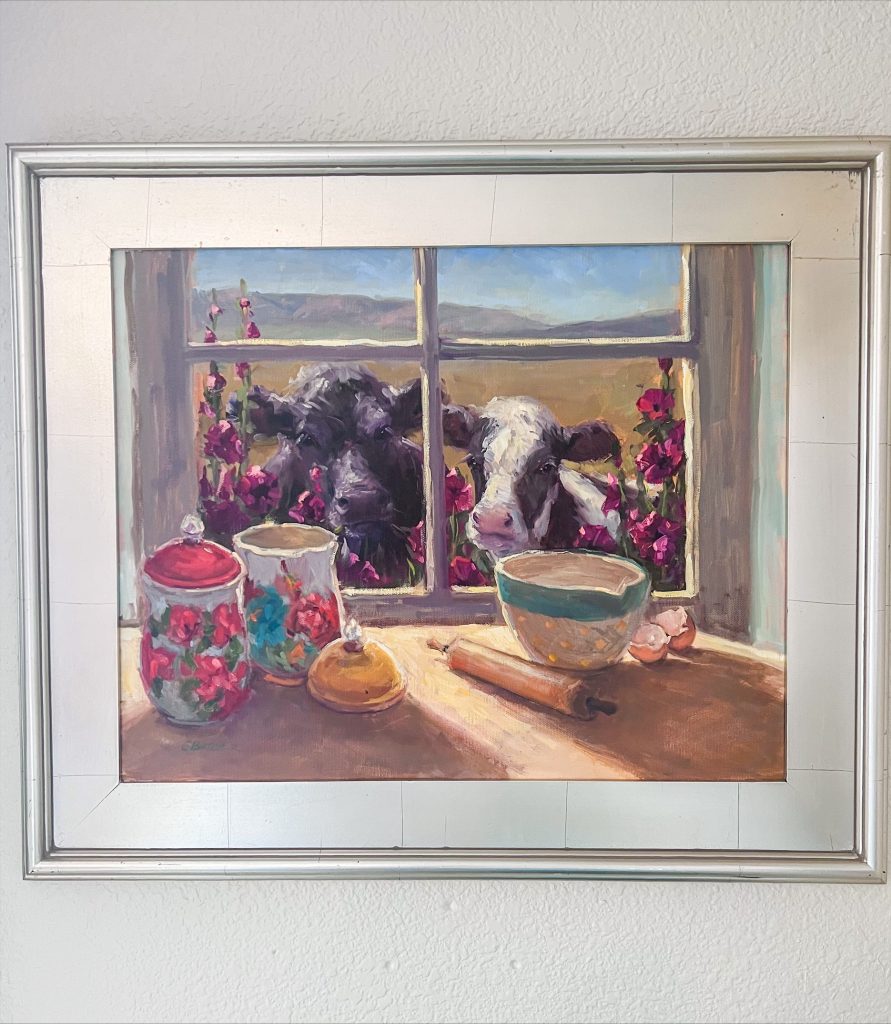 Take a moment to learn more about Ginny and then enter to win a print of "Home on the Range" for your home.
Hi,
If you've heard of me, then you probably recognize me as that artist who primarily paints western landscapes and cute cows.
What you don't know about me is that I've spent most of my life struggling with a horribly crippling shame.
This shame set me down a self-destructive path that eventually led to a nightmarish marriage that became my prison for decades.
Throughout all the torment of those years, it was the gift of art that comforted me and gave me hope. Especially when my shame and despair whispered incessantly in my ear that I was worthless.
It was also in these darkest days of my life that I found salvation through faith in Jesus Christ.
You're probably wondering how I got from there to here. Well, it's a tale as old as time.
One where a clueless hero becomes an unwitting villain through a single careless act.
One where a little princess is bound in darkness as deep as a moonless midnight, until she finds the courage and hope to escape the walls of her prison.
It's a tale of fathers and daughters, and how those we love the most are the ones that cut us the most deeply. All without ever being aware of their transgression, let alone the how's and why's of the thing.
My story begins in my Nana's kitchen when I was barely three years old.
My dad and Nana were sitting at the kitchen table quietly talking. I was sitting on the kitchen floor steeped in curiosity and wonder as I explored my lower anatomy, just like many young girls do at this age.
When my dad realized what I was doing, his reaction was both fierce and frightening. He slapped my hands sharply and told me that what I was doing was dirty.
In that one instant, the pain in my hands, those harsh words uttered by someone I loved so dearly, and the look of anger and disappointment on my dad's face sealed my fate.
That was all it took to plant the idea in my young mind that I was shameful, wrong, and not worthy of the happiness that others deserved…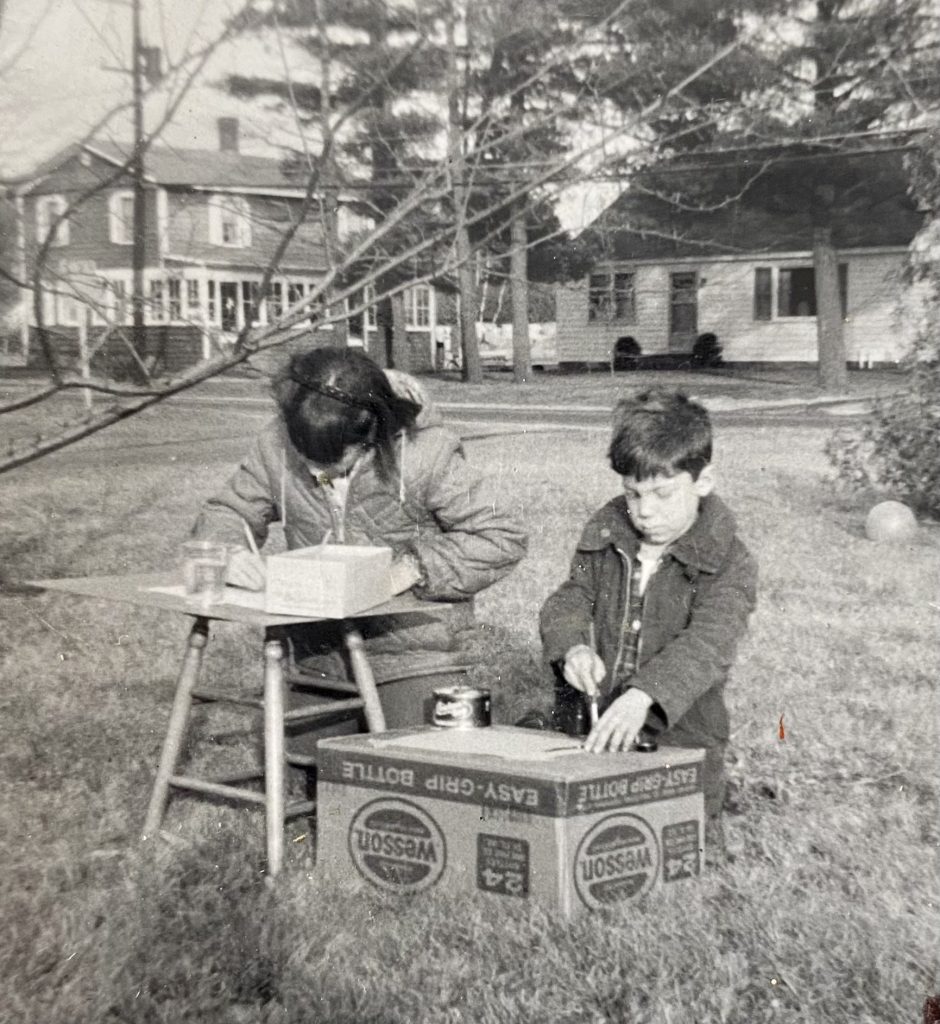 After discovering art I drew all the time. I was the happiest and most relaxed in those moments.
My mom, who was an artist herself, saw this and devoted herself to encouraging my newfound passion.
She bought me books about Norman Rockwell, Andrew Wyeth, and Mayfield Parrish. You can still find them right here on my bookshelf.
She took me to art museums and arranged for me to go to art classes.
She even gave me little tips herself here and there on figure drawing. I soon grew to love the feel of certain kinds of paper and the smell of turpentine mixed with linseed oil.
I probably could have gotten a scholarship to the Rhode Island School of Design, which was the school that my art teacher graduated from. He certainly assured me I could and should go there.
Not wanting to be a commercial artist or art teacher, I never pursued looking into that.
After high school, I did nothing with art. I became a drifter, just moving from job to job, and aimless in life.
I gravitated to friends who were in trouble with drugs, parents, or the law. I never participated in the things that got them into trouble but was always there to try and help them get back on their feet.
Looking back at it now, playing the role of the heroine was incredibly seductive. It was so much safer and rewarding to throw my energies into trying to fix someone else's problems instead of focusing on my own.
A trip out west in 1977 stranded me in Wyoming, where I lived for a month until I could make enough money to get back to New Hampshire. I worked as a waitress in the tiny town of Glendo (population 200).
When it was time to go, I lied about an emergency back home as an excuse to leave one day without any notice.
I don't know if my boss believed me or not, but he told me that I could have a job anytime if I wanted to come back.
His kindness stirred something deep inside of me. I realize now it was the first time I ever truly felt welcome anywhere.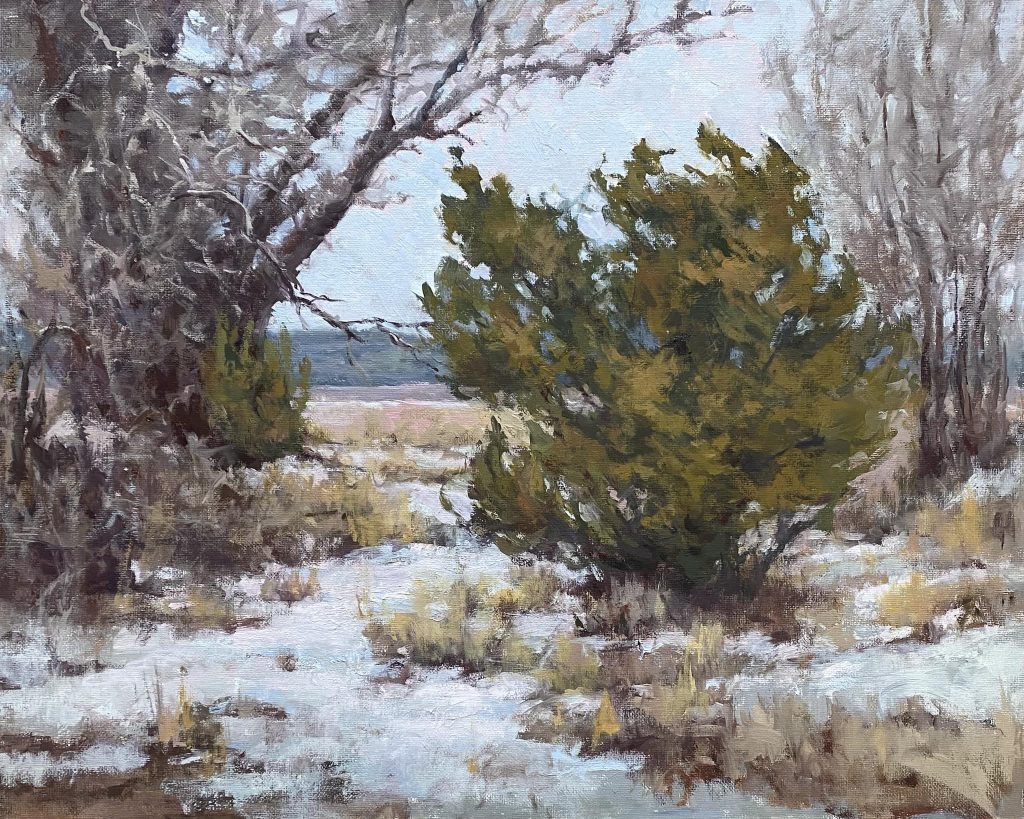 Read Wyoming Artist Ginny Butcher's full story by following this link.
To win a print of "Home on the Range" all you HAVE to do is comment below with what you like about the picture. Earn more points for the giveaway by using the form below.
Categories: #GiveAways, Reviews
Tags: , art, Ginny Butcher, Giveaway, home on the range, painting giveaway, wyoming art, wyoming artist, wyoming women