Sheet Pan Ginger Chicken
Posted March 24, 2020 by Prairie Wife -
Can't lie, like most recipes, this Sheet Pan Ginger Chicken recipe was made out of sheer desperation.
We had a limited amount of ingredients in the fridge (who can't relate to that right now) and I didn't feel like making 3 different dishes for dinner.
This recipe is quick and easy and covers all the bases (meat, vegetable and grains) and can be served in a bowl.
Little to no prep time and easy clean up makes it perfect for anyone, anytime…and yes the leftovers (if there are any) make a great lunch the next day.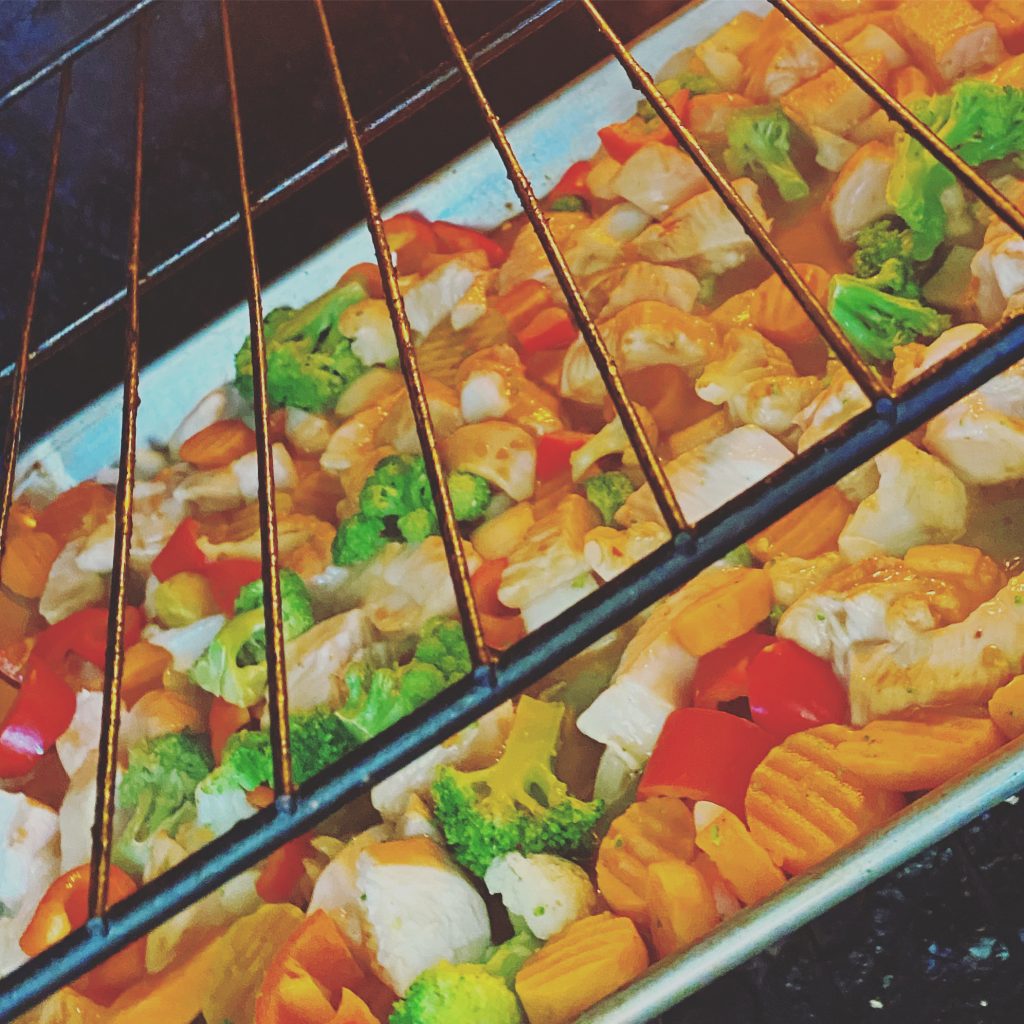 Sheet Pan Ginger Chicken
Prep Time: 10 min Cook Time: 20 min Serves: 8
Ingredients
3 large thawed Chicken Breasts
1/2 large onion chopped
2 large sweet peppers chopped
1 Bag frozen veggies thawed (I like the broccoli, cauliflower, carrot blend)
Brown Minute Rice
Sauce
1 cup Soy Sauce (I use low sodium)
2 cloves garlic minced
1 tbsp sweet chili sauce
1 tbsp powdered ginger
1/4 cup Kung Pow Stir Fry sauce (or any kind of stir fry type flavored sauce will work)
Salt and Pepper to taste
Turn oven on to 400
Combine all the ingredients for the sauce in a saucepan and bring to boil, set aside. NOTE: You can add water to the sauce if you'd like to thin it out.
While sauce is boiling chop up chicken, onion and sweet peppers and thaw frozen veggies in the microwave.
Spray a large sheet pan with non-stick spray.
Put all ingredients on the pan (chicken, veggies, and sauce) and stir until evenly coated.
Put in the oven for 20 minutes (stir at 10 minutes).
When there are 10 minutes left, cook brown rice per directions on the box
Serve chicken and vegetables over rice and eat while warm.
NOTE: You can use beef steak or pork for this recipe as well.
Categories: Recipes, This and That
Tags: , chicken meals, easy dinners, home made chinese food, homemade takeout, Main Meals, sheet pan dinners, sheet pan ginger chicken