My Secret, My Story #giveaway
Posted September 1, 2017 by TallGirlJ - 29 comments
Hey all!
TallGirlJ here….
One of the fun things about having one of your besties be a blogger is she is super sweet and always supportive in all I do. In the last few months, Prairie Wife has asked me if I wanted to share my new venture multiple times and, I always say YES! Then I never actually get the post written.
Here is why….
Right now is a super exciting time in my life but, it has only come after years of struggling.
It might seem silly but, it's hard for me to share this story.
Let me start with this question… How important is your hair to you?
I don't know about you but, a good hair day always improves my mood and a bad hair day almost always results in deflated spirits.
Studies show that women link their hair to their identity. Let's face it, if I ask you think about your ideal hair there are certain people that will pop into your head right away. The term "hair envy" was created for a reason! You see, our hair is something that is personal and public. On bad hair days, you can always throw a hat on or put in a pony but who wants to do that daily?
Here is where it gets hard for me.
I was having bad hair days every day.
I suffer from women's hair loss.
I first noticed it after the birth of my 2nd child. It was mild but definitely noticeable. I went to a dermatologist who at first tried to chalk it up to post-partum hair loss. I accepted her diagnosis but, then months went by, and it kept getting worse.  I went back to the same dermatologist and they did a biopsy. All that did was take a chunk out of my head where hair will never grow again. The results came back with no firm diagnosis. I admit, this round I gave up easily. I found out I was pregnant again, and simply didn't want to deal with it.
With pregnancy my hair was better and I was ecstatic! Then, after the birth of my son I was back to where I started. If I'm being honest it was actually worse. I was so embarrassed! At this point doctors were suggesting it was genetics or hormones and I just needed to deal with it. I was so mortified. It was effecting my mood and my self-esteem. This was a hard time in my life and I simply didn't feel comfortable sharing the problem with others.
I switched hair dressers thinking it would be easier to go to a stranger than someone I knew and loved.
I tried over the counter remedies, prescription medication, hormones…everything I could find!
I was on the verge of giving up. My hair loss was so drastic that my hair dresser suggested a wig or stem cell therapy. My husband felt helpless but tried to be supportive, he was even researching hair transplants. My hair loss was my secret, it was depressing me and consuming my ability to find joy.
Then, a miracle happened.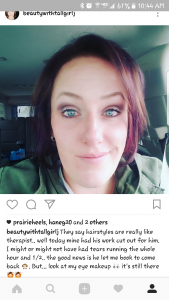 I posted a selfie of my new hairdo and shared a bit that my hairdresser is amazing but that I felt bad for him. I shared how he had to be my therapist, that I cried in his chair during my appointment, and how I was suffering.
One of my social media friends saw the post and messaged me and asked what was up. For whatever reason I unloaded on her about my hair issue (something I had only ever shared with a few people). She mentioned a new shampoo line she had been using and suggested I look it up.
With all of my failed past experiences I was very skeptical but, I was desperate, so I started looking into the product. I was shocked when I couldn't find one negative word on this product so, I took the plunge and placed an order.
Monat stands for Modern Nature. It is a full hair care line that carries products for every hair type. It is nature based with no harsh chemicals. Monat is one of the first and only antiaging hair care lines on the market. It is clinically proven to restore hair to its natural state AND promote growth. It can heal damaged hair and, for people like me, it can cleanse and wake up follicles that have become dormant.
Let me say, I am by no means an expert in hair care, and I don't claim to be. Anyone that knows me, knows that I am honest, so trust me when I say…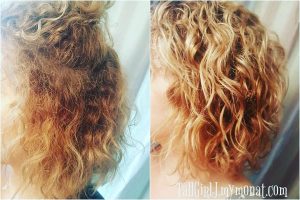 Monat has been the best thing to happen to me and many of my friends, relatives and strangers.
I first ordered Monat at the end of February after using it for a few short weeks I noticed my hair wasn't falling out as much in the shower. By month 2 I could see a noticeable difference. By month 3 others (including my hair dresser) started to notice the improvement in my hair health and growth as well.
I was finally able to wear my hair down again! Not only was my hair growing back, it was healthier than ever.
I went from having to keep my hair super short because it was so damaged, to being able to start growing it again. In fact, at my last hair appointment my hairdresser was impressed that he only had to trim the very ends…and there were no tears 😉
I have several friends including Prairie Wife who have started using Monat as well. Friends with thick, thin, oily, dry, curly, straight you name it I know somebody that is now using Monat products. They all love it, and rave about the change it has made in their hair.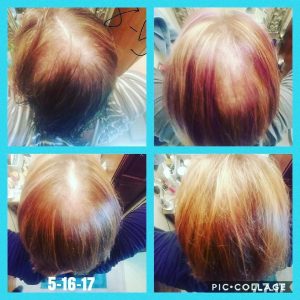 Monat has not only changed my hair and helped those around me…it has opened up many opportunities for me to meet new people and help support my family.
I hope my story might help someone else out there, whether you are struggling with hair loss or just don't love your hair know that you are not alone and please don't give up! There is always a solution sometimes it might feel like a dead end, but I promise it isn't. If you would like to learn more you can keep reading below. If you have any questions please feel free to contact me by clicking this link and sending me a private message.
Love your hair again and page!
Take a moment to page down and enter to #win the Monat Blow Out Cream!
Xoxo
TallGirlJ
What is Monat?
Monat is the first anti-aging hair care company offering naturally based products and limitless opportunities.
We are talking ground floor opportunity, there is not competition out there 😊
Monat is risk free. They offer a 30 day empty bottle guarantee. (what other hair care line does that!?!)
Monat has a less than 1% return rate, and over half those returns are actually an exchange to get a system that better suites the consumer.
Every part of Monat is made, manufactured, tested and distributed in the US.
Monat carries products for the whole family. My husband is using the mens line and seeing amazing results. I use it on my daughter's long thick hair and it has made it so much more manageable. Monat even offers a tear free solution I use on my little boys.
I know I've said it already, but will say it again. Monat has been a life changer for me.
Once again, you can click this link to learn more about Monat and contact me with any questions!
All you have to do to enter to win Monat Blow Out Cream is let us know in the comments what you wish you could change about your hair! You can earn more points towards the giveaway by following us on social media.
Categories: #GiveAways, Beauty, Prairie Wife Style, Product Reviews
Tags: , Beauty, female hairloss, Giveaway, hair, haircare products, hairloss, monat, secret, TallGirlJ