Prairie Wife of the Week: Krista Kay from TLC's My Giant Life
Posted September 29, 2017 by Prairie Wife - 8 comments
Two years ago we created a parody video that went Wyoming Style Viral (this means it was huge for us with over 20,000 views but not so huge for the rest of the world). The Prairie Wives that were on the video were on our local KISS FM station and enjoyed our 15 minutes of fame. A few weeks later we were approached by Jim and went through the beginning process of interviewing for a reality show…yup that's right a reality show…and it was exciting. But, it turns out we weren't exciting lol. Apparently, our lives in Wyoming didn't offer enough appeal to get us to the next step. I stayed in touch with Jim and cheered him on as his show My Giant Life was booked for another season on TLC! I'm sure you can imagine my excitement when he used his connections to put me in contact with one of its stars Krista Kay. I have to admit, I already had her as my fav because she's from a small town in South Dakota right next to where TallGirlJ's husband grew up (it's a small world folks). I have no doubt that you'll be cheering her on too after you read the interview below. Don't forget to tune in to TLC Sunday nights 10/9C and spread the word about this show!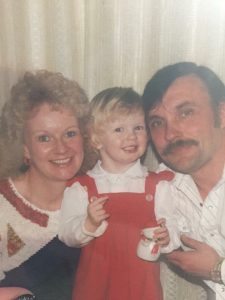 Prairie Wife (PW): First, can you tell us a little bit about yourself?
Krista Kay (KK): My full name is Krista Kay Rabenberg and I am originally from Mobridge, South Dakota. It's a small town of about 3,500 people. I graduated high school in 2006, graduated college in 2011 with a degree in Sociology, then graduated with my Master's Degree in Mental Health Counseling in 2014. You can find out more by clicking this link.
PW: You are 6'6" can you share how your height has influenced who you are as a person?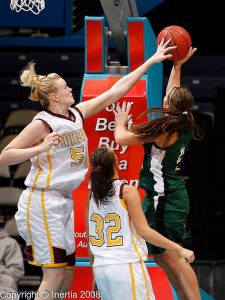 KK: When I was in middle school I absolutely hated how tall I was! I would constantly bend my knees in hopes of looking "normal." Then I discovered basketball! Basketball gave me purpose for being in this long body. Being tall was such an advantage for playing basketball so that's when I started gaining my confidence. I accepted a scholarship offer to play college basketball in Aberdeen, SD. I red shirted my first year then played for 4 years after that. About a year later, I was offered a position on the Ringwood Hawks professional basketball team in Melbourne, Australia. I played one season for them then moved back to the US.
After my basketball career ended, I really struggled with my identity. I worked almost my entire life to improve at this sport, then it ended abruptly. I knew I was born into this body for a reason and it was a bigger reason than just to put a ball in a hoop.
Having to overcome and embrace something I have absolutely no control over (height) is relatable to everyone in some way. Everyone has an insecurity or a something in their life they have no control over. We all have choices on what to do about these situations. I could still be hating how tall I am but I decided a long time ago that I'm going to embrace exactly who I am based on the pure fact that it's not changing. Once I altered my perspective, my confidence increased significantly. It no longer mattered what other people thought because I was done punishing myself for something that was out of my control.
After I graduated with my master's degree in Counseling, I took a job as a crisis counselor and only lasted about 9 months. I'm an empath so counseling these people in crisis and then sending them onto therapy with a different counselor was tough on my own mental health since there wasn't any follow up. It was obvious fairly quickly that this job wasn't a good fit for me. I then took a counseling job at Black Hills State University in Spearfish, SD. This was a more relaxed environment but it still wasn't the job for me. That's when I started Krista Kay Coaching 😊
PW: Can you tell us what you absolutely hate to hear from people?
KK: I hate when people automatically feel sorry for me because I'm so tall. I have grown to truly love my height. Everyone wants to feel unique in some way and my uniqueness is effortless. (I started the hashtag #effortlesslyunique on social media if you would like to mention that) If I was average height, my life would be completely different than it is right now. It's crazy think that I would've given anything to be average height when I was younger but I wouldn't change it for the world now.
PW: Your height has offered you the opportunity to be one of the stars of TLC's My Giant Life. Can you walk us through the casting and filming process?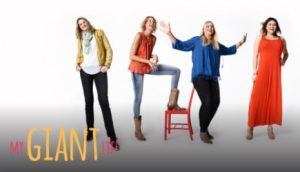 KK: I was actually in contact with the show when they were casting for season 1. They found me on twitter of all places! The process started with a recorded Skype call that was edited into a casting tape. I didn't end up being picked for season 1 but they encouraged me to stay in contact with them as my story/life changed. I was getting my master's degree at the time so I honestly didn't have anything too interesting going on at the time.
Even though I didn't get picked for season 1, I didn't lose hope! I took it as a challenge and it fueled my motivation to make my story interesting and TV worthy! I always used comedy as a coping method to deal with my height and I was told by the producers that is what caught their eye along with the fact that I'm from a small town in South Dakota moving to Sin City. The next step was a 4 hour sit down interview in Los Angeles as well as some footage of me with shorter people. The executive producer wanted to meet me so she met me at an open mic in Hollywood where I performed stand up comedy for the first time. Talk about nerves!! Her and I had coffee the next day and she confirmed that she wanted me to be a part of the show!
PW: I know you can't tell us too much about the show as it's still airing but can you maybe sneak us a few tidbits?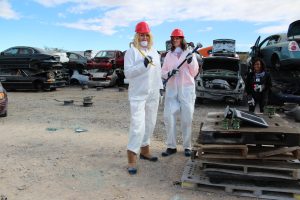 KK: You're going to see me go through the process of writing a set list and perform stand-up comedy in front of about 200 people. When we filmed that show, it was only the 3rd time I had ever been on stage doing comedy. Filming days are typically 12 hour days so my comedy show was the last thing we filmed that week so you can about imagine how I was feeling. Ha!
PW: You have a thriving life coach business can you tell us why you began Kritsta Kay Coaching?
KK: Since I didn't find that the counseling setting was for me, I wanted to transition into life coaching. When you are a life coach, you talk to the individual first to see if you'll be a good team. Unlike counseling where you get whatever walks in the door. Life coaching is a team effort and it targets a different caliber of person. When someone is looking for a life coach, there is a high likely hood that they're ready and willing to change but need the guidance.
When I moved to Vegas, I was doing a lot of social media marketing so I was getting a lot of life coaching requests. Unfortunately, the majority of the people ended up being men with tall women fetishes that wanted to talk to me. With some "clients" it was obvious right away but with others, I didn't find out until we were in the midst of the process. Since I haven't found a proper filtering technique, I recently transitioned into inspirational speaking. This way I can relay what I know about psychology and intertwine it with my personal story. My career so far has been a trial and error process but I think I have finally found what fits me best plus adding comedian to my resume will be interesting!
PW: You've also taken your stories and used them to not only inspire people but to help them laugh. What's it like being a female in a mostly masculine world of stand up comedy?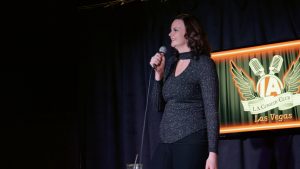 KK: I haven't been in the comedy business too long but it is definitely male dominated. I have had a few men offer to help me with my comedy but there are implications if you know what I mean! I have increased my knowledge of comedy by practicing at open mics, watching comedians online and writing down funny things that happen to me because of how tall I am. There is literally new material every day! The jokes write themselves. haha
PW: What are your hopes for the next few years?
KK: My hopes for the next few years is to have a thriving speaking/comedy business. I am trying to make both careers work together so it will be interesting! I feel like I have been in a transitional period of life for a couple years now so I hope I can be settled into one spot. I'm currently single so I am hoping that soul mate of mine shows up soon. I just turned 30 so it would be nice to start a life together with someone. I feel that my purpose is to help people in some way so I will make that happen one way or another.
PW: Any last Prairie Wife words of wisdom?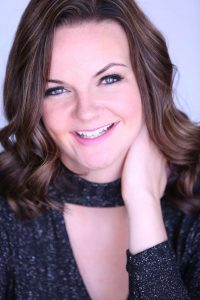 KK: I believe that what happens to us is meant to help shape us into the people we are meant to be.
"Your biggest insecurity could end up being your greatest strength."
"How people treat you reflects who they are, NOT who you are."
"Take control of your happiness."
If you're interested in booking Krista for a speaking engagement or comedy event email her at krista@kristakaycoaching.com
Categories: Prairie Wife of the Week
Tags: , interveiws, Krista Kay, Krista Kay Coaching, My giant life, Prairie Wife of the Week, Reality TV, Tall women, TLC