Prairie Wife Virtual Book Club: September 2023 #giveaway
Posted September 3, 2023 by Prairie Wife -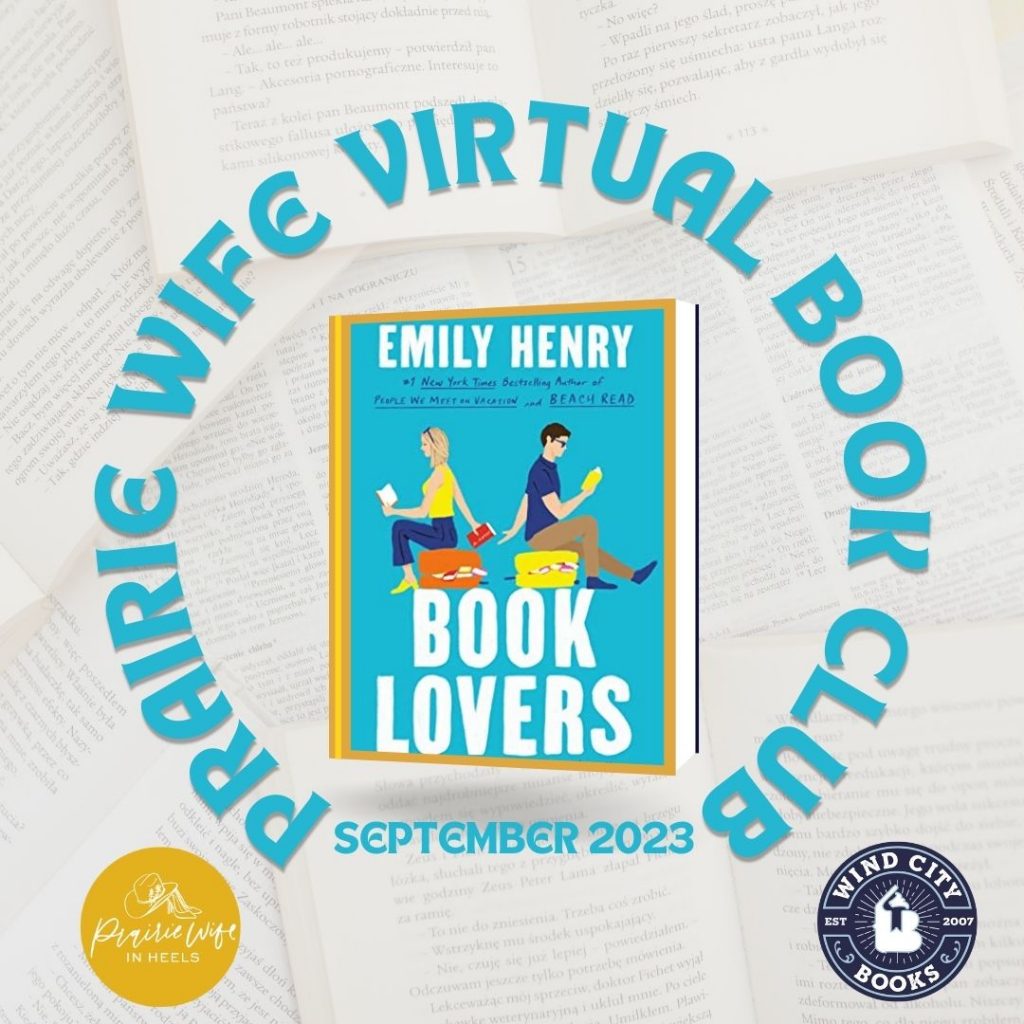 It's time to announce our book for the Prairie Wife Virtual Book Club: September 2023
This monthly Virtual Book Club is all thanks to Wind City Books, an Indie Bookstore in Downtown Casper, Wyoming.
Miranda from Wind City Books can ship you our book club book WHEREVER YOU LIVE, so please use the link provided below to purchase your Prairie Wife Book Club books.
If you're feeling lucky, you can also enter the giveaway at the end of this post to WIN a copy of this month's book. The winner will be chosen on Friday, September 8, so there will be plenty of time for the book to get to you before our Prairie Wife Virtual Book Chat!
So, how does The Prairie Wife Virtual Book Club Work?
It's easy (I promise) and available to ANYONE who wants to join.
You don't need social media because we're doing it all with Zoom!
At our hour-long Virtual Book Club meeting, we will heavily discuss this month's book using the questions given below the review as a guide.
HERE IS THE ZOOM LINK FOR THIS MONTHS VIRTUAL BOOK CLUB: Monday, September 25, 2023, 7 PM MST
Don't forget to enter our GIVEAWAY at the end when you're done learning about our book choice for the month.
I've read two other Emily Henry novels, "Beach Read" and "People We Meet on Vacation," and LOVED them. So, I am incredibly excited to read another of her books for our September Book Club.
Here's what the publisher had to say about "Book Lovers":
One summer. Two rivals. A plot twist they didn't see coming…
Nora Stephens' life is books—she's read them all—and she is not that type of heroine. Not the plucky one, not the laidback dream girl, and especially not the sweetheart. In fact, the only people Nora is a heroine for are her clients, for whom she lands enormous deals as a cutthroat literary agent, and her beloved little sister Libby.
Which is why she agrees to go to Sunshine Falls, North Carolina for the month of August when Libby begs her for a sisters' trip away—with visions of a small town transformation for Nora, who she's convinced needs to become the heroine in her own story. But instead of picnics in meadows, or run-ins with a handsome country doctor or bulging-forearmed bartender, Nora keeps bumping into Charlie Lastra, a bookish brooding editor from back in the city. It would be a meet-cute if not for the fact that they've met many times and it's never been cute.
If Nora knows she's not an ideal heroine, Charlie knows he's nobody's hero, but as they are thrown together again and again—in a series of coincidences no editor worth their salt would allow—what they discover might just unravel the carefully crafted stories they've written about themselves.
PREP QUESTIONS FOR OUR VIRTUAL BOOK CLUB MEETING
What do you think of the book's title?

How does it relate to the book's contents?
What other title might you choose?

How did the setting impact the story?
Which character did you relate to or empathize with the most?
Did the book feel real to you?

Was the couple's connection believable?

If so, at what point did they click for you?

Would you fall for either of the leads?
Did reading the book impact your mood? If yes, how so?
Would you read any other books by this author?
To enter the GIVEAWAY all you HAVE to do is let us know in the comment section below why you want to read our September 2023 Book Club Pick "Book Lovers"
You can earn more points towards the giveaway using the Rafflecopter form below.
Looking for more great books to read? Try these!
Categories: Book Reviews, Reviews
Tags: , book club, book lovers, Emily henry, modern lit, romance novel, virtual book club, wind city books