Prairie Wife on a Podcast
Posted August 2, 2019 by Prairie Wife -
Many of you have messaged and emailed me and asked me if I would begin a Podcast.
It seems there is always a surge of these requests after one of my speaking engagements.
I love hearing this message because it lets me know that I have been able to follow through on our mission of offering support to women wives and mothers.
It means what I've said, or written has connected to you and helped your life and I LOVE knowing that.
It's the ultimate compliment to know you want to hear more.
That being said, I simply can't do one more thing right now.
I know, I know…how hard can it be?
How different is it than my live FB videos or even my everyday radio show?
Trust me when I say Podcasting is no small thing.
It takes tons of prep work, money invested in equipment and often working around other busy people's schedules.
I just can't do it right now, and I really am sorry.
When Sharon Chapman from Restoring Cores approached me about being guest on her podcast I jumped at the chance. I've chatted with her several times over the phone and follow her on Facebook. I knew that we would be able to have an entertaining and authentic conversation and I was honored to have been asked to join her on her Podcast.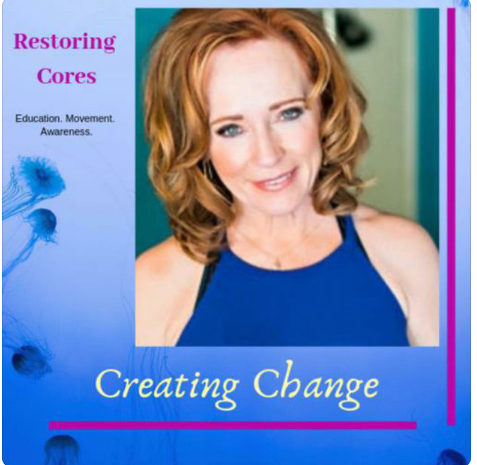 We covered pretty much every topic under the sun.
Basics about the blog, my faith, my preventive mastectomy, mental health, my marriage, and motherhood.
I encourage you to take some time to listen, and then continue to listen to other episodes of Sharon's Creating Change Podcast!
Here is what Sharon shared about our Podcast episode.
This episode, "Grit and Grace", explores the journey of Cathy Holman. Cathy's blog, PrairieWifeInHeels.com is the place to go for heartfelt humorous posts about life on the Wyoming prairie, parenting, health and wellness (including her preventive mastectomy), style, and reviews of every kind. Read more about her adventures in Wyoming and learn how you can live a life of grit and grace at PrairieWifeInHeels.com.
Categories: Life As It Happens, Prairie Life
Tags: , creating change, grit and grace, guest, podcast, restoring cores, sharon chapmman