Planning a Girls' Night Out
Posted January 22, 2018 by Prairie Wife - 2 comments
One of our readers asked me to write a post about "Girls' Night Out"
I assume she wanted ideas and tips and tricks to make it a blast and memorable.
Luckily, my bestie from College is coming into town in a few weeks and she, CollegeBFF and TallGirlJ and I are all set to go out on a Friday night WHOOT!
I felt like this was the perfect opportunity to flex my Girls' Night Out muscles and plan an amazing fun evening that I could write about.
Granted, we live in Wyoming, so our options for fun are a bit limited. But, check out my list and the end of this post and you'll see, it's still totally possible to get out there and have a good time with my girls!
Except, as I tried to plan our night out, I realized…I'm kind of lame.
With five kids and a husband waiting for me at home it DOES NOT sound like fun to go out and get drunk and dance. My entire family will get up at 6 am no mater what, so no relaxing or nursing a hangover with this bunch. Also, the whole designated driver thing is a pain when you live 30 minutes out of town AND even one drink makes it unsafe for me to drive myself #lamelightweight. Not to mention as a group of woman having fun with no men around, you KNOW guys are going to show interest. Nothing is more annoying than having to A. Argue that I am indeed happily married and don't want a drink 20 times or B. Act as a body block for the loser that can't take a hint and keeps trying to dry hump my friend.
I don't know how many times we've gone out and had a great dinner only to see that it's 7:45 and NO WAY are we going home before the kids are asleep.
So…we inevitably end up at Target or Walmart wandering around and chatting, which is amazingly soul soothing, but also kind of lame.
Are you seeing a pattern here?
I am a HUGE movie buff and can NEVER actually make it to the movies.
As a result, I love dinner and a movie or the opposite…but I have friends that go to movies all the time and/or want to chat and gossip for a night out not sit and be quiet.
There are the wine and paint places but the drinking is an issue for me. If I'm being honest, even sober my sunflowers end up looking more like a crushed cigarette butt than a flower. I just can't get over paying $50 for something I wouldn't even hang in my garage.
You can always do a fun fitness class as a group, yet not everyone is cool with going out in public afterwards sweaty and gross. I personally embrace it because it eliminates several of the afore mentioned problems that occur when drinking.
Mind you, I'm not complaining because here's the deal readers.
A night out with my girls and no men or kids is gonna be the best no matter what we do.
TallGirlJ and I still giggle about the mirror and fabric we bought when hugely pregnant after one of our Girls' Night Out.
CollegeBFF has no regrets (I think) about the cute pair of shoes she bought at Target after our most recent night on the town.
Taking Mary Poppins and her mother out to have drinks still makes me snort when I think of how her mom almost barfed on my friend (maybe we ARE fun).
And our night of a private yoga class and going out for drinks in our active wear is one of my favorite memories…
I guess in the end, the key to a good Girls' Night Out, is having a good group of girls with you. That way, anything you do will end up being just what your soul needs and provide you with enough memories to last until the next time!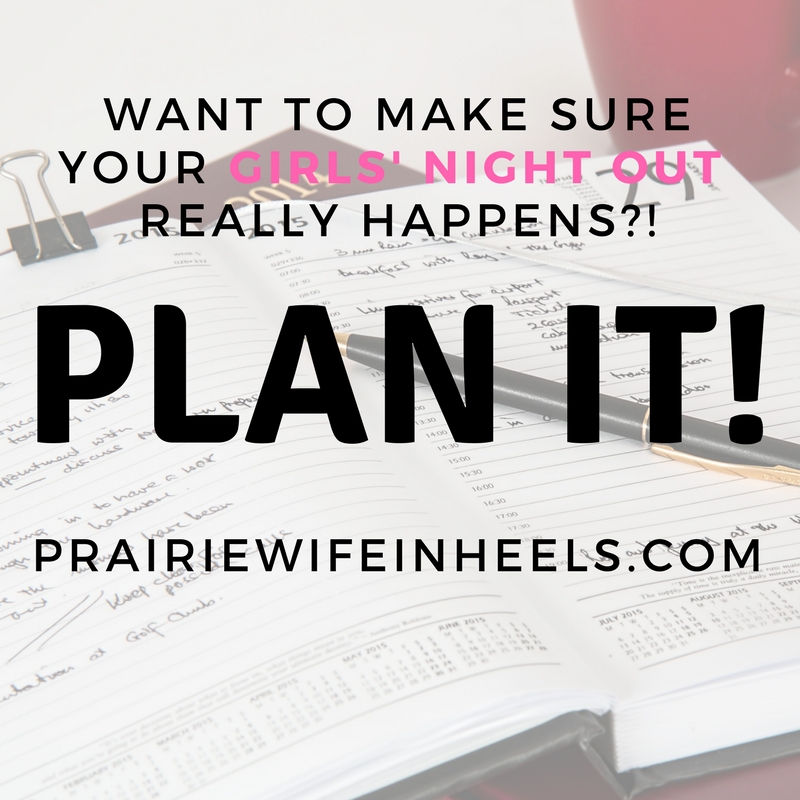 PS You can't please everyone, so whoever takes it upon themselves to plan the event and invite everyone gets to pick what you're doing. If someone doesn't take the initiative your Girls' Night Out won't ever happen. You always have the choice to say no, or plan the Girls' Night Out of your dreams for next time.
Ideas for a Girls Night Out 
Get Moving: Indoor Rock climbing, book a Yoga studio and teacher, hike, snowshoe/ski, walk, adult/girls only pool party.
Movie: Pick a movie, pick a date and invite the crew to gorge on popcorn and candy.
Dinner: Pick the place, set the time and day, have a firm RSVP day so you can book a room if you need a larger space.
Artistic: Wine and Painting, meet at the local Make Your Own Pottery, visit a local art museum, get matching tattoos 😉
Big Event: Get tickets to a concert/comedian, have dinner together, rent a limo (or a patient/kind/loving husband) to take everyone home after.
Drinking: Pick a place to eat before, head to best bar in town and party, pick another place to stop and eat more after. NOTE: Have Designated Drivers
Girls Night In is also an option and can be tons of fun! Kick your family out for the night (or weekend) and have tons of goodies to eat and dril along with a chick flick on TV. I think a sweats only/messy mom bun dress code is a must with this one…
What do you like to do on your Girls Night Out?
Categories: Life As It Happens, Prairie Life
Tags: , friends, friendship, girls night out, ideas for a girls night out, support, woman