Pink Lemonade Pie
Posted June 23, 2014 by Prairie Wife - 2 comments
Today is national PINK day and to celebrate I'm sharing one of my favorite summer recipes, which happens to be pink! This can be made in 10 minutes and then put in the freezer to use either later on in the day, or even days later. If you are using it a few days later I recommend covering it with foil after it sets, to keep the top from getting freezer burned. I've also been known to just serve this as a pink lemonade smoothie with crumbled Graham Crackers on top…delicious! It's a big crowd pleaser for young and old alike, and I can't wait to hear what you think.
Pink Lemonade Pie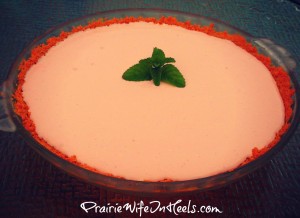 Prep Time 10 minutes Freeze 3 hours Servings 8-10
Ingredients
1 pre-made Graham Cracker crust in a pie tin or make your own with this recipe.
1 8oz container of frozen Whipped Topping
1 container of frozen pink lemonade concentrate
2 cups of vanilla ice cream
1. Let all of the frozen ingredients soften (about 15 minutes)
2. Mix all of the frozen ingredients into a smooth blended mixture.
3. Pour mixture into the Graham Cracker crust and place in the freezer (make sure it is as flat as possible) for 3 hours.
4. Let it sit on the counter for 10 minutes to soften slightly and serve (garnish with fresh mint for an extra wow factor).
Categories: This and That
Tags: , BBQ dessert, Dessert, Pink dessert, recipe, summer food, sweet treats, Sweets