That One Time I Almost Got to Ask Dolly Parton a Question…
Posted September 14, 2016 by Prairie Wife - 4 comments
It may come as a surprise to many of our readers that I am a diehard Dolly Parton fan…and I have been for years, even before The Cowboy's country influence. From the first time I heard the haunting song Jolene I was hooked. The more I learned about her as not only a country music artist (because she truly is an artist) but a philanthropist, wife, and woman the more I fell in love with her.
Last year I reached out to the company that manages Ms. Parton in hopes of being considered for the opportunity to interview her for our Prairie Wife of the Week segment. I had no real hope of getting the interview but, if you don't ask the answer is always no!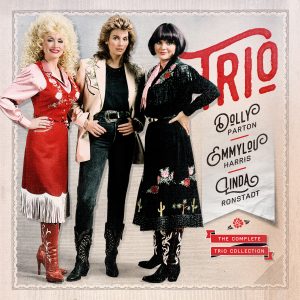 Imagine my surprise when I was invited to participate in a teleconference with not only Dolly Parton but country music greats Linda Ronstadt and Emmylou Harris. Just this week they released a three disk collection, The Complete Trio Collection. It includes remastered and previously unreleased tracks from their Grammy winning Trio albums. I was able to listen to some of the tracks ahead of time and I have no shame admitting that their acapella version of "Calling My Children Home" brought this mother of five to tears. Seriously, tell me you don't get chills when you hear them sing "I'm lonesome for my precious children, they live so far away. Oh may they hear my calling, and come back home some day."
I was a nervous wreck when it was time for the interview…and it didn't help that it was held two weeks after my preventive mastectomy!
We were all asked to prepare questions with the understanding that only a few people would actually be able to ask questions. I spent hours writing and re writing my questions, even though I knew I might not get to the opportunity to use them, it was important to me to have them be perfect. In my heart of hearts I held fast to the hope that maybe fate would smile on me yet again…and it would be horrible to be caught unprepared!
Despite not being picked to talk to the ladies, it was an absolute honor to listen in on the interview. The Trio is just as gracious, intelligent, and fun to listen to as I hoped. There is just something about Ms. Parton's laugh that makes you smile! These women are professionals in every way. Despite this interview being held after they had been answering questions for hours, there was still plenty of laughter! The ladies spent more than half the interview complimenting each other, laughing, and giving credit where credit was due. There is no doubt in my mind that they honestly do "love each other like sisters."
As they chatted away they said many things that struck a chord with me but, below is my favorite quote from the interview. Like true friends they were finishing each other's sentences and adding thoughts to what the other person said. So, this quote actually contains comments from all three of the women.
"There is a longing in the soul that we all have…in country music you hear that mournful tenderness…that's why [these songs] were so wonderful to sing and are so profound…they go to those deep emotions we all have inside of our hearts."
While the Trio will be unable to perform together in concert (Linda Ronstadt is no longer able to sing due to health issues) The Complete Trio Collection is available now to introduce a new generation of country music fans to the simple, beautiful and heart wrenchingly soulful voices of these three country music legends.
And just in case you didn't already know, Dolly Parton is currently on tour. Her Pure and Simple tour still has tickets available. If you are lucky enough to attend, snap a pic and share it with me…I'll try not to be too jealous!
Oh, and if you missed her Coat of Many Colors movie, you better check it out. It's become a family fav around here…but get some Kleenex there isn't a dry eye in the house when we watch it (even The Cowboy sheds a tear)!
Just in case you were wondering, here are the questions I wrote, my top two were the ones in bold 😉
The trio of you are known for not only your beautiful voices but for your grit and grace as well. How have you all managed to remain both successful AND true to yourselves throughout your careers?
This release will allow you to reach a new generation of country music fans, how does that inspire you as you continue to evolve as artists?
Throughout the years many country music artists have listed you ladies among their musical mentors. How do you think the release of these previously unheard tracks will impact todays up and coming artists?
Many of these songs brought tears to my eyes as I listened to them, specifically the acapella version of "Calling My Children Home". How do you keep your composure when you sing them?!
When I heard the acapella version of "Calling My Children Home" it brought more than a few tears to my eyes.  When you ladies first heard these previously unreleased and remastered tracks what emotions did you feel?
Categories: Reviews
Tags: , Calling my Children Home, country music, Dolly Parton, Emmylou Harris, female country music legands, interview with Dolly Parton, Linda Ronstadt, music review, The Complete Trio Collection, Webster Public Relations