How Old Is Too Old To Wear A Romper?
Posted May 26, 2017 by Guest Poster - 4 comments
NOTE: This is post is from past Prairie Wife of the Week Kyleen of Fashion Crossroads. I am so pleased she let me share her post (and fab fashion advice) on the blog! Keep an eye on our Instagram feed for a pic of me wearing one of these. After reading this I couldn't resist giving that cute turquoise one a try 😉
One of the most common questions I get is the "Am I too old to wear a….?"  
Let's face it ladies, one of the most challenging things about fashion is figuring out how to stay trendy without dressing in an age inappropriate way.
Let me just say at the beginning of this post that I flat out reject the idea that if you are wearing current trends and are past forty, you are dressing too young.
I don't believe the problem lies in whether you wear the latest trends; I believe the issue is in how you wear them.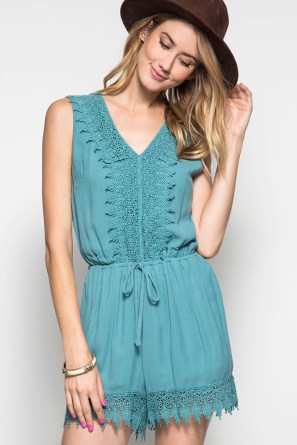 Let me explain.
Each trend will have an edgy side and a more conservative side.
Take the two pictures in this post as an example.
The picture above is a romper that I would wear, and I am 45.
I wouldn't wear the one below.
That choice doesn't come from which I think is cuter because I love them both.
I would choose the one above because it is a toned-down version of the romper trend.  It has a tank-style top that is bra-friendly; it has an adjustable drawstring waist with a blousy top that will hide figure flaws; it is in a beefier fabric which is less flimsy, and it has slightly longer shorts because of the crochet detailing on the bottom.
My post forty legs just can't do short shorts.
If I wanted to add another conservative element, I could put a white button-up cardigan or denim jacket over my arms for coverage.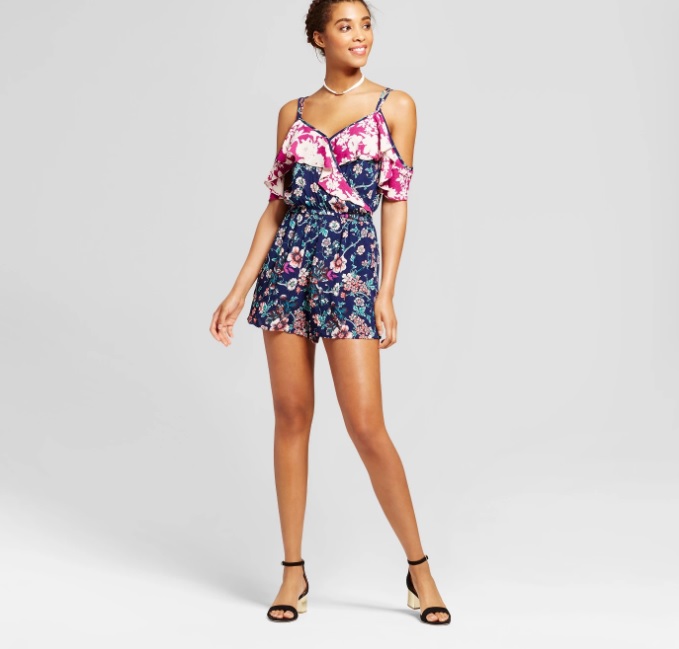 The floral romper above would perhaps be better suited for a woman in her twenties or even thirties.
With the chiffon fabric and shorter shorts, it will require nice legs.
The addition of the cold shoulder element further limits this romper because the more edgy trends you combine in one outfit, the younger the look becomes.
In other words, it's okay to wear a romper if you are over forty.
It might not be the best idea to wear a chiffon romper with little flowers and cold shoulders that require you to wear a bandeaux as a bra.
Do you get my drift?
I use this same logic when I am considering any trend.
Is there a way I can wear the trend while still keeping the look conservative enough to be appropriate?
I can tell you that I have rarely skipped a trend altogether.  Only two "um…not only no but hell no" trends come to mind: short shorts and mini dresses.
So if you are like me and over forty but still want to dress in the latest trends, don't despair.  You can stay fashionable and stylish well into your sixties and seventies.  
The key is keeping it classy!
Get more great fashion tips from Talking Trends at FashionCrossroadsInc.com
Categories: Fashion, Prairie Wife Style
Tags: , advice, age appropriate trends, Fashion, fashion over 30, over 30 trends, rompers, style, summer style, trends