Made In Wyoming #giveaway
Posted December 15, 2017 by Prairie Wife - 29 comments
I love all things Wyoming…I even have a tattoo of a bucking horse I love my adopted state so much.
As someone who has a business based on talking about my life in Wyoming, you can bet I'm all about spreading the word about great things in our state.
I dubbed this entire week "fashion week". We began with kids clothes and a giveaway (you can still enter to win) on Monday, holiday fashion tips and discount codes to one of my new favorite online boutiques and for my favorite makeup primer on Wednesday, and now today…I'm talking about two amazing women that create handmade made in Wyoming products. Make sure you stop by at the end of the post to enter to WIN 😉
Up first we have my bestie TallGirlJ and her business Jilybeans Things.
I admit I may be a tad biased when I say I LOVE everything she creates, she is my bestie after all. What started as a way to save money creating custom t-shirts and hats for her and her children, has blossomed into a business! Not only does she create super cool Wyoming gear like these bucking horse hats (I know you've seen me wearing mine all over Instagram) but she can custom make items to fit anyone's needs.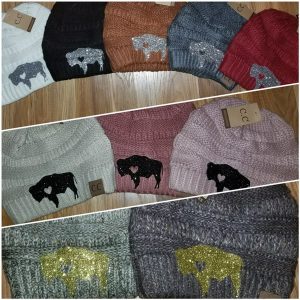 I have some Prairie Wife gear coming (back by popular demand) and just look at these cool buffalo hats. She also makes mugs and thermoses with a wide variety of patterns. You can head over to her Facebook page and take a look at the items she has in stock (and put in a custom order if you'd like). Make sure you enter to win one of her warm winter hats at the end of the post!
This is our second time talking about Louria's Lovelies on the blog…what can I say? When I'm a fan I'm a fan forever!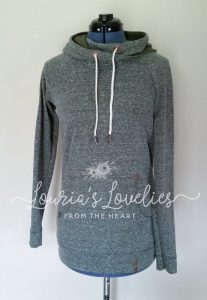 I now have four shirts created to my measurements from this local seamstress and entrepreneur extraordinaire! For someone as long waisted as me with man shoulders thrown in just to make things difficult, it's a must to have clothing that won't shrink, ride up, and is long enough to cover what it needs to. Add to that my sleeve issues (they have to be just the right length) and you can see why I love having clothes custom made to fit my picky standards. I just received a floral (of course lol) crossover hoodie like this one and I've been living in it. Head over to Instagram tomorrow to see a pic!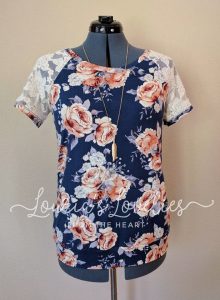 I also love that Alyssa is more than happy to offer suggestions of clothing styles and fabrics that go well together. Just look at this lace and floral t-shirt…doesn't it make your heart sing? From cartoon characters to stripes and florals, she can make a custom item that will become a beloved piece in your closet. Did I mention that she makes kids clothes too? Cowgirl G can't get enough of her Harry Potter tunic, and after almost a year of washing there has been NO shrinking or fading!
Now it's time for a GIVEAWAY!!!!! We will have TWO winners. One winner will get a winter hat from Jilybeans Things (your choice from her stock) and one winner will get a crossover hoodie from Louria's Lovelies.
To enter to WIN you HAVE to comment below and tell us what you love about Wyoming AND you need to follow all three of us on Facebook. You can use the RaffleCopter form below or follow these links. PrairieWifeInHeels.com FB Jilybeans Things FB Louria's Lovelies FB
Categories: #GiveAways, Fashion, Prairie Wife Style, Reviews
Tags: , custom clothes, Fashion, Giveaway, made in wyoming, small buisness, winter clothes, Wyoming, wyoming gear