Louria's Lovelies #giveaway
Posted February 22, 2017 by Prairie Wife - 33 comments
Prairie Wife: I thought it would be fun to have a guest writer for this post! Because, what better way to introduce you to this awesome local business owner than allow her to introduce herself?
As we wind down our "We LOVE Our Readers Month of Giveaways" make sure you stop by the end of this post for yet another AMAZING giveaway.
Hello PrairieWifeInHeels.com readers! Alyssa Louria here, let's get down to business right away…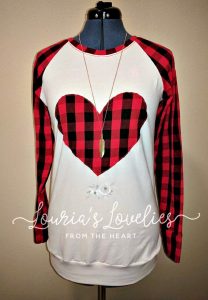 Last Summer I found myself feeling disappointed and frustrated after one too many fruitless shopping trips. The story was the same every time, despite hours of shopping and stores, nothing fit me right. I put my sewing skills to work and created a few pieces for myself. I posted a picture of me rocking my new look and I received a lot of compliments, and a few friends asked if I would make them something. They expressed the same frustration I had….there seemed to be no clothing that fit them properly in stores. I did some research, and even made a few things for friends and family to test the waters.
The results were beyond my wildest dreams, and Louria's Lovelies was born!
I love making my customers happy with clothing that fits them perfectly, because I understand the struggle. The fashion industry, generally speaking, has a skewed standard, and women are not all cookie cutter shapes and sizes. My clothing line allows women to own clothing that is perfectly made for them, something typically only for those willing to drop a small fortune!
What exactly do I do at Louria's Lovelies?!
I make custom sized and designed clothing to fit you! I either take measurements for you, or can show you how to take your own. Then you choose a style and fabric and I make a custom sized shirt for you. Currently I make two styles of raglan shirts, the slim and relaxed fit,  a crossover embrace tee, a fleece hoodie, and leggings!
Feel free to look at my Facebook page to see photos of all of our styles!
Prairie Wife asked me to tell you what makes me amazing…
Am I?
Lol, I love making other people feel amazing about themselves, inside and out!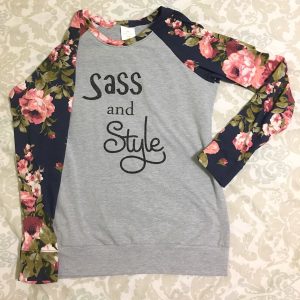 Between running a house, usually haphazardly, and managing my family, hubby and 3 kiddos, I find time to sew awesome clothes…that's amazing right?! 
Take a look at this fab shirt (if I do say so myself) I made for Prairie Wife…so cute right?!
If you'd like to win a custom (created with your measurements) sass and style shirt of your own all you HAVE to do is comment below, tell me what your favorite article of clothing is and why. You can earn more points towards the giveaway by following us on social media.
Categories: #GiveAways, Reviews
Tags: , clothing, custom clothing, Fashion, Giveaway, leggings, louria's lovelies, sass and style, Shirts, small buisness