Dreaming of Spring
Posted February 20, 2017 by Prairie Wife - 4 comments
The weather in Wyoming has been crazy warm this last week, like 60 degrees warm! Yes, of course there has been wind but, it's been so unseasonably lovely that it forced me to start dreaming of Spring much earlier than usual!
I was perusing through my People StyleWatch Magazine this weekend and suddenly was hit with the shopping bug. It was full of florals (my weakness), flowy tops and shirts, and bold bright Spring colors. It was all I could do to keep myself from going on a major online shopping binge. Thankfully, I texted TallGirlJ and she gave me the support I needed to stay off the internet shopping sites.
I channeled my Spring dreaming into this post and created two style boards. I have to say that I'm struggling to pick my favorite…they both are so fun (in my opinion). I know that my big sis and business woman TexasTwoSteppin' would for sure go with Edgy but, I can see TallGirlJ liking more pieces in Feminine. Don't forget, you can head over to our Pinterest page for more style inspiration.
Let me know in the comments what style board you like the best!
DREAMING OF SPRING: FEMININE
The items here have a decidedly feminine and floral look to them. From the light wash boyfriend jeans to the floral dress and top, the pastel tones immediately make you think of warmth and sunshine. This wrap sweater is perfect for the changing weather that Wyoming Spring brings yet, I can see that it could be worn all year long (maybe even over a dress in the fall or winter). The accessories keep with the muted color pallet, and I just loved the floral hat! The jewelry is both bold and delicate and those boots would get a ton of use all year long! I also added some perfume, because what says Spring better than a new light floral scent?!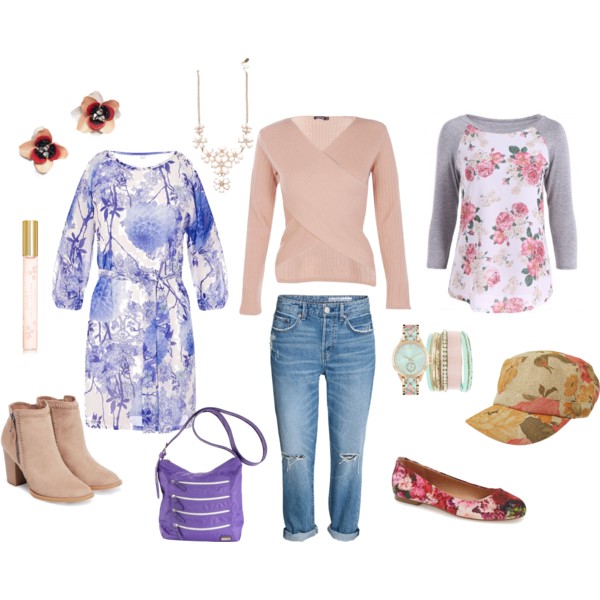 DREAMING OF SPRING: EDGY
These items make you think Spring with bold colors and prints that are anything but subtle. The airiness and cut of the white top keep it Spring like and chic. Trust me when I say you can pair with just about anything in your closet…including these bright pink pants and citrus skirt. While I know not everyone would feel comfortable in these items, the shoes would add a pop of Spring to a pair of jeans and this shirt dress will flatter any figure! The jewelry is subtly floral, and the purse's color made me think of flowers in bloom. The blue lace top is a bit more feminine that the other items but, the cut and bold color keep it from being too girly.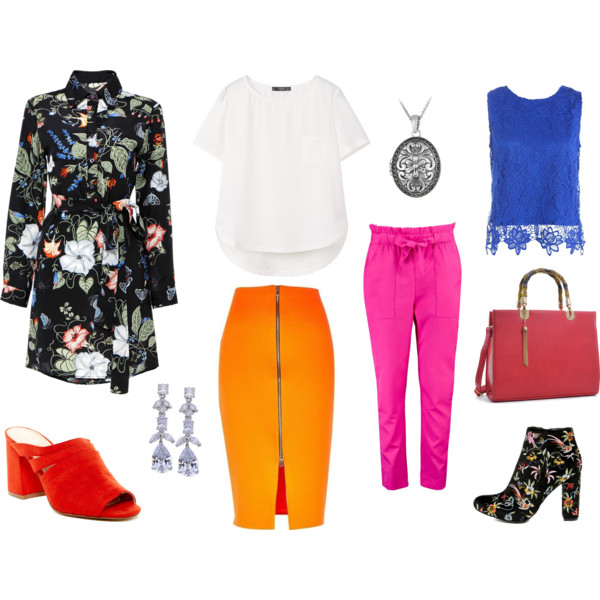 What do you think readers, are you dreaming of Spring now too?
What collection is your favorite?!
Categories: Prairie Wife Style
Tags: , bold colors, dreaming, edgy, Fashion, feminine, floral, mom style, pastel colors, Spring, spring clothes, spring fashion, Spring Fashion 2017, style, style board