How To Pick The Perfect Outfits For Family Pictures
Posted September 1, 2020 by Prairie Wife -
I think that the most stressful part of family pictures is learning how to pick the perfect outfits for your family pictures…especially with a big family like ours!
We recently had our family pictures taken by the always amazing Erin Potter. She has been taking our pictures for ten years now, and there is no one I enjoy working with more.
Each year we plan the perfect place and time, and then we meet up, and the fun begins…and I can truly say that…because now that we no longer have toddlers and babies it IS getting pretty easy. Truthfully The Cowboy is usually the one with the worst attitude (and I am not even joking).
After a decade of getting our pictures professionally taken I feel pretty confident that I know how to pick out the perfect outfits for our families.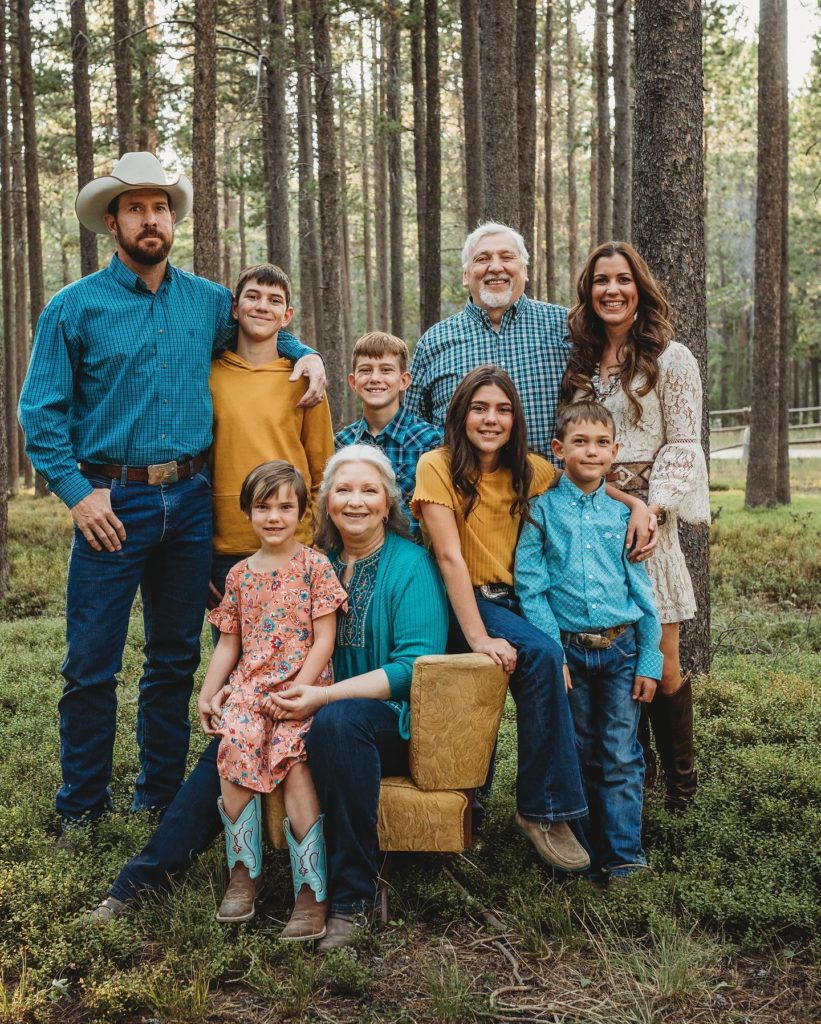 After I shared some of our most recent pictures with you on social media, I had many people that A. Commented on the color palette and B. Asked me for tips and tricks on how to pick outfits.
So, I thought I would create a quick post for you letting you know how I pick the perfect outfits for family pictures.
Be Yourself: We are a big family that loves our rural life in Wyoming. For us, perfectly pressed polo shirts and khaki pants won't work. I embrace the fact that the boys (and The Cowboy) want to wear jeans and let MY personality shine through too.
Let Your Kids Have Some Say: You want your pictures to show your family as they REALLY are (but smiling and clean), so it's important to let your kids have some say. Cowgirl G hasn't been a fan of dresses the last few years so in our pictures she's wearing jeans and a nice top. The younger boys are super into the cowboy look, so I happily let them dress the part.
Think About Location: Taking pictures in the Wyoming mountains means that it's likely to be a bit cold, so I make sure we aren't in t-shirts and thin dresses. Keep in mind the colors of the scenery around you as well. If you are at the lake, darker blues and greens might not show up as well against the water. In the woods, a deep brown or green won't pop like a cream or lighter colors.
Have a List of Must-Have Poses: When taking pictures, we always start with the group family photo first. It's the most important to me, and I want to get it done while we look (and feel) our best. Then we do the group kid pictures, their individual pictures, and then The Cowboy and I. Last but not least are the pictures with us separately with the kids. Take time to make a list, so you know what you want to be done and in what order. I also like to go to Pinterest and get some inspiration for new and creative poses (though a good photographer has likely already thought of this for you).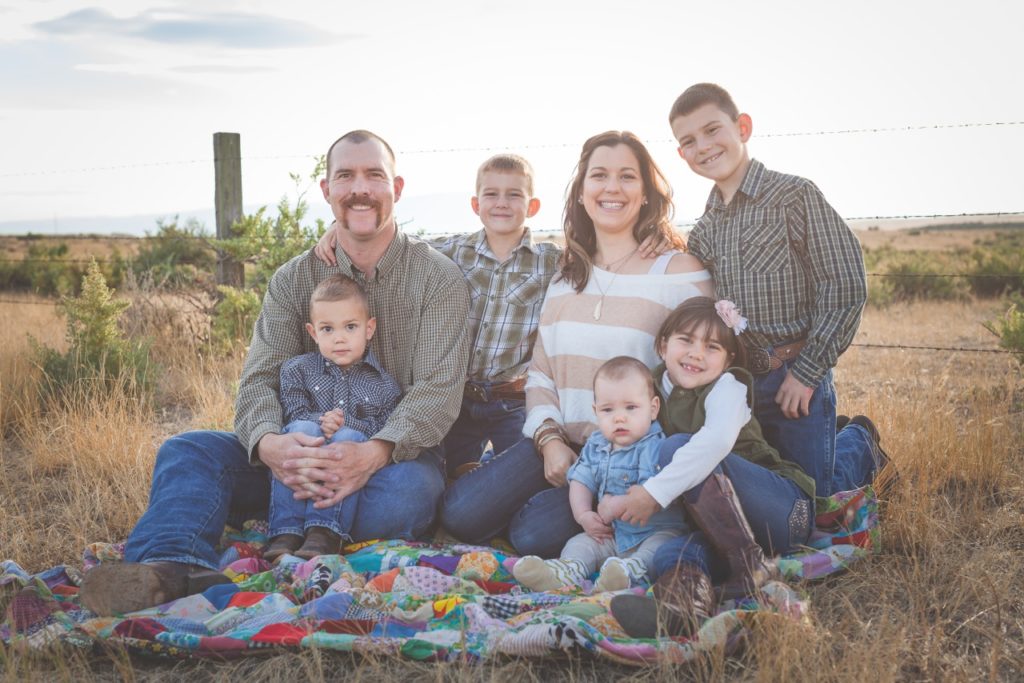 Pick a Color Palette: This is the part that scares most people, but it's super easy. Pick 3-5 colors that you like together. If you're feeling overwhelmed, look around your home. Are there colors that you tend to gravitate towards in your decorating or your own wardrobe? This year our color palette was 100% inspired by my new velvet couch! Choosing 3-5 colors that look good together will help you pick clothing that looks wonderful but isn't too matchy-matchy.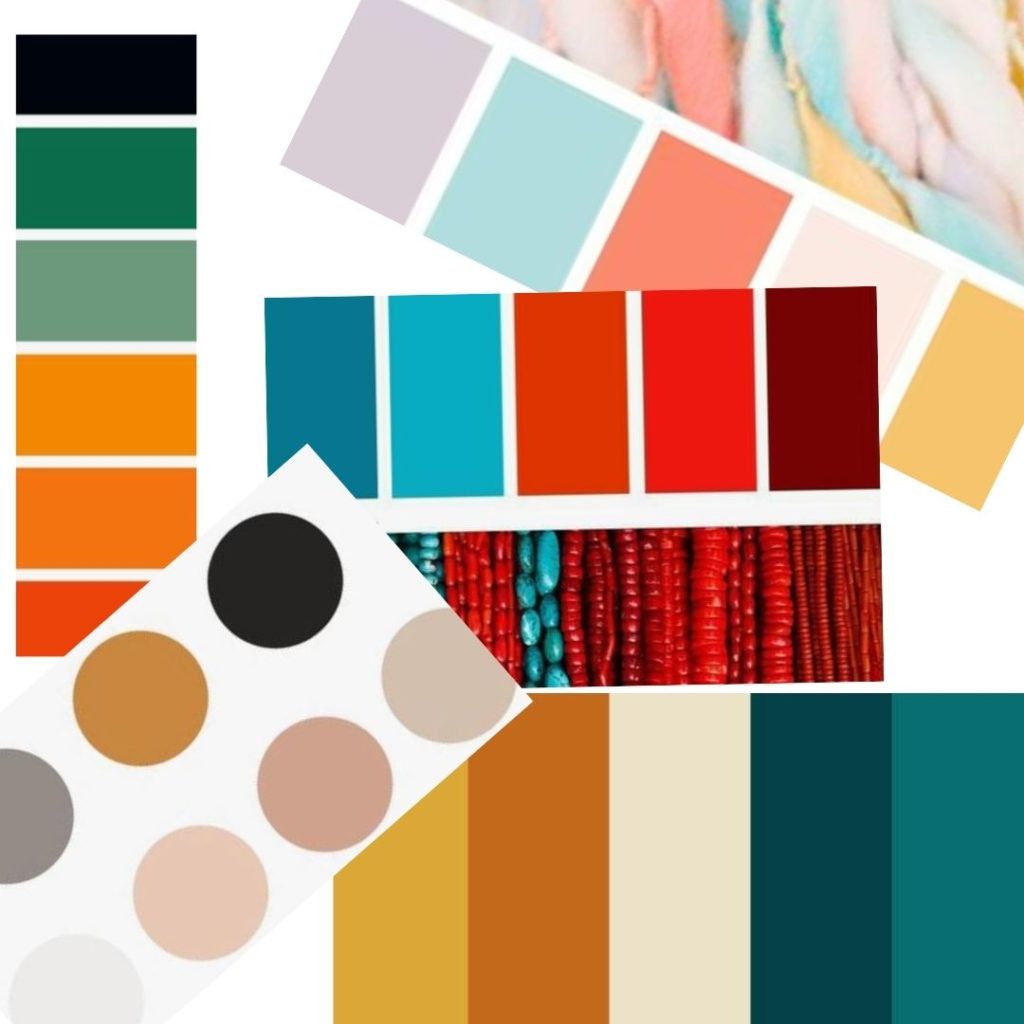 Purchase the Clothing: Now that you know your location (which will help determine long or short sleeves, layers, or a need for lightweight clothes) and your color palette, it's time to get outfits. The first place I look is our closets. It's amazing how often I can find at least one part of the kids' outfits already in their closet. Next up, I head to the local stores to purchase the other items I need. Knowing the color palette makes this incredibly easy. For example, this year, I had planned to have Little Miss H have a turquoise dress, but when I saw the printed deep blush dress at Walmart that had flowers that were turquoise, mustard, and cream, I knew it would work perfectly. Switch up the looks with different sleeve lengths and necklines (collared, v neck, crew neck, or layered).
Have Options: This year, I had Cowboy J wear a t-shirt in one color under a hoodie of another one of our color palette choices. I knew that with the bold deep gold color, we may need to mix things up a bit depending on who he was standing next to. Having options allowed us to have more freedom to mix and match positions. So, throw in an extra sweater, vest, or shirt for a few of your family members for those just-in-case moments.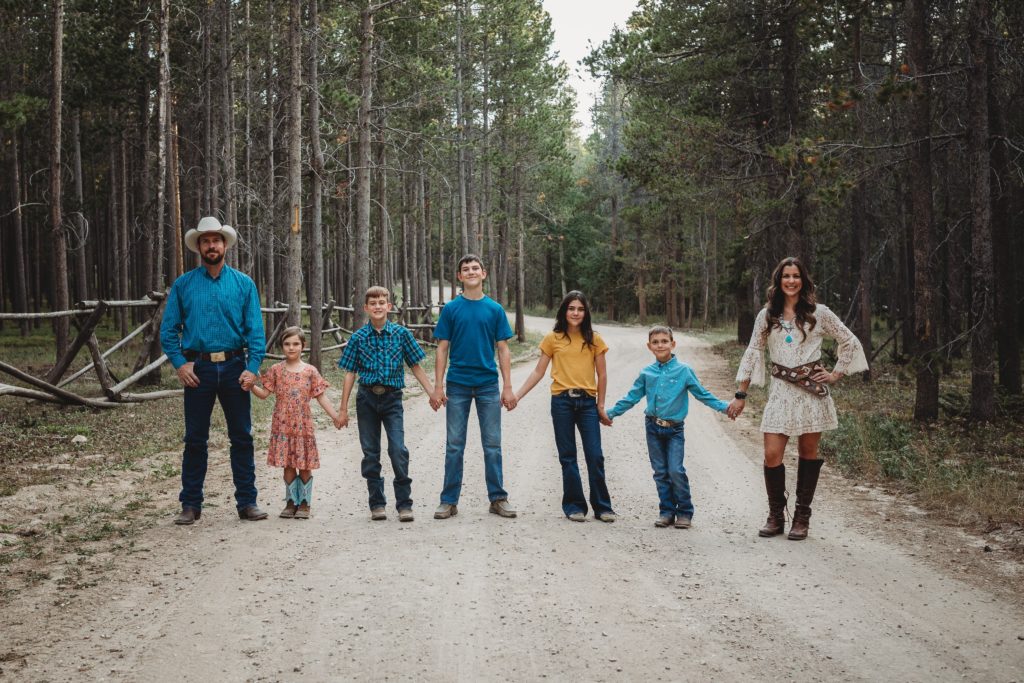 Don't Forget About Accessories: Accessories are another way you can tie in your outfits to your color palette. For example, the turquoise necklace I'm wearing ties in with the blues that the boys have on. A scarf is a great way to add a pop of matching color over a simple cream-colored top. Also, details like The Cowboy's hat and my heeled boots make the pictures uniquely us!
Hopefully, this post helped you to take some of the stress out of how to pick outfits for family pictures!
Do you have any other suggestions? Leave them below in the coments.
All photos were taken by Erin Potter or Erin Potter Photography
Categories: Fashion, Life As It Happens, Parenting, Prairie Wife Style
Tags: , clothing color palette, family photos, family pictures, help with family pictures, picking clothes for family pictures, picking outfits