An Up Close Look: Brow Bomb
Posted August 28, 2020 by Prairie Wife -
For the last several years it's been all about the brows, and Brow Bomb is the latest in brow care!
While I have no regrets about microblading (you can learn more here) I admit that I needed to go back for a refresher about 2 years ago. My color has faded to almost nonexistent, and I've been having to use an eyebrow pencil or tinted gel for the last year to fill in my brows.
As I was chatting with the good folks at Stirling Skin Care they mentioned the lastest in brow treatments, the Brow Bomb.
They invited me to watch Paola (their phenomenal massage therapist) receive this treatment!
In this first video, Rachael explains that the Brow Bomb Lamination is a perm for the brows. But instead of making the hair curly, it makes it thicker and straighter.
Take a look…
With my girls at Stirling Skin Care Clinic to show you "Brow Bomb Lamination" This month's special only $60 PART ONE ✅

Posted by PrairieWifeInHeels.com on Friday, August 7, 2020
In the second part of the Brow Bomb Lamination Rachael creates a custom color to match your brows and tints them.
This along with the perm creates full natural-looking brows.
Here is a look at Paola after the 30-minute process. In this second video, Rachael also talks about the aftercare and how long you can expect the results to last.
Back on again with my girls from Stirling Skin Care Clinic showing the final results from this month's special "Brow Bomb Lamination" PART TWO

Posted by PrairieWifeInHeels.com on Friday, August 7, 2020
The results last 6 to 8 weeks.
I went in the next week and had the Brow Bomb treatment and I have to tell you I was totally wowed by the results!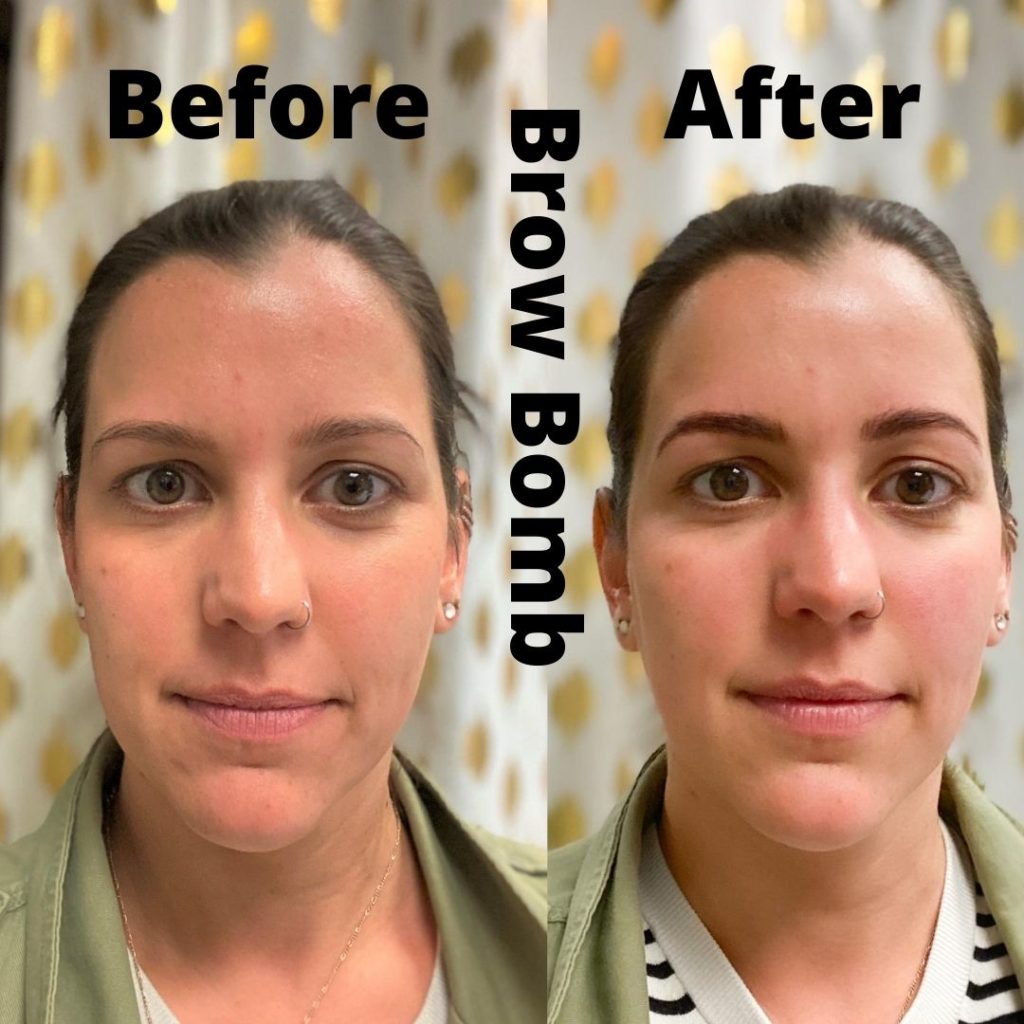 In these pictures, I am NOT wearing any makeup at all, and just look at what a difference those darker brows make!
You have a few more days to get in on Stirling Skin Care's Brow Bomb Giveaway, and to enjoy their August special of $20 off the Brow Bomb treatment. That means you only pay $60 instead of $80 if you call before AUgust 31st to book your appointment.
Categories: Beauty, Prairie Wife Style
Tags: , beauty treatment, bolder brows, brow bomb, brows, full brows, partnership, semi permanent makeup, stirling skin care clinic, treatment