Homemade Whipped Cream
Posted October 25, 2013 by Prairie Wife - 1 comment
The Cowboy and I have spent many Thanksgivings together, but it was our second (dating not married) that has become part of our family's history. I was a junior in college, and looking forward to some home-cooking. As I headed over the mountain and towards The Cowboy's Grandma's house, I received a call. It turns out that his mom had forgotten to get whipped cream for the pumpkin pie, and he asked me to pick some up at the store. I was thrilled to be at last contributing to the family, and agreed. I ran into the store and stopped. I suddenly broke into a sweat, did they want extra creamy or regular? Or low fat, or low sugar? The choices were suddenly overwhelming! I finally took a breath and went with the original Cool Whip, and got an extra container just in case.
I walked into the house and handed The Cowboy my grocery bag as I turned to hang up my coat.
"What's this?" he asked holding up the Cool Whip.
"You asked me to get Whipped Cream; did you want the low fat kind?" I began to panic, after all that I had got it wrong. The Cowboy started to laugh and called his Mom and Grandma over. They immediately began to chortle along with him.
"We wanted Whipping Cream to make Whipped Cream, we don't buy the already made kind!"  I stared stunned and silent (for me this is a rarity). As I thought about it, it occurred to me, that of course you could make Whipped Cream from scratch. I had just never had it before…
The Cowboy promptly took me to the store, and then proceeded to teach me how to make Whipped Cream from scratch (a man that cooks, I fell for him even more). It's so easy (it only takes two seconds) and tastes so much better than the store bought. Give it a try; you'll be glad you did.
Homemade Whipped Cream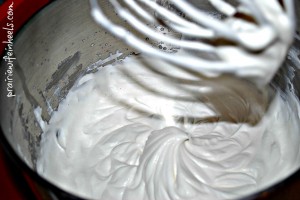 1pt Heavy Whipping Cream
1/3 cup white sugar
1tsp Vanilla
1. Pour the Whipping Cream and vanilla into a bowl (if you want to be really fancy you can place the bowl in the fridge 20min before to make it cold)
3. Using a hand mixer turned on to high speed (or a stand mixer with the whipping attachment) begin mixing the cream and vanilla
4. As you are mixing, add the sugar a little bit at a time (if you can do it while still mixing) until it is all combined
5. After about 2 and a half minutes stop the mixer and see if it is done. If the Whipped Cream peaks (stays in a peaked shape when you pull out the mixer) you are done. If not, mix for another 30 seconds, and check again.
Warning: You can mix it too much! You want it to be light and airy, not thick. If you forget the mixer is on, and leave it alone too long, you will end up with butter.
I use my KitchenAid mixer on Speed 6 for 3 min
Categories: Recipes, This and That
Tags: , family traditions, Homemade, Prairie Wife, sweet treats, Whipping Cream