Gifted Occasion #giveaway
Posted March 5, 2018 by Prairie Wife - 31 comments
It's my birthday month!!!
To celebrate we have an entire month of giveaways (insert excited emoji hands here)!!!
Our first giveaway is from a sign company called Gifted Occasion.
When they reached out to me about doing a review and giveaway I was so excited. I had just finished redecorating our kitchen and bedroom and was on the hunt for a few more finishing touches. I headed over to their website and spent waaaay to much time browsing their amazing selection of solid wood signs.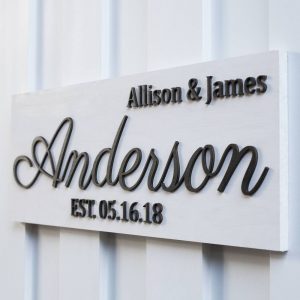 From personalized signs that make a wonderful anniversary or wedding gift, to adorable décor that will work in any room of your house, they have it all. I decided to pick a personalized sign and was so thankful when they emailed me for my approval on the final design before they created it. I ended up asking them to make a tweak, and once the final design was approved, my sign was at our house the next week! You can pop on over to our Instagram page to see our sign hanging in our home. I have to add that The Cowboy was thoroughly impressed with the quality of the wood, I was just excited at how great it looked lol!
When I saw there were Wedding Guest Book signs my heart sighed a bit. There were none of these cool ideas when The Cowboy and I were married. Just look at this tree sign, you can customize the names as well as the color of the birds and number of leaves. Each person at your wedding writes their name on a leaf and the sign becomes your guest book! I can think of several future brides that would LOVE this.
Lucky for our readers the wonderful people at Gifted Occasion how offered a $100 gift code to one lucky reader!
Take a moment to head over to this Oregon based company's website and pick your favorite sign. Let us know in the comments which sign you like the best, and you'll be entered to win $100 WHOOT! You can earn more points towards the giveaway by using the form below.
Don't forget to keep coming back all month for more amazing giveaways!
Categories: #GiveAways, Product Reviews, Reviews
Tags: , gifted occasion, giftedoccasion.com, Giveaway, home decor, personalized signs