Flowers for Rodney by Kristine E. Brickey
Posted August 23, 2014 by Prairie Wife - 3 comments
I was really excited to read this book for several reasons. Firstly I have met the author, there is something about knowing the person who wrote the book that puts an extra bit of fun into the reading! Secondly it's a genera I don't usually find myself drawn to…which means it helps fulfill my News Years resolution from way back in January!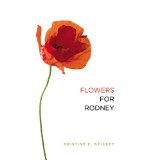 Flowers for Rodney by Kristine E. Brickey is a Young Adult (YA) novel about a misguided youth and his mother. With my oldest son having just turned 8 I have to admit that I didn't plan on connecting strongly with the characters…boy was I wrong! Brickey has a flare for writing that is evident from the very first chapter. Her grasp of what Rodney truly feels, and her ability to explain it in a way that grabs the reader, took me right back to my sullen teenage years. I appreciate Brikey's attention to detail (specifically her descriptions of what happened in the court system) and her ability to set the scene without weighting the reader down with pages of unnecessary descriptions.
What makes this book special is that it is written from not only Rodney's point of view but, his mother's as well. The candid honesty of Sarah's (Rodney's single mother) thoughts and emotions, allows the reader to truly picture themselves in her position. I was struck by her choice to leave her son in jail for a night, where she would know that he was safe, and I could see myself making the same choice. The sweet budding romance in the story adds just enough release from the tension. A warning to my readers that the ending will be unexpected…at least I didn't see it coming! I also have to add that while I am generally not a big crier…this book elicited more than a few tears from me.
I suggest that those of you with a preteen or teenager read this book and then hand it over to your child. I know that this book could be a wonderful avenue to open up some important communication about drugs, drinking, and the overall pressures of being a teenager today.
Stop by Amazon.com and get your copy of Flowers for Rodeny and don't forget to enter here to win a copy signed by the author!
Categories: Reviews
Tags: , addiction, Book Review, drugs, Flowers for Rodney, Kristine E. Brickey, love, motherhood, young adult