Five Picks For Fall 2013
Posted October 28, 2013 by Prairie Wife -
I guess you could call me a "late bloomer" when it comes to fashion and style. Maybe this is due to the fact that I grew up in the '70s and '80s. Can you say plaid pants with a gold turtleneck? White corduroys with an argyle vest and matching legwarmers?
The early '90s were about college and starting my career, so I focused on almost everything but my wardrobe and beauty routine. When I started my big adventure and moved to Texas, I realized I had an incredible opportunity to make myself over and find my "adult" style. Even though I lived in a small, rural town I knew I wasn't a cowgirl. I had a professional job in a conservative field and needed to look the part. But I had a tight budget and limited shopping resources–Internet shopping was unheard of and we were an hour away from the mall.
So, I vowed that I would make every purchase count and only buy something if it was versatile (T-shirts that could be worn under a blazer for work or on their own on weekends, heels that went with trousers and skirts) and if I loved it. With my clothes I veer more toward classic styles with structure. With makeup and hair, I go for simple and natural. But all bets are off when it comes to shoes-that is where my personality shines through! As Nina Garcia says, "A great pair of shoes can make a $20 outfit look like couture, and a poorly constructed pair of shoes can make couture look like a cheap knockoff." I build most outfits from the ground up and heels are a staple. In a corporate environment I've found my heels literally help me see "eye-to-eye" with my male coworkers.
My style inspiration? I've loved Audrey Hepburn since I was 12 and have 70+ episodes of TLC's What Not to Wear saved on my DVR. While I appreciate comfort and ease, you won't find me in sweats like Prairie Wife; I just feel comfortable being a bit more dressy than most. Even when I am at our local high school football game you'll find me in heels, jeans, blouse and a leather jacket. I've even worn a day dress and flat sandals to my stepkids track meet! I'm excited to share some of my favorite things here and on Pinterest, and I hope it helps you discover some new ideas to enhance your "adult" style.

Purse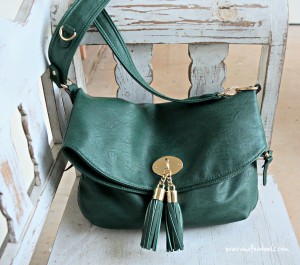 I know lots of women who change their purses every week or even every day. I'm just not one of those women. But, I do commit to switching out my purse every season, and this fall I found a great green one! (You will soon learn that green is my signature color. I live in a very small town and, if a female acquaintance is wearing kelly or hunter green she always, somewhat apologetically, says, "I thought of you when I bought this." I guess that is the power of a signature color!) This one is made by Mix No6 and was bought at DSW for under $50. I love that there are two external zip pockets and fun, yet sophisticated, tassels and gold hardware. It is a great size because it can hold an iPad for work, but is still small enough to be worn cross body or over the shoulder for a weekend shopping trip.
Boots
The best time to buy boots in Texas is in April-it involves a lot of foresight, but it pays off! Yes, this means you can't debut your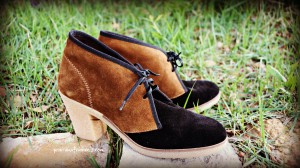 incredible purchase for at least 7 months, but the money you save is worth the wait. These European gems were from Anthropologie's sale area, and were an incredible steal at $25! Because they are black and brown, I can wear them with anything. The rubber sole/heel is incredibly comfy. Of course, they are great with jeans. But this fall, I plan to wear them at the office with a pair of cropped black pants and a blazer on Monday, a jean skirt and cotton oxford and scarf mid-week, and leggings and a long cardigan on casual Friday.
Jacket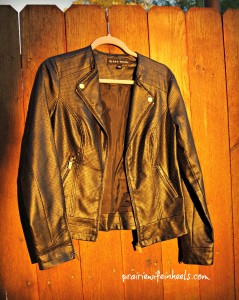 This is one of my favorite picks for fall. When I'm having a crazy weekday morning, I can grab it on my way out the door. My black pencil skirt, printed tank top or blouse, and pair of killer heels instantly look polished and planned. On the weekend, it adds just the right amount of class to my sweaters and jeans. I got it at Nordstrom Rack for under $100, a steal for how often I will wear it.
Swe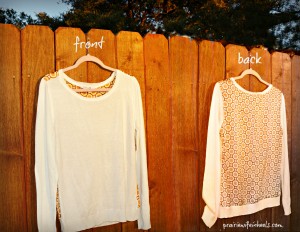 ater
Yes, I know old ladies like me are not supposed to shop at Forever 21, but every once in awhile I will dash in to see if there is a trendy, inexpensive piece I can incorporate into my wardrobe. It may only last for one season, but I loved that this sweater has a "secret." The modern print on the back gives it just the right amount of sass. This sweater will look great with a tan pencil skirt or trousers. I can easily make it go from day to night by adding some great jewelry and a blazer.
Peplum Top
If you don't have access to a Nordstrom, I am so sorry! Their sales staff is incredible. When I tried on this bold, 3/4 sleeve, blue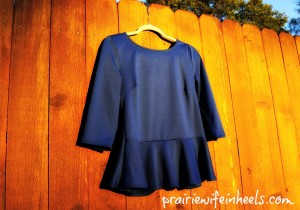 peplum top (thank you Stacy and Clinton from TLC's What Not to Wear for the idea) I immediately sent them back for the same top in black, and then a white one. It has an exposed zipper and it can be worn with any type of pant or skirt.  If you haven't given the peplum a try, do yourself a favor–you won't believe how small your waist looks. My stepdaughter "Stepgirl" (a high school teacher in her mid-20s), wore a sleeveless peplum top under a bolero knit sweater the other day; she looked great. I hadn't thought of pairing peplum with bolero, but the proportion with flared trousers is so good I ordered a similar cropped cardigan from The Loft that same day. Isn't it great when you can learn from your kids?
Categories: Prairie Wife Style
Tags: , Fashion, jacket, peplum top, Professional wardrobe, purse, suede shoes, Texas Two Steppin'