Emersyn & June
Posted January 25, 2019 by Guest Poster - 15 comments
This is a guest post created by Anna from Emersyn & June and is the first of several giveaways for our annual February "We Love Our Readers" month of giveaways. Yes I know it's a bit early…but we wanted to ensure this special custom giveaway would be done in time for Valentine's Day.
The name Emersyn & June was created in remembrance of two very special women in my life.
A dear friend's middle name who was taken from this world too young- Emersyn. June was my beloved grandmother's middle name, and I was honored to be able to care for her the summer of 17′ while she battled with brain cancer.
I wanted to honor both their hearts and the love they showed by making a positive from a negative.
Emersyn & June was created and Established in 2017.
From the design of a necklace, the head pin perfectly adorned to the bead, to the hand stamped packaging…it is all handmade by yours truly in my home studio.
I don't think there is anything more amazing than a handmade item to give or to receive!
I thought this would make a perfect a Valentine's Day giveaway for all of you PrairieWifeInHeels.com readers. I never make anything for myself, so I took my husband's handwriting and created a pendant. I can't wait to wear this as a daily reminder!!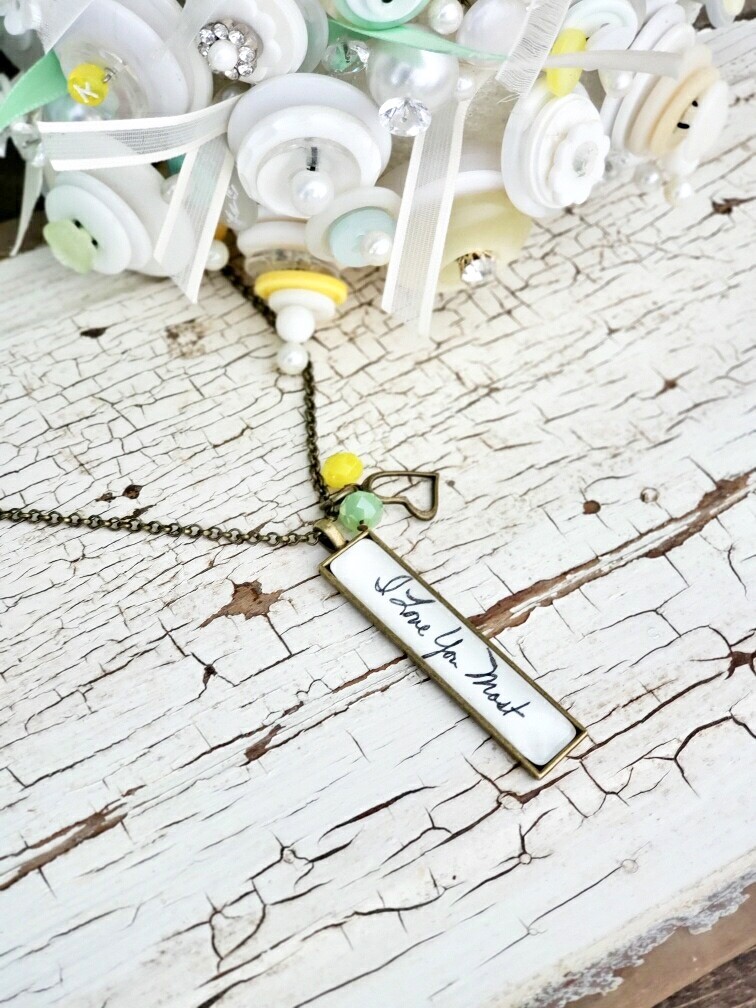 What do you think?
Wouldn't a custom pendant made with a loved one's handwriting make the perfect Valentine's gift for a special someone??
All you have to do to enter to win one of these beautiful necklaces for yourself or a loved one is…
Tell us who you would like to create a custom handwritten pendant for in the comments.
You can earn more towards the giveaway by using the form below.
Categories: #GiveAways, Fashion, Prairie Wife Style, Product Reviews, Reviews
Tags: , custom jewlery, emersyn & june, Giveaway, handmade, necklace, pendant, small business, Valentine's Day