DIY: From A Playroom To A Home Gym
Posted March 16, 2021 by Prairie Wife - 4 comments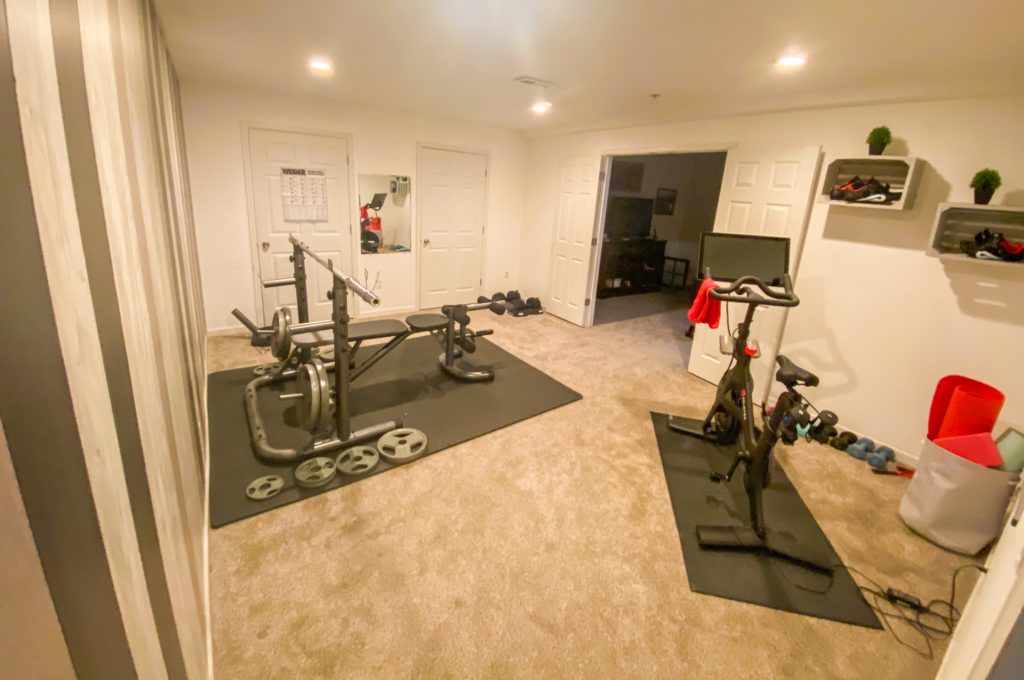 Recently The Cowboy and I made the decision to change our home's Playroom into a Home Gym.
It's a fact, the Cowkids just keep on growing up.
And, as they get older I have found that certain areas of our home (like our playroom) aren't getting the same use as they have in the past.
We updated our Playroom 2 years ago to make it work better for our growing Cowkids. We added a large table (and took out the preschool size one) so they could play board games and do puzzles and took out some of the baby and toddler toys.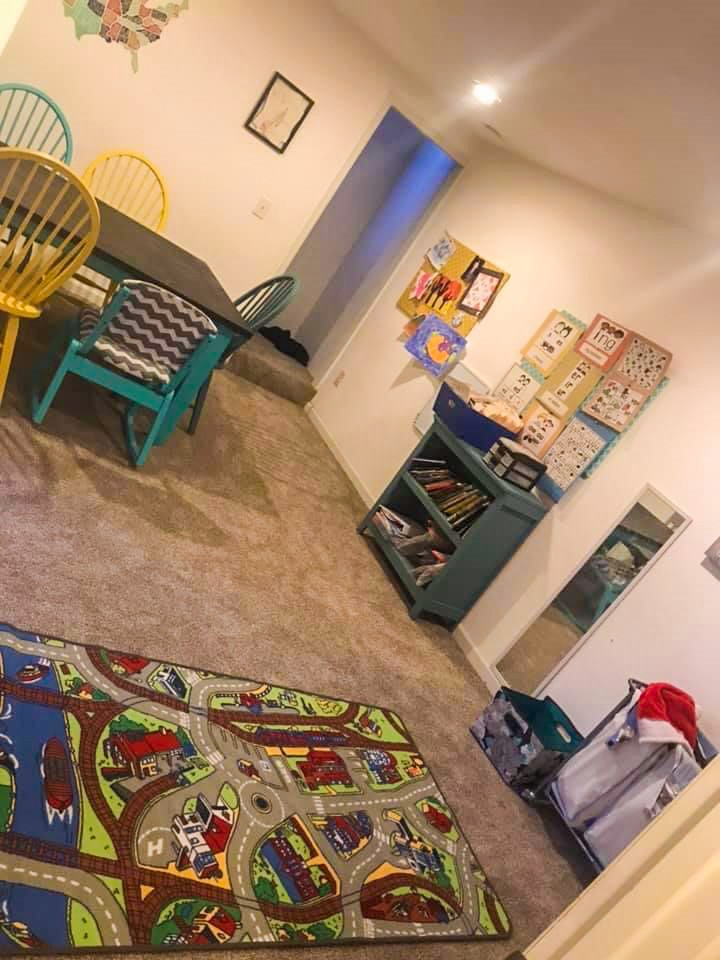 But, we noticed that other than the table it wasn't getting much use.
The two younger Cowkids (6 and 8) tend to play with their toys in their room and we noticed that we no longer needed a large space for train tracks, and multiple kids playing at the same time.
Our older son has turned into a full-on jock (this isn't a bad thing) and with the recent addition of a Peloton Bike into our lives (that the entire family uses) The Cowboy and I started to talk about MAYBE turning the Playroom into a Home Gym.
It was a hard decision to make, and I admit I shed a few tears as we purged the Playroom and donated bags of toys.
But, after just a weekend's worth of work, we were left with an amazing Home Gym that has already seen a ton of use and makes me smile every time I hop on my Peloton.
First, we spent a lot of time talking about what equipment would get the most use from our family.
We already had a Peloton bike and decided that adding a treadmill wasn't a wise idea for us. I know from experience that I prefer to run outside, or hike, or snowshoe. I felt confident that the Peloton Bike would be enough allow me to get a cardio workout in when weather or time wouldn't allow me to get outside.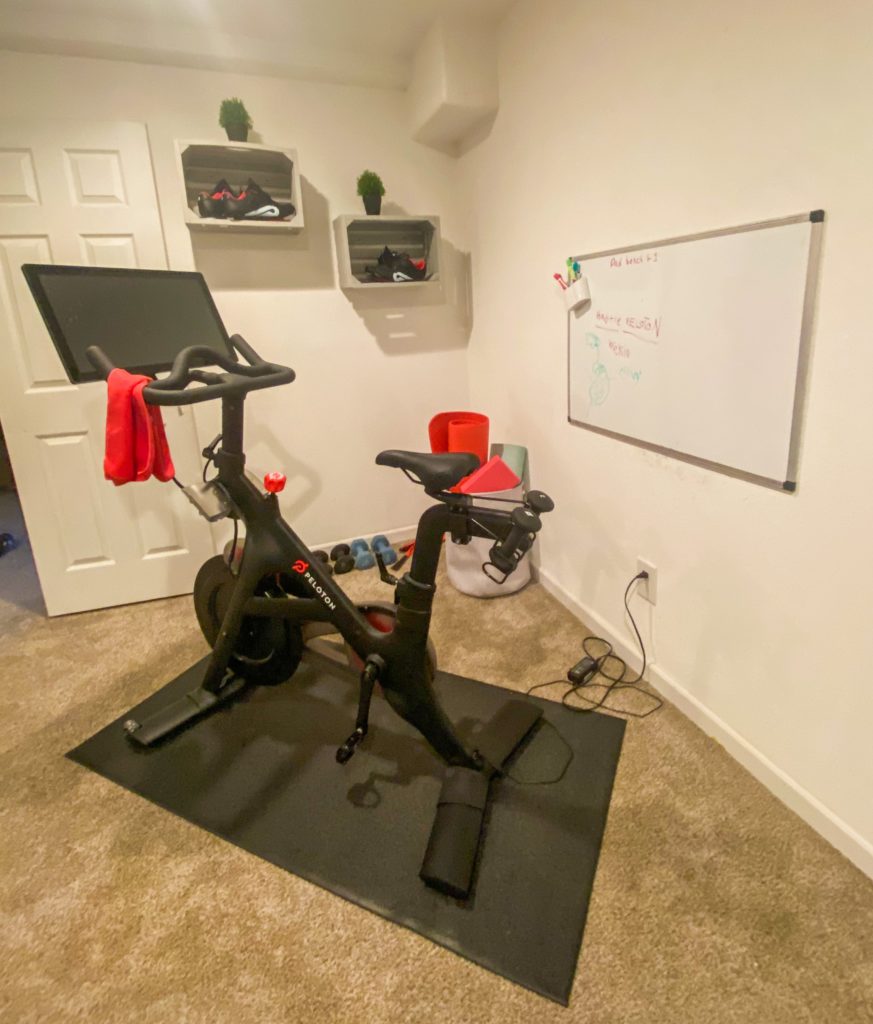 The crates on the wall were originally brightly colored and held toys and books. I spray-painted them gray and that's where we keep our bike shoes.
A fabric basket holds my yoga mat, and the hand weights I use for strength training are lined up against the wall.
We left the whiteboard so we can record workouts or list out our workout plan, and eventually, The Cowboy will have a shelf above it to hang the Cowkids' medals and display their trophies.
The Peloton Bike is set at an angle so I can see the TV. Sometimes I like to put it in scenic mode, turn down the volume, and get caught up on my shows while still getting in a light workout!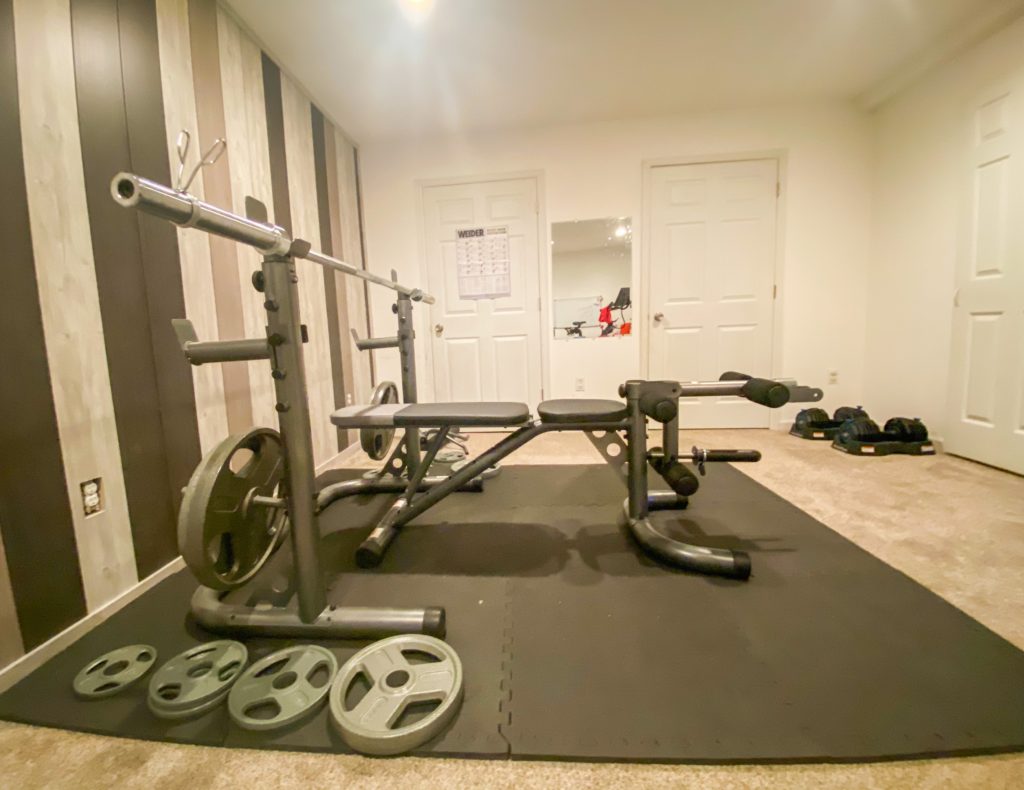 After a lot of thought, we decided that full-body workout bench like this, with a bench press, was the best fit for our family.
We found this bench at our local Play It Again Sports store for a reasonable price. We liked that it had attachments for leg workouts as well as curls. We found the best price for the barbell and weights at our local Dick's Sporting Goods Store.
We talked A LOT about what dumbbell set was the best. I already had all the light hand weights I needed, but The Cowboy and Cowboy J wanted a heavier set. We looked at buying a rack and weights but most of them only went up to 20lb and they wanted more than that.
In the end, we bought a NordickTrack 55lb Adjustable Hand Weights Set. You can see them on the floor at the right of the picture. So far it has been a great fit for the guys.
You can also see that we added a medium-sized mirror to the wall (bought at our local Menards) so they could make sure they had the right form while lifting.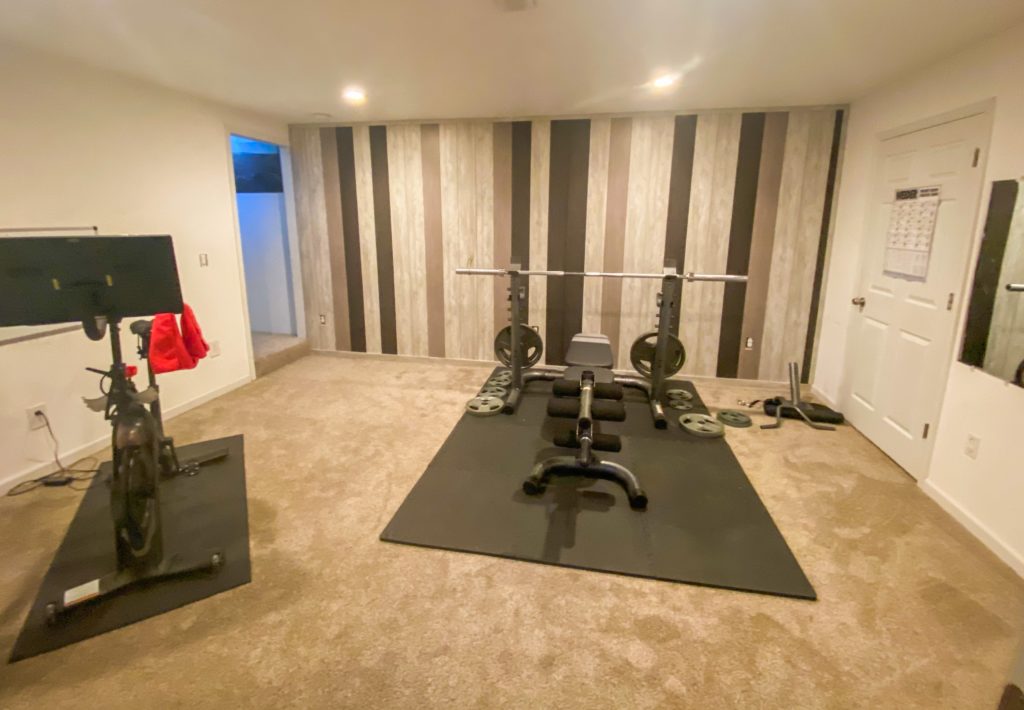 The Cowboy didn't want me to paint the walls, and the large wall behind the weight bench can't have anything hanging on it with how much traffic goes by. So, I had the idea to find some fun stick and peel wallpaper to put up!
The Cowboy was doubtful that it would actually look as good as I said it would, so instead, we used Shiplap Wall Planking in a mixture of colors. We used a variety of colors because I wanted to tie in the gray and black of the equipment with the earth tones in the other room.
We placed the boards vertically instead of horizontally to help keep this basement room feeling large and spacious. While we don't have plans to change anything, we also felt this style would allow the room to be an office, a TV room…or even a playroom again if necessary.
What do you think?
Is there anything you think we should add to make our Home Gym even better?
Also, here is a video of how we use Velcro Pedal Straps on the Peloton so our younger kids can ride.
View this post on Instagram
NOTE: We kept the table and bookshelf from the Playroom and moved them into the family room where the Peloton Bike used to be. The one closet still stores all the toys and board games we kept.
Categories: Health and Wellness, This and That
Tags: , at home gym, DIY, home gym, kids getting older, peloton, rennovations, weekend DIY, weight bench, what you need in a home gym, workout room