Closet Cravings May/June 2021
Posted May 14, 2021 by Prairie Wife -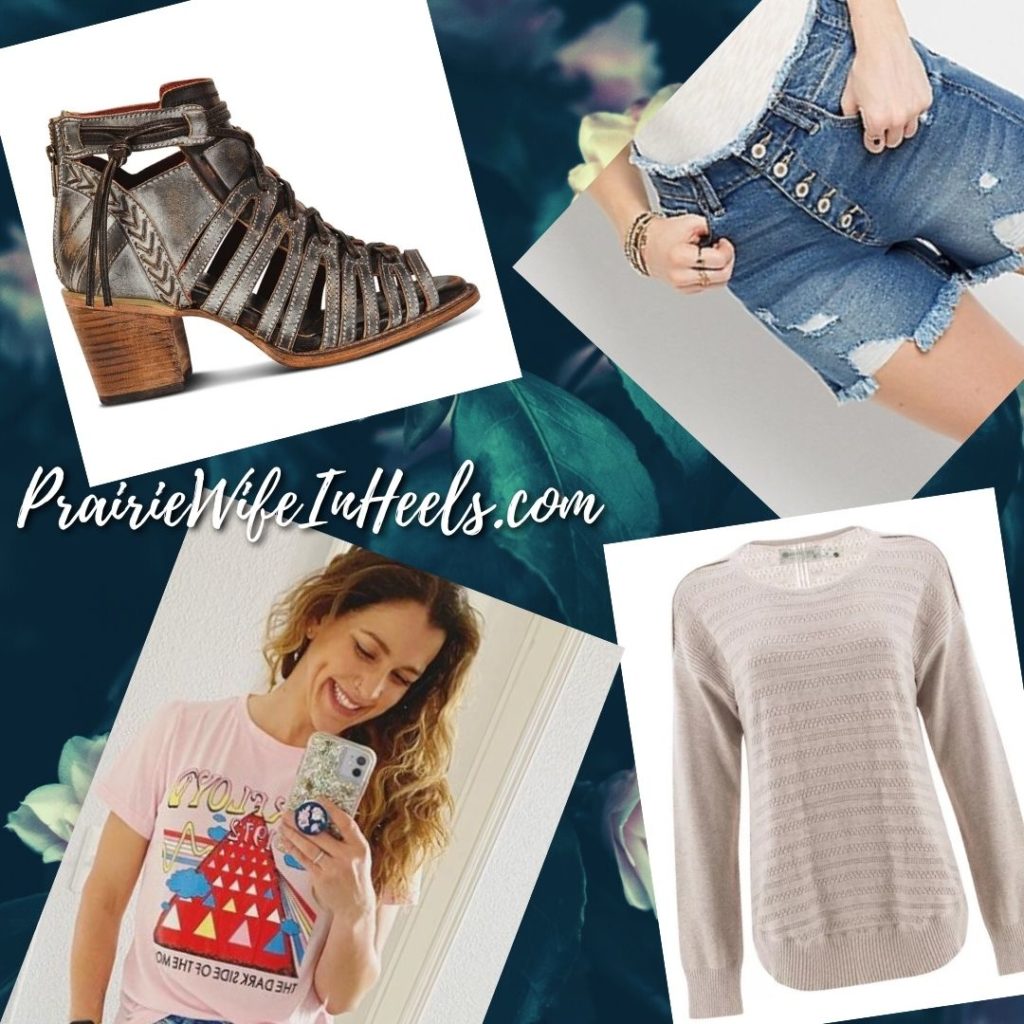 The weather is getting warmer and I am definitely craving some fresh items to update my look and my closet for May/June.
The sun IS at last shining more and the temps are rising, but we still have some cooler days and nights ahead.
This time of year is still about layering, but it IS safe to pull out the open-toed shoes and wear your shorts.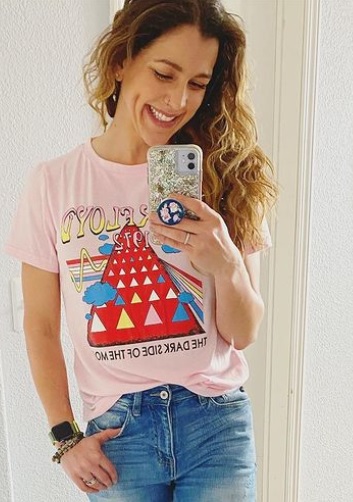 Vintage Band T-Shirts
I love that graphic band shirts are back in style, and that so many of them have bold colors and a vintage feel. Dress them down with jeans or wear them tied up with a flowy pleated maxi skirt depending on your plans for the day. While I know this won't work for every workplace, I love wearing a band t-shirt with slim black ankle-length pants, heels, and a blazer. You can pair it with a delicate necklace and studs or go BIG with bulky jewelry. Some people say you should only wear band t-shirts if you actually listen to the band, but I say as long as you can name one song they play you're fine! The Shade Tree has a fabulous collection of band t-shirts (the one I'm wearing in the pic is from their collection) and if you stop by make sure you use the code PRAIRIWIFE15 for 15% off.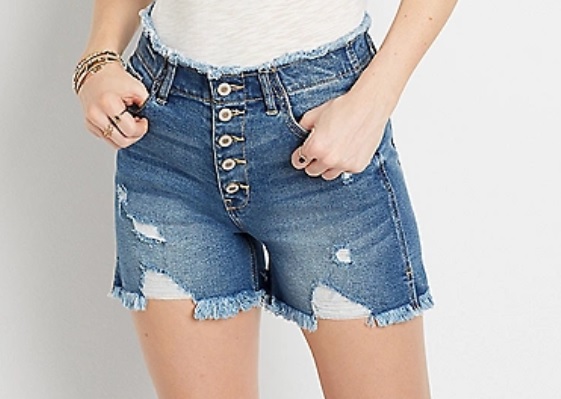 I don't care how old you are, or what body type you have you CAN find a pair of denim shorts that works for you. I love this distressed mid-rise button-up pair from Simply Creative (use code PRAIRIEWIFE for 20% off in-store or online) because they're edgy and cool but still appropriate for someone in their 30's. If you're older and/or don't like the distressed look, a mid-rise denim short with no distressing and cuffed hems is the perfect style for you. Lately, I've loved the look of wearing booties with jean shorts but obviously, wedges, sandals, or tennis shoes look great too.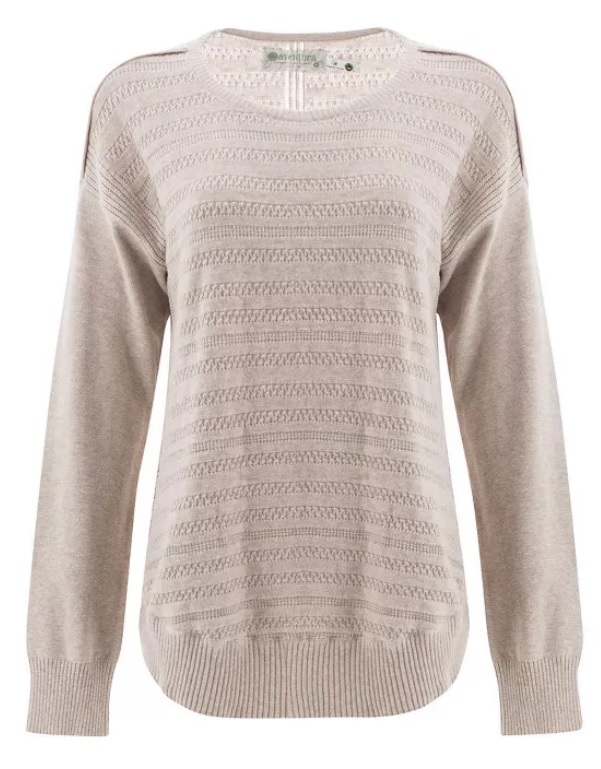 I've always been someone who gets cold easily, but after my mastectomy, I'm even more sensitive to cold. That's why I love loose weave, lightweight sweaters. They keep me warm but aren't too much for this time of year. I love the way they look with skinny jeans and booties on a cooler day, or front tucked into denim shorts with a cute pair of gladiator sandals. Another on-trend look is to front tuck them into your maxi skirt and wear them with a pair of cute sneakers. SO fun!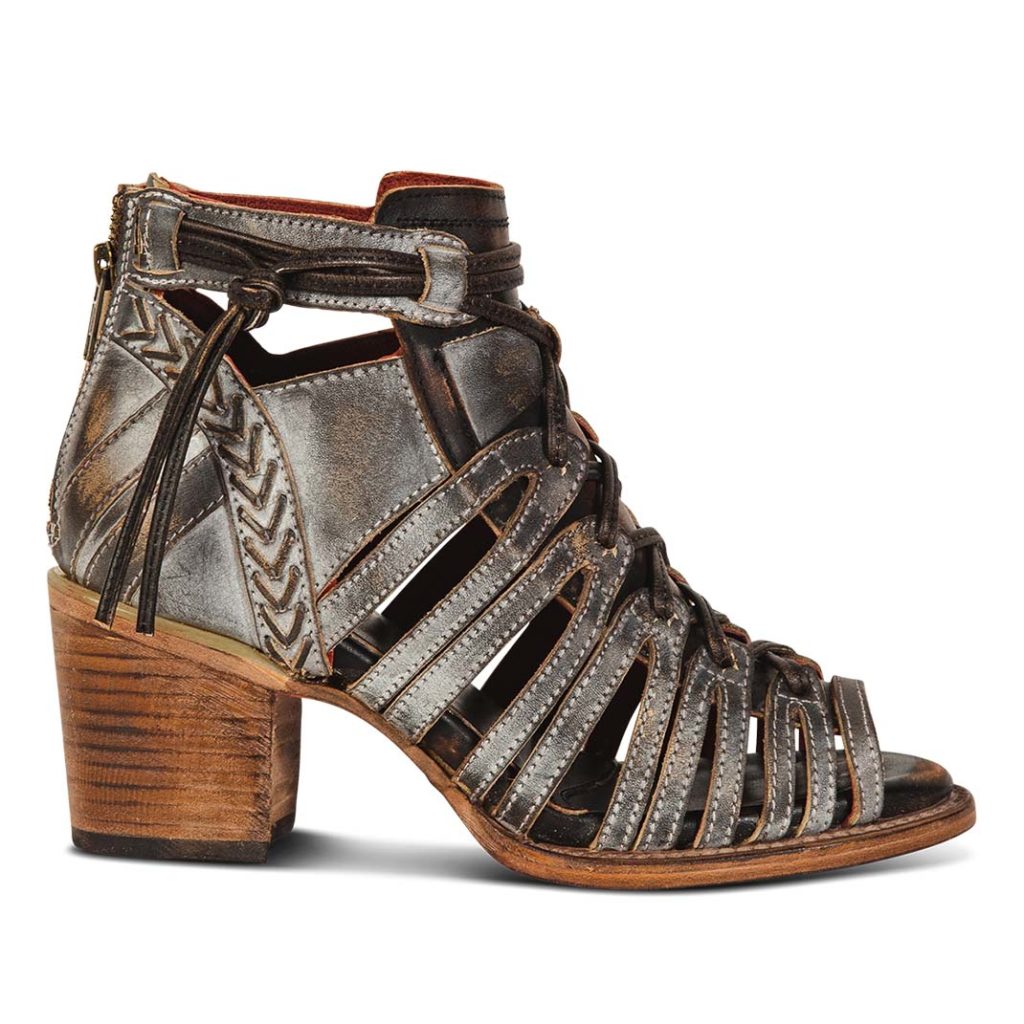 I know that the cost of these Freebird Sandals may make a few of you gasp, but I just had to share them because they are the perfect example of what you need to add to your shoe closet (if only I had such a thing). Chunky low heels, tons of straps, buckles, and fun details are what you should be looking for in your next sandal. Not only are they super comfortable to wear all day (but still give you an elongated look) they look fabulous with skinny jeans, flares, shorts, skirts, dresses…EVERYTHING!
Alright let me have it…what do you think about these picks for May/June?
Anything you hate, or love…did I miss something?
Let me know in the comments.
PS Make sure you're following us on Instagram so you can see how I style these items 😉
Categories: Fashion, Prairie Wife Style
Tags: , chunky sandals, closet cravings, denim shorts, Fashion, may/june, spring fashion, spring fashion 2021, sweaters, vintage band t shirts