Does Your Child REALLY NEED a Smart Phone?
Posted October 26, 2016 by Prairie Wife - 10 comments
This year I became a parent of a Middle Schooler and with this transition came the question….
Does he REALLY need a smart phone?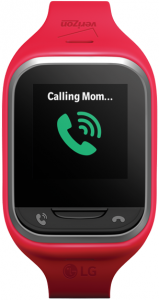 My answer was a resounding YES! Cowboy J's school is in a different town than all the other Cowkids, and I felt extremely nervous about this…I wanted to have the ability to know where he is at all times (OK fine, stalk him) with GPS. I needed to have a way to text him when plans changed and he needed to go home with a friend.
The Cowboy answered with a resounding NO! He didn't want creepers getting a hold of our kid and severely doubted the effectiveness of parental controls. He felt like Cowboy J would have his face in his phone non stop. Plus, he's old school (still no Facebook account) and sees all things that are tech as evil.
Just as our discussion started to take a turn down argument road, Verizon Wireless approached the blog and asked me to try out the LG Gizmo Gadget and the GizmoHub app. The LG Gizmo Gadget is a smart watch designed specifically for kids and their parents, and it's controlled with the GizmoHub App.
Take a second to watch our video review and then page down to the end of this post for my Pro and Con list.
PROS
Easy to communicate with text or voice
No photos or internet connection
GizmoHub App works equally well with iPhone or Samsung
GizmoHub App is easy to use
GPS tracking and automatic notifications when child reaches programmed locations (and leaves them)
Only contacts on approved list can call or text
Your child can only call or text approved contacts
All of the settings can be changed from the GizmoHub App
Allows your child freedom in a protected way
Durable design
Look of screen can be altered based on child's preferences
Cute emoji's that will warm your heart when you son sends them to you…his emojis are in the red…
CONS
Cost: Depending on the watch you choose the price ranges from $80 (GizmoPal) to $150 (GizmoGadget)
One time $40 charge to activate then an additional $9.99 per month
It can be lost
Like all tech devices it can be a distraction for some kids
There is a set amount of contacts, there may not be room for all of their friends to be added
What do you think? Does your child really need a smart phone?
Categories: Reviews
Tags: , cell phone safety, cell phones, gizmo, gizmo gadget, LG, motherhood, parenting, phone safety, product review, smart phone, smart watch, verizon