Brilliant Baby Products for Christmas
Posted December 11, 2015 by Prairie Wife -
Christmas is coming and some of you may still be wondering what to get those sweet kiddos in your life. Most years our babies have more fun tearing up wrapping paper (and trying to eat it) then actually playing with their gifts! This year, thanks to Brilliant Baby Products, I have a few toys to recommend that will actually get more playtime then the boxes and bows, trust me! You can watch me show you the toys on our local news station below or keep on scrolling to read about the toys and find direct links.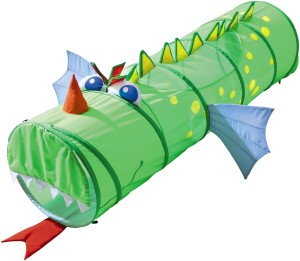 First is the Croco Kuno Dragon Crawling Tunnel from HABAusa.com. This non-toxic durable toy is the 2015 winner of the best toy award and has been featured on the Today show and labeled as a "Top Toy" by Parents Magazine. This tunnel is for ages 1+ but I can tell you that LittleMissH (now 10m) had a blast crawling through it. Cowboy C (2 1/2 yr) had just as much fun crawling through it and playing peekaboo and pretending he was a dragon! The older kids were using it to chase each other around and everyone was giggling and having fun. It's a wonderful toy to encourage gross motor skills as well as imaginary play. I can even see that it would be fun to play with outside in the summer…maybe something with the sprinklers?!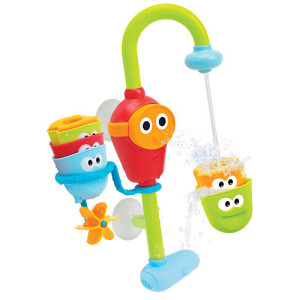 Next up is the Yookidoo Flow 'N' Fill Spout.  This amazing bath toy is for ages 9m-3yr and I can tell you LittlMissH and Cowboy C had a blast playing with it…I even had to admonish the older Cowkids to get out of the bathroom they were so excited about it! This battery powered toy sucks up water from the tub (environmentally friendly) and then gently squirts it out the spout. It comes with three cups with a variety of bottoms (one makes a shower like spray), as well as an attached spinning wheel. I was impressed at how steady the stream was (and it didn't spray all over my floor) and the little Cowkids had a blast filling up the cups and dumping water out. You can purchase the Flow 'N' Fill Spout through Babies R Us stores or online.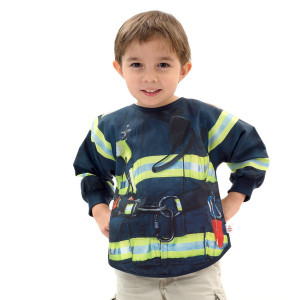 Suitables Role Play Bibs from MixedPears.com are long sleeve water resistant bibs for kids ages 1-3yr. If you're like me and have a toddler/preschooler that wants to be a part of everything, these are the perfect gift to have under the tree. Cowboy C wore this while helping me bake to keep his clothes clean and if offered way more coverage than an apron. I also set him up by the kitchen sink with a plug in the drain, some "dirty" dishes and a sponge and I didn't hear a word from him for almost half an hour! When he was done we simply took off his Role Play Bib and laid it on the counter to dry. Cowboy C also had fun playing dress up with these realistic looking bibs!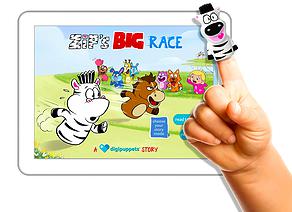 These DigiPuppets from DigiPuppets.com were a hit with all the Cowkids (ages 2-9yr)! Most people know I am super strict about tech time in our house. That being said, I'm not above bringing my iPad to Starbucks so I can enjoy coffee with a friend while Cowboy C quietly plays! I always try to make sure that if my kids are using technology they are learning at the same time. DigiPuppets and their apps are the perfect fit for our family. The charming DigiPuppets are easy to stow away in my purse and a quiet way to entertain the Cowkids all on their own! Download the apps that go along with your DigiPuppets and you have educational and imaginative fun that had my kids giggling and learning with each other! The apps are great for toddlers all the way to 2nd grade so you can be sure that these DigiPuppets will be a perfect investment for now as well as years to come!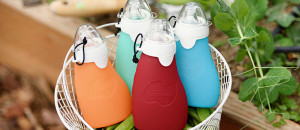 This last product isn't really a toy, but it's something that I've been wanting for years! The Original Squeeze is a reusable spill proof pouch that comes in two styles; the spill proof (for ages 6m+) or the free-flowing (for ages 2yr+). I've made my own baby food for years but I have always purchased pre-made "squeezy pouches" at the store to keep in my purse or for a quick meal on the go. With The Original Squeeze I can make my own baby food and put it in these portable reusable containers. No more purchasing pricey pre-made baby food! LittleMissH had a bit of trouble at first with the spill proof pouch but, she mastered in within about five minutes. I also have to say, that when they say spill proof they mean it! I even let LittleMissH have it at church…not a drop was spilled despite her flailing and chewing on all sides of it for an hour. The free-flowing pouch is perfect for smoothies for the older Cowkids. They love to have them as a snack before sports and they make a quick and easy breakfast they can have mess free in the car! The pouches were easy to assemble, take apart, didn't leak or spill in my purse, and thankfully are dishwasher safe. Stop by OriginalSqueeze.com to buy yours now. Enter the code squeezeitforward to receive 10% off your order. P.S. The design is super sleek and in unisex colors. My older Cowkids weren't embarrassed at all to use them!
To stay true to our PrairieWifeInHeels.com Guarantee I want to let you know that I received each of these products at no cost to try. If you've read our guarantee, you also know that everything I wrote about the products is my opinion.
Categories: Reviews
Tags: , Brilliant baby toys, christmas toys, croco kuno dragon crawling tunnel, digipuppets, flow 'n' fill spout, Giveaway, original squeeze, suitables role play bibs, toys for kids