Beat the Winter Blues with Brilliant Baby Products
Posted February 18, 2016 by Prairie Wife -
February is always a rough month in Wyoming. We've had over four months of harsh cold, non-stop wind and piles of snow have covered the ground since Christmas. Everyone from the tiniest baby to the most seasoned Cowboy is starting to get a little grouchy. Thankfully, the amazing people at BrillantBabyProducts.com have just what the doctor ordered! They sent me some great toys that are fun for kids of all ages and offer hours of entertainment. You can see the toys (and me) in action live on this news segment from Good Morning Wyoming, or read more detailed reviews below.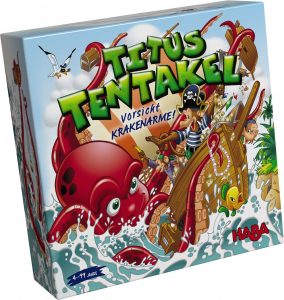 Titus Tentacle is an awesome board game made by HabaUSA. Now, normally board games are not my thing, I'll do anything to get out of playing a game of Monopoly. This game is one that is  great for the whole family and as long as your children know their colors they can play it! There are no cards to read (or loose) and it's fast paced and fun. Simply move the ships across the board by rolling the dice, whoever gathers the most gold coins is the winner. When you roll the red octopus tentacle you get to spin and push down the middle button. Tentacles come flying out and knock over any ships in the way, sending them back to the beginning. The Cowkids and I had a blast giggling when our ships went flying! When Cowboy J won the Cowkids immediately asked to play again. The pieces also all store easily in the sturdy cardboard box…something I think I appreciate more than the Cowkids. For extra fun try reading the German instructions out loud (they come with English instructions too).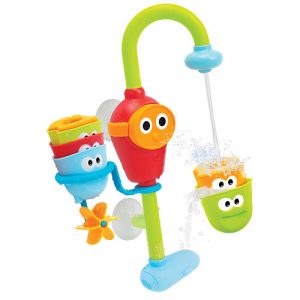 Next up is the Yookidoo Flow 'N' Fill Spout.  This amazing bath toy is for ages 9m-3yr and I can tell you LittlMissH and Cowboy C had a blast playing with it…I even had to admonish the older Cowkids to get out of the bathroom they were so excited about it! This battery powered toy sucks up water from the tub (environmentally friendly) and then gently squirts it out the spout. It comes with three cups with a variety of bottoms (one makes a shower like spray), as well as an attached spinning wheel. I was impressed at how steady the stream was (and it didn't spray all over my floor) and the little Cowkids had a blast filling up the cups and dumping water out. You can purchase the Flow 'N' Fill Spout through Babies R Us stores or online. Note: We've had ours for over two months now and it's still a huge hit and works perfectly even with our harsh well water!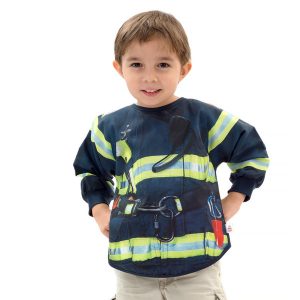 Suitables Role Play Bibs from MixedPears.com are long sleeve water resistant bibs for kids ages 1-3yr. If you're like me and have a toddler/preschooler that wants to be a part of everything, these are the perfect gift to have under the tree. Cowboy C wore this while helping me bake to keep his clothes clean and if offered way more coverage than an apron. I also set him up by the kitchen sink with a plug in the drain, some "dirty" dishes and a sponge and I didn't hear a word from him for almost half an hour! When he was done we simply took off his Role Play Bib and laid it on the counter to dry. Cowboy C also had fun playing dress up with these realistic looking bibs!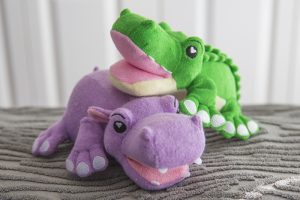 Soapsox are the next generation of washcloths. Not only are they darling looking stuffed animals (the shark is my favorite) but they are also amazing bath toys. My kids loved playing with them both in and out of the tub. But, it get's better! Soapsox are made to help  make washing your kids more fun for everyone. Simply put liquid soap or a bar of soap into the mouth of your Soapsox. Get it wet and get ready for the bubbles and giggles to begin. Each Soapsox has special grips to help you hold on tight while you scrub your child. I especially liked how easily the mouth of each Soapsox critter fit around little hands, feet, and arms and legs. Even the older Cowkids loved using their Soapsox in the shower.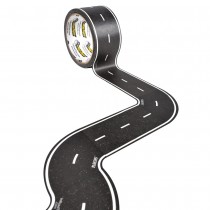 InRoadToys PlayTape is an incredibly imaginative way to create roads anywhere or anytime. I have to admit I was a bit nervous to let the Cowkids try this one. Even though the tape says it's safe to use on any surface, and comes off easily, you never really know until you try. I am pleased to say that this tape really does stick to any surface (even the carpet in Cowboy W's room) yet comes off without leaving any residue. The Cowkids loved creating roads and trails all over the house (I recommend getting the curves as well as the regular tape) and then driving their cars, trucks, and of course CAT equipment on them! Even Cowboy W who is only 5 was able to unroll and easily tear off the tape. This would make a great gift for any little boy…and even bigger boys too!
To stay true to our PrairieWifeInHeels.com Guarantee I want to let you know that I received each of these products at no cost to try. If you've read our guarantee, you also know that everything I wrote about the products is my honest opinion.
Categories: Reviews
Tags: , brilliant baby products, flow 'n' fill spout, kids toys, new toys, play tape, role play bibs, soapsox, titus tentacle, toy reviews, toys