An Up Close Look: Trusculpt iD
Posted March 19, 2019 by TallGirlJ - 9 comments
If you follow us on Facebook you may have caught the LIVE Facebook video where I (TallGirlJ) was able to try out Trusculpt iD . You can watch the video by following this link or simply scroll down a bit!
Trusculpt iD is a body sculpting heat treatment that is supposed to melt fat and tone loose skin.
I had major concerns going into this. As regular readers know, I am a hardcore researcher before I do anything new. As I was researching I read about other similar treatments that can actually do the opposite and make the fat cells expand, this was the LAST thing I wanted!
After visiting with the awesome doctors and staff at Stirling Skin Care and asking them all the questions I had, they reassured me that Trusculpt iD was different. Apparently, fat cells expanding CAN be an issue that has occured with the machines that "freeze" fat not the ones that use heat. Because Trusculpt iD uses heat instead of cold to "melt" the fat and there was no chance of fat expansion…Phew.
I agreed I would take the plunge and give Truscupt iD a try!
I went in the morning of my appt so they could take measurements and pictures. I definitely wasn't looking forward to this part at all, but to my relief, I never felt uncomfortable. The staff explained that the pictures and measurements were so we could have a true before and after comparison.
The process itself was pretty smooth.
They mark out what areas they plan to treat. I went for my stomach, as this is by far the area where I feel I have the most problems. They applied five stamps. The stamps are are the heat paddles used for the "fat melting" process. You can do up to six stamps depending on the area you want them to treat.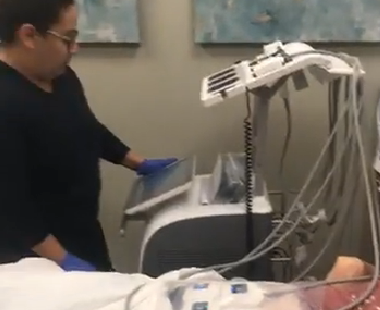 Once the stamps were placed correctly, off we went!
The process was pretty simple and painless. The heat is definitely there, and strong, but it moves around between the stamps enough that it's totally easy to handle. I WILL say I was super warm by the end. I wasn't disappointed that it was cold outside when I left! 😉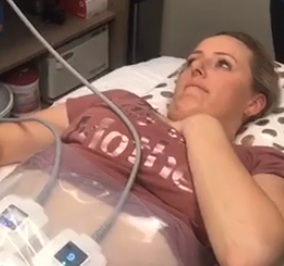 After the procedure was over, they applied a nice soothing oil to the treated area and gave me more to apply at home. They explained I should hit the water hard because when the fat is melting it dissolves into your lymphatic system and is then pushed out of your body through your urine. The more water you drink, the more fat you will flush out!
If you plan to treat different areas of your body you can do the treatment every 6 weeks. If you plan to re-treat an area you have to wait 12 weeks. There is also no downtime or restrictions, bonus!!
So… What were my results!?
As time passed, just looking in the mirror, I didn't personally notice much difference. The one thing I did notice, is the fat on my belly seemed looser and not as firm.
I am not sure that this was what I was hoping for.
I decided that maybe it was a sign that something happened and even though I didn't love it, it was proof that maybe the Trusculpt iD worked.
I waited for my entire 12 weeks of healing to pass and headed back in to get measurements and pictures.
After we completed measurements I can report I DID lose a total of 3 inches.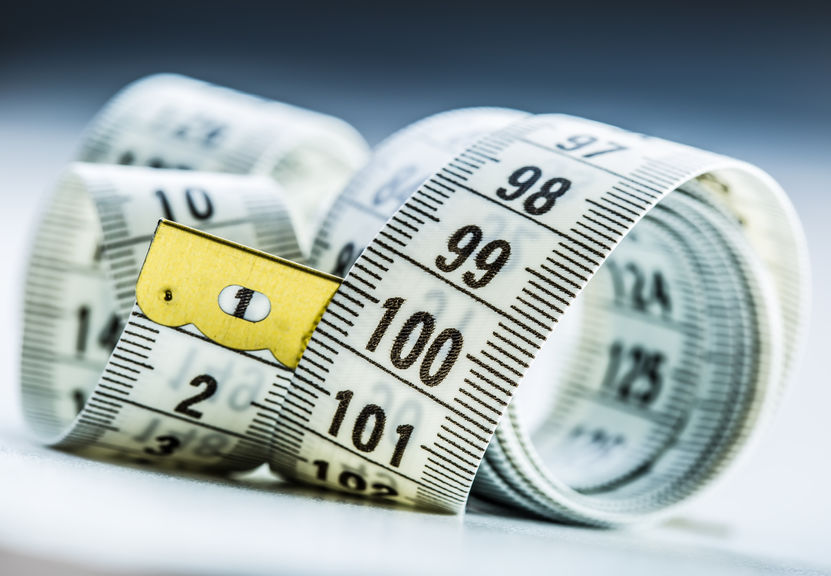 I didn't see any victory on the scale which bummed me out. I HAVE been regularly weight lifting, so I am hoping it's caused by muscle gain.
They compared my before and after pictures and while Paola was certain she could see a difference, I couldn't. I am sure some of it is I was super uncomfortable seeing myself in a picture like that. I admittedly couldn't get past the amount of frustration I get when I see myself…Hello self-love where are you?  🙈
In the end, would I do it again?
YES!
I think someone of my size cannot go in expecting a miracle. If you have a large amount of fat in the area you'd like to treat, you should plan to do more than 1 treatment.
If you just have a small amount of fat and need help with some skin toning I think one treatment would be 100% successful and totally worth it!
All in all, I am happy to have had the chance to experience Trusculpt iD, and I with another treatment in my future, I can't wait to share with you the new results.
It's pretty awesome to have modern technology like Trusculpt iD that can help reduce fat and tighten skin without forcing patients to have weeks of recovery and downtime that comes with plastic surgery.
If you live locally and would like to learn more about Trusculpt iD contact the lovely ladies at Stirling Skin Care Clinic.
Categories: Health and Wellness, This and That
Tags: , health, heat treatments, melt fat, shrink fat, stirling skincare, stirling skincare clinic, tighten skin, trusculpt iD, wellness