An Up Close Look: Laser Genesis Facial
Posted October 30, 2020 by Prairie Wife - 15 comments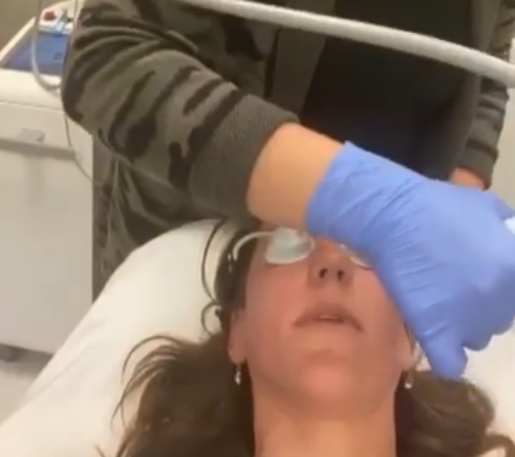 It's really hard to pick my favorite treatment at Stirling Skin Care Clinic, after all, everything I've done has been phenomenal. But, I can tell you that the Laser Genesis Facial is definitely in my top 3.
Learn more about this revolutionary treatment and then enter to win one Laser Genesis Facial treatment (a $200 value) as our final big giveaway for our 7-year Blogiversary.
This NO DOWN TIME facial (which means no redness, peeling, or healing time) uses lasers to improve the appearance of fine lines and wrinkles, diminishes redness and discoloration, and gives you a glowing smoother complexion.
And, it doesn't sting a bit…really.
Here's a look at me receiving the treatment a few weeks ago.
After you watch the video make sure you take time to enter to win a treatment for yourself!
I was legit glowing afterward, and I've been walking around with no makeup, or the bare minimum amount of foundation, because it made my skin tone SO EVEN!
The micro-pulses from the laser activates collagen remodeling to improve the appearance of your skin, the result is a #nofilterneeded complexion.
If you want to see FULL benefits you'll want to get a series of treatments a few weeks apart and then maintain with more treatments every 6-9 months.
To win a Laser Genesis Facial for yourself all you have to do is comment below and tell us what benefit of the Laser Genesis Facial makes you the most excited!
You can earn more points towards the giveaway by filling out the form below.
NOTE: Our other blogiversary giveaways are worldwide, but this one is only for our local readers.
Categories: #GiveAways, Beauty, Prairie Wife Style
Tags: , Giveaway, laser facial, laser genesis, laser genesis facial, stirling skin care clinic