A Few Books To Help You Survive Until Spring
Posted March 5, 2022 by Prairie Wife -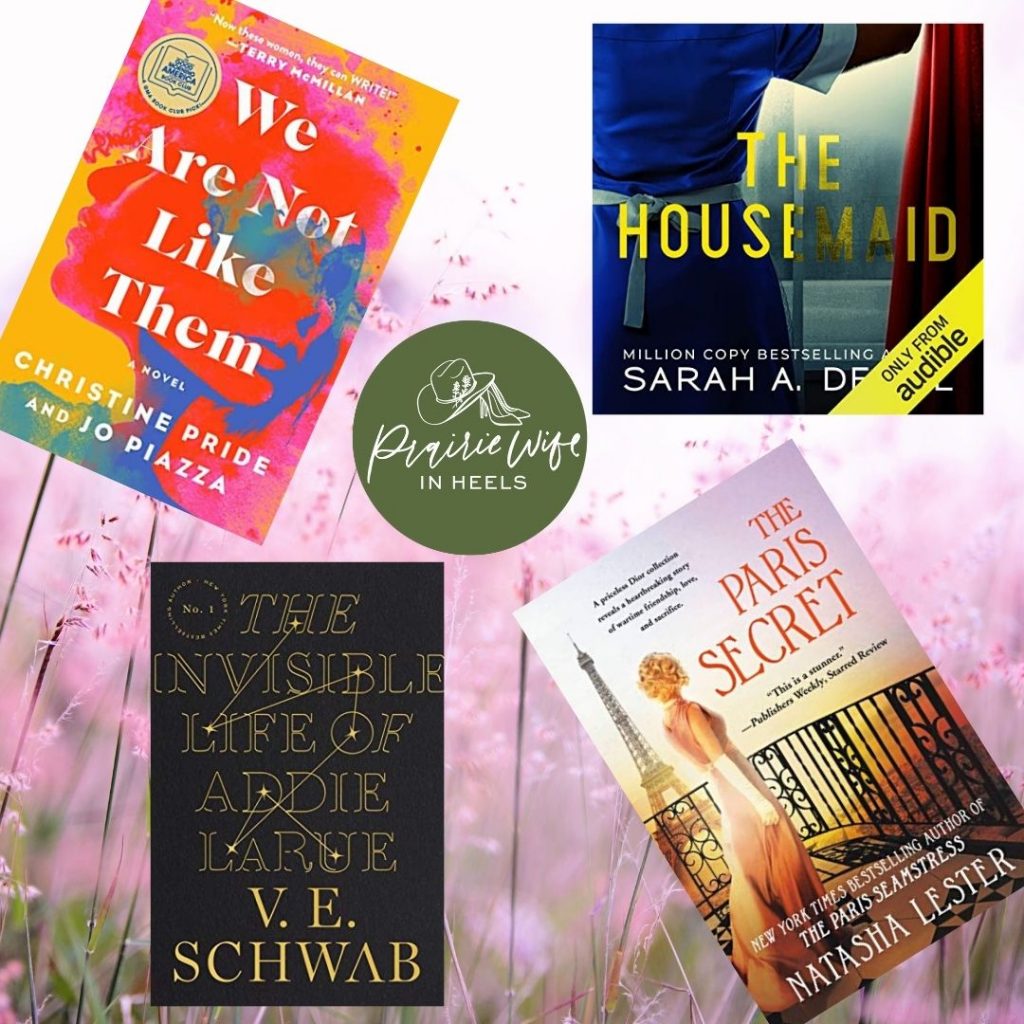 It was recently what we call "False Spring" around here. A few gorgeous days in a row that are 50 degrees or warmer, followed by normal March weather that's cold, windy, and often snowy. So, I thought I would give you a few books (some are audible) to read that will help you survive until Spring really gets here.
Per usual, there's a little bit of something for everyone, and here's a link to a review of Brene Brown's latest book "Atlas of The Heart" in case you're feeling like you need a little motivation and inspiration!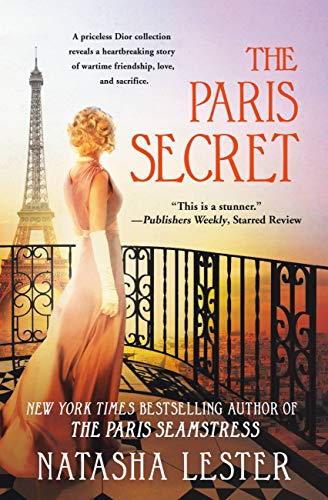 "The Paris Secret" Natasha Lester
England, fashion, and WWII need I say more? If YOU need more details I understand, but when I saw those three things on the blurb about this book I knew I would love it. Lester is an amazing historical fiction author and I've reviewed a few of her books in the past. "The Paris Secret" jumps back and forth between present-day fashion historian Kat Jourdan and England (and a bit of France) in the late 1930s. I was captivated by the character of Skye Penrose and her love of flying…in a time when women were decidedly encouraged to keep their feet on the ground. Her battles to follow her dreams in service of her country are inspiring! In the present time, Jourdan finds herself suddenly questioning everything she knows about the grandmother that raised her. Espionage, romance, and the tragedy of WWII can all be found in this novel, and at times it is brutal on the emotions…but in the end, it's a fabulous novel filled with hope and stories of the strength of the human spirit.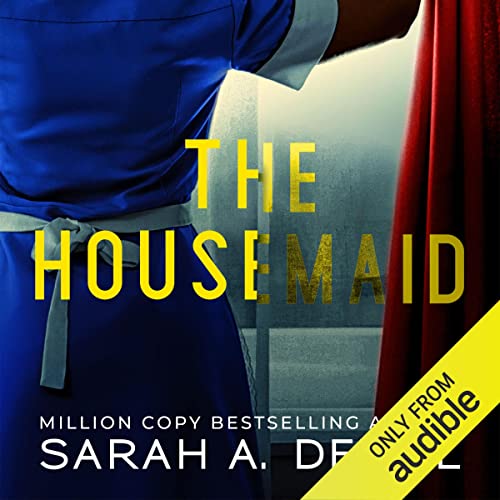 This thriller was a bit more twisted and dark than I thought, so I'm not sure what it says about me that I REALLY liked it! If you are a fan of "Jane Eyre" you'll definitely like Denzil's book, there are lots of similarities to the famous gothic British novel in this modern-day novel. This story is told in first person, and that adds to the suspense of the novel because we only know as much about what is happening as the housemaid. She's a past addict that takes a job at the large estate of Highwood Hall as a housemaid. She was pleased to have the job, not only because she needed the money, but because the estate is where her mother last worked before she disappeared. The head housekeeper is brutally cold, and while the family that runs the estate is eccentric they seem nice enough. But suddenly, a strange diorama showing a ghastly scene appears for the newest employee. And what she thought was the job of her dreams…turns into a nightmare.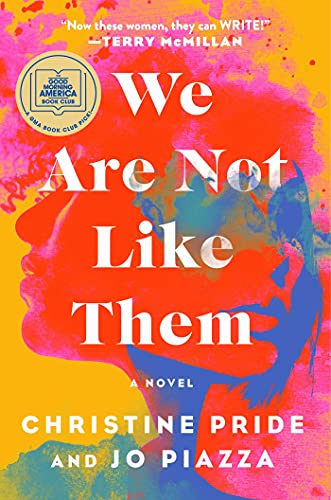 "We Are Not Like Them" Christine Pride Jo Piazza
Brene Brown says that she knows she's reading a good book when it makes her uncomfortable. If we follow that definition "We Are Not Like Them" is definitely a good book! While this book (co-written by Pride and Piazza) is officially fiction it's full of so much grit and realistic emotions and events that it's going to be hard for you to remember that it's not real, or at least it was for me. Jen and Riley have been best friends since they were in Kindergarten, and despite their differences in upbringing and race (Jen is white and Riley is black), they have been there for each other in every way possible. As the plot unrolls the unthinkable happens, and the racial divide that's tearing apart our country is beginning to do the same to their friendship. This book is real and at times raw, yet for me, it was incredibly valuable in ways that I didn't predict. It's a novel that can be enjoyed on its own for the wonderfully captivating plot and characters, but I found the new perspectives that I walked away with to be what I enjoyed the most. Side Note: I came across this book because I follow Jo Piazza on Instagram and I recommend that you do the same.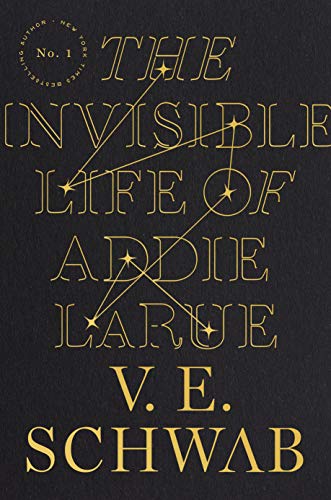 The Invisible Life of Addie LaRoue by V.E. Schwab
This is the best book I have read this year! Or I guess I should say listened to because I listened to it on Audible. It's 1715 and Addie LaRoue is a free spirit about to be forced into a marriage that she KNOWS will be the death of her…She has so much more of life that she wants to experience and she knows marriage will be the end of it all. In a pure act of desperation, she makes a deal with a spirit thinking that it will give her a way out, and an eternity to experience the world. Instead, it results in an eternal life, where she's destined to be forgotten by everyone she meets. As Addie roams through the world learning how to survive day to day she begins to see the curse as a blessing. Her annual visits with the spirit who created this life for her are emotional and tumultuous, and add an undertone to this novel that I really enjoyed. At one point Addie is in modern-day NYC (300 years after her curse started) and the unthinkable happens, a man name Henry remembers her. That's when this historical fiction/fantasy novel turns into a suspenseful romance that you won't want to put down!
One more book I didn't want to leave out is "The Dress In The Window" by Sofia Grant This was a great historical fiction novel that takes place in post-WWII America. It tells the story of three women (two of whom are sisters) that are trying to make it in a world that doesn't hold many opportunities for women.
Have you read anything recently you love? Let me know the titles in the comments!
Categories: Book Reviews, Reviews
Tags: , audible, Book Reviews, christine pride, Historical Fiction, jo piazze, natasha lester, sarah denzil, the housemaid, the invisible life of addie larue, the paris secret, thriller, v.e. schwab, we are not like them