A Christmas Cracker by Trisha Ashley
Posted November 4, 2015 by Prairie Wife - 1 comment
What does it mean when you call someone one of your favorite authors?
For me, a favorite author is someone who you can consistently rely on to produce a piece of literature that will captivate you. Their books are ones that you return to frequently, like that hidden stash of chocolate, for comfort and a bit of a break from reality. It's the author you always recommend to a friend that's looking for a good read. For me, when a book is released by one of my favorite authors, everything else goes on hold (sorry kids) until it's been finished.
Trisha Ashley is one of my favorite authors and meets all of my above criteria…and then some. I follow her on social media and have found that besides being a wonderful author, she is a lovely person as well. Her posts are witty, truthful, and at times endearingly whimsical. I always find myself pausing and smiling when I read one of her frequent posts about the sky "The sky is dappled shades of lilac-grey. I remember riding a horse that color, many years ago…but not his name. Gentle giant." One of my great regrets is that when we moved our blog to Word Press her comment on my review of her book A Winter's Tale was deleted. Thankfully I have a handwritten note from her that sits in my hutch next to my wedding album, it's helped ease the pain!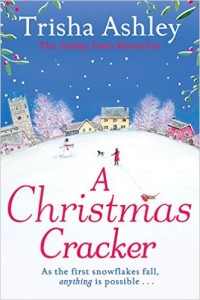 Ms. Ashley's new book A Christmas Cracker is not a disappointment! A Christmas Cracker is the story of down on her luck Tabby. She's been framed for a crime she didn't commit, dumped by a fickle fiance, and sent to live in the countryside with strangers…it's hard to see how she will ever be happy. In true Ashley style, Tabby pulls herself together and charges forward.  Tabby is loyal to the last to Mercy, the always positive Quaker who welcomed her into the Marwood family with open arms. She refuses to let anything get in the way of her dream of bringing Marwood's Magical Christmas Crackers into the 21st century. Even the rugged and gruff Randal (Mercy's nephew), her annoying ex-fiance, and a few seedy characters that are determined to spoil things for her, won't stop Tabby from doing what she knows is best.
In true Trisha Ashley style A Christmas Cracker is full of strong female characters with just enough chinks in their armor to make them endearing. It takes place in the lovely British countryside and Ms. Ashley's description of the rambling old house makes me itch to book a ticket and fly across the pond for a stay in a stately English manor! Fans of Ms. Ashley will recognize some familiar characters from past books and charming animal characters that appear in each of her books. A Christmas Cracker is an endearing love story, but above all, it's a story of how giving someone a second chance can result in unexpected joy.
Who is your favorite author?
Categories: Book Reviews, Reviews
Tags: , A Christmas Cracker, Book Review, Brit Lit, Chic Lit, ficton, love story, new fiction, Trisha Ashely