What Inspires You? #giveaway
Posted October 27, 2017 by Guest Poster - 7 comments
Note from Prairie Wife: Shannon and I have been friends for over a decade. When I first saw her Chloe + Isabel jewelry I fell in love. I sent a screen shot of my fav piece to The Cowboy and was ecstatic when it showed up under the tree a few month later! You can see me wearing it in all of our social media profile pics 😉 Read Shannon's post and then enter our giveaway and win the Delicate Bead and Chain Multi-Wrap Bracelet!
Travel and all things vintage are just a few of my favorite things.
The first time I really remember getting the itch to travel was after my friend in 4th grade came back from a trip to Italy. I was absolutely captivated by her pictures of this beautiful place. Since then, my passion has only grown. I would travel the world if given the chance. I've often contemplated seeking out a job that included traveling or taking a leap of faith and moving our family to another country.
There is no greater joy to me than to help someone recognize their potential and reach their goals. I love seeing them overcome obstacles they thought were too big for them. I love being there in a moment where they need strength.
When I happened across Chloe+Isabel (C+I) one day, I was drawn to their focus on vintage inspired pieces and felt that same captivation I felt as a child when I learned of the inspiration behind the pieces they created. In the back of my mind, the wheels began to turn as I considered becoming a merchandiser. I was drawn to the opportunity to empower women on another level. After all, each of us is so beautiful, we all deserve a chance to shine!
After joining C+I, I happened across a few unexpected surprises.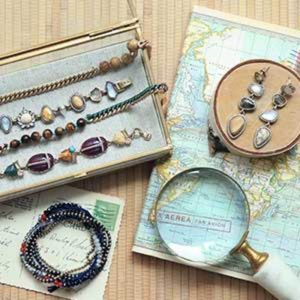 First, their products come with a Lifetime Guarantee.
They believed in the quality of their product so much that they back it 100%. Integrity is important to me so that struck me as standing out above the crowd.
Second, the unbelievably supportive network inside the company.
I belong to a Facebook community filled with merchandisers all the way up to the top of the company and every single one of their messages is that of inspiration and exudes positive energy. Just my cup of tea!
Finally, the network of friends and colleagues I've met outside of the company has opened the doors to endless possibilities and lifelong friendships!
In the year that I've spent with C+I, I've learned more about business and the fashion/jewelry world.
I've traveled outside my comfort zone and tried something new, and I believe I've come out on top!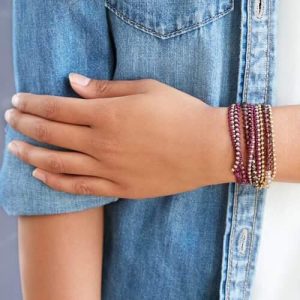 With any luck and a lot of perseverance, it might just open up the doors to that aspect of me that I can't get enough of….travel.
My sincerest gratitude to my friend, my inspiration, Prairie Wife, for giving me an opportunity to share my story. Thank you for supporting me in my journey and always offering words of encouragement.
What inspires you?
Enter to win a Chloe + Isabel Delicate Bead and Chain Multi-Wrap Bracelet ($45) by answering the question "What inspires you?" in the comments. You can earn more points towards the giveaway by following us on social media using Rafflecopter!
Categories: #GiveAways, Product Reviews, Reviews
Tags: , bracelets, chloe + Isabel, earrings, Giveaway, inspiration, inspire, jewelry, necklaces, support, Travel