4 Cleaning Products I Can't Live Without
Posted January 29, 2018 by Prairie Wife - 2 comments
Our readers know that we always let you know when we get products for free (transparency is important to us) and I'm here to say that NONE of these products below were given to me to try. Every item below is a cleaning product I've tried and used over the years that I can't live without!
You can find all these products (and purchase them) by clicking this link.
Hoover Linx Cordless Stick Vacuum Cleaner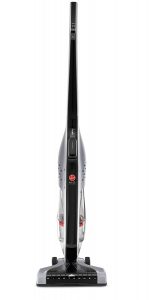 I first saw this vacuum over a year ago at my friend's house as she used it to quickly clean up a cereal mess under her table. I immediately took a pic of the vacuum and purchased my own…and then told everyone I knew to get it. With five kids our kitchen/dinning room floor is often a disaster. Sweeping is exhausting and I admit to letting crumbs lay on the floor for days at a time. With the Linx vacuum, cleaning up daily takes me less than five minutes. While this isn't great for getting up big chunks of food, it's perfect for a quick zip around your house (yes it works just as well on carpet) right before company stops by. A huge plus, the battery lasts at least two rounds around my entire upstairs (1,500 square feet) AND it's light enough for my kids to effectively use it to clean!
Norwex Kitchen Cloth
First, I want to say that while I do have a link here where you can purchase these, you may have a friend that sells Norwex. If you want to help them out do a FB shout out and get it from them instead of this link. These microfiber antibacterial cloths are amazing…I've been using them for over a year and I love how they get all the dried on gunk off my table, counter and stove…and they don't stink. I bought three so that I can always have a clean one ready while I'm washing the others. All you do is throw them in the laundry and let them air dry…done! Mine have stood up to the test of time and are well worth the cost. I also recommend the window polishing cloth.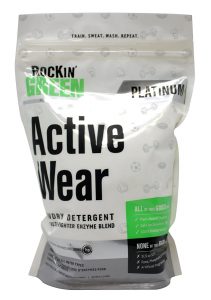 Rockin' Green Platinum Series Active Wear Laundry Soap
I took a chance on a Facebook ad and let me tell you I'm SO happy I did. Our regular readers know that I'm an active gal. Running in the Summer, Cross Country Skiing and Snowshoeing in the winter, and Yoga year round. As time went on I noticed that my workout gear was still smelling stinky even after I washed it. It got to the point where I no longer felt comfortable running errands after a run because of the (sorry if this is TMI) almost cat pee like smell that came from my clothes. I saw a Facebook ad for Rockin' Green Laundry Soap and decided to give it a try…you guys this stuff is amazing. Not only did it remove the funk from my workout gear, but I can even wear some of it two or three times without washing it. I used it on The Cowboy's work shirts and nasty sweaty baseball hats with the same results.This stuff is the real deal…get it! Below is a FB live video that shows you how well it works…if only we had smell vision you'd really be convinced. Please excuse my hard core stay at home mom look 😉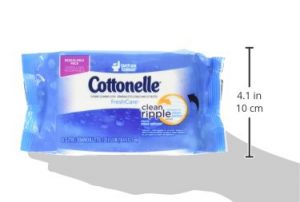 Kleenex Cottonelle Flushable Cleansing Cloths
Now that we don't have any Cowkids in diapers (sob and sniff) we no longer have diaper wipes everywhere. These flushable wipes have replaced them as my go to face and bum wiper, you can find them in all of our bathrooms. They are effective and conveniently packaged to throw in your car and purse. I'd by lying if I didn't say that The Cowboy and I use them too. He packs them for his yearly elk hunt and as a mom that's had five kids, well…these are exactly what I need.
Have you used any of these, do you love them as much as me?
Do you have any cleaning products you can't live without?!
Categories: Product Reviews, Reviews
Tags: , cleaning products, cottonelle flushable wipes, home, items for the home, linx hoover vacuum, norwex cloths, rockin green laundry soap