Wyoming, We Can Do Better Than This…
Posted October 16, 2018 by Prairie Wife -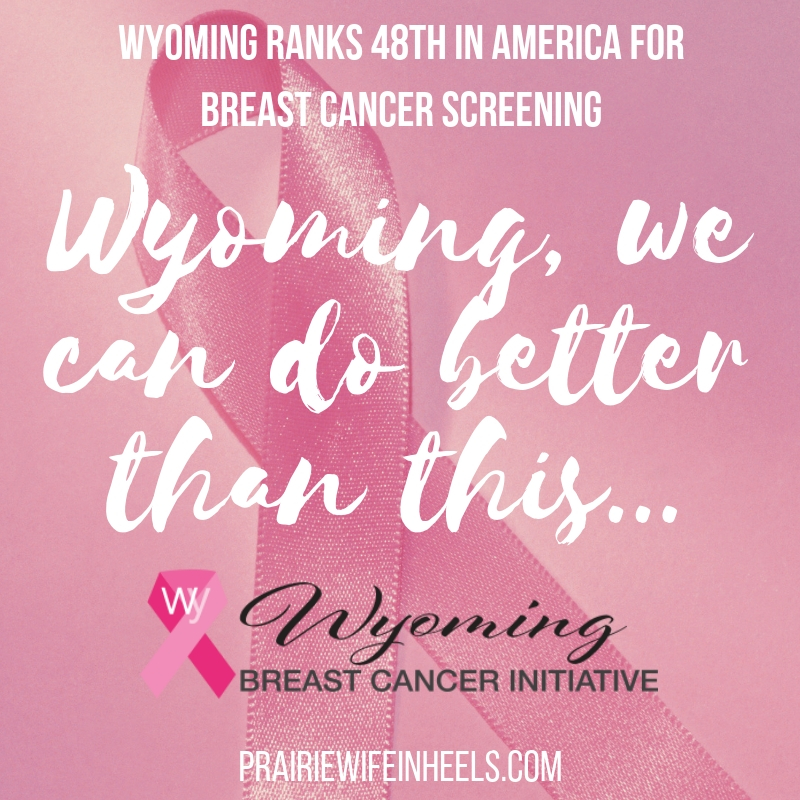 Wyoming ranks 48th in America for breast cancer screening.
But, what exactly does this mean?
Breast cancer screening (usually a mammogram) is the best method to detect breast cancer early.
OK, so why is that important?
When breast cancer is discovered in the earlier stages there is a higher survival rate. Statistically, if breast cancer is discovered early, the survival rate is 90% higher in the first 5 years. When discovered early, there are generally many more treatment options available. For example, a lumpectomy and radiation instead of a mastectomy, radiation, and chemo.
Wyoming women are dying, families are needlessly suffering.
Wyoming, we can do better than this.
We HAVE to do better than this.
Wyoming is different than the rest of America.
Which is what we love so much about it.
Yet, it is these very things that we love, that have become obstacles to women receiving the care they need to detect breast cancer early.
Our rural towns don't have the medical tools necessary for mammograms. Taking off work to travel several hours for doctors appointments is costly, time-consuming and, let's be honest…a big pain!
Wyoming women are known for their grit and grace. It's this very same attitude that keeps Wyoming women from going in and getting a lump checked out. That fierce Wyoming independence is what keeps Wyoming women, wives and mothers from asking for help so they can put their health first.
There is a solution, there are people ready and willing to help Wyoming women.
I'd like to introduce you to The Wyoming Breast Cancer Initiative.
An organization dedicated to increasing breast cancer awareness and prevention across Wyoming.
Money raised in Wyoming stays in Wyoming and goes towards helping Wyoming women.
I spent almost an hour last week chatting with Bobbi Barrasso, one of the founders of this organization, and what I learned was inspiring.
As a breast cancer survivor herself, Barrasso is passionate about early detection and prevention. As the daughter of a breast cancer survivor and a mother she fully understands what a breast cancer diagnosis means to a family.
Barrasso told me, "Because of my own experiences with breast cancer, I have an empathy and compassion for other women and their families. My journey has allowed me to see where there are gaps in Wyoming's ability to help our own, and that has become a blessing for this organization."
The Wyoming Breast Cancer Initiative (WBCI) began as a direct reaction to a declaration from Susan G. Komen foundation that if Wyoming wanted to stay a part of the organization they needed to raise 1 million dollars…every year.
"To hear this was heartbreaking. I had participated for 20 years alongside the Susan G. Komen foundation in Wyoming. But, we knew that with our small population and boom and bust economy there was no way we could reach that goal. So, we parted ways. We were left feeling bereft and more than a bit frustrated. We knew that Wyoming women needed these services."
In true Wyoming fashion Barrasso, along with a team of like-minded women, decided to form their own organization. 

WBCI aims to raise awareness and fund breast cancer programs in Wyoming with an emphasis on increasing breast health education, financially assisting breast cancer screenings, facilitating patient navigation and promoting survivor services.
Through fundraising efforts across the state, all proceeds remain in Wyoming to grant into eligible programs.
So what have they done in the last three years?
Well, not to brag…
But, WBCI granted as much money in their 3rd year as Koman did.
"Koman's business costs were so high that they couldn't give the amount that we can. We can do SO much more with less, and we're taking advantage of that!"

WBCI has focused on grants to Wyoming organizations that provide screenings and offer education.
From providing gas cards to scheduling buses to take groups of women to screenings and education events, WBCI is thinking outside of the box to meet Wyoming's needs…and they are just beginning.
"We are proud of our progress, yet are continually looking forward!"
You can find a full list of their events here but, I wanted to list a few that are happening right now!
Join me in spreading the word about the Wyoming Breast Cancer Initiative by sharing this post and heading over to their Facebook page and following them.
Wyoming, we can do better than this.
Categories: Health and Wellness, Life As It Happens, Prairie Life
Tags: , bobbi Barrasso, breast cancer, breast cancer awareness, breast cancer education, breast cancer prevention, wyoming breast cancer, wyoming breast cancer initiative