Wyo Sal: The Day Doesn't Matter
Posted December 30, 2016 by Wyo Sal -
This is a test. It is only a test, that's what I keep telling myself.
If this was my version of reality, I wouldn't be sitting at my dining room table with the wind howling through my patio doors.
I would be in an office, where I would have been capable of driving myself.
Instead, I am at the mercy of someone else. And while I should be grateful and relieved, I am on edge … because I am not in control.
But then that is not the subject this week. Or maybe it is.
Many of you may recall that I was having a bit of wringing my hands over the Christmas slot I was given: mid-morning on Christmas Eve. I was not in control, and I was unhappy.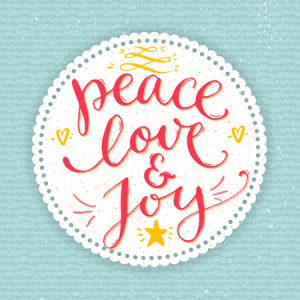 I am telling you now with all certainty: it does not matter what day "Christmas" is celebrated.
Clip this for when your kids are married and have in-law celebrations to manage — three days in a row. And health care shift work and blessedly, miner shift work for guys who are lucky enough to still be working.
The son arrived showered, a tad hung over and very sleep deprived, 30 minutes early.
The daughter, son-in-law and granddaughter arrived  a bit later, in their matching flannel Christmas Eve pajamas.
It was Christmas because we were all together for five hours. We ate and opened packages and cheered the Packers to victory and took photos.
We watched Evelyn discover the stairs and slide down feet first on her tummy again and again. At 19 months, she is very interested in bathroom activities, so we explored that.
Mostly, whatever Evelyn did, we watched.
And that is Christmas. The date doesn't matter – at all.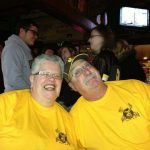 Wyo Sal is a Catholic mom and grandma and works full-time at a job that still usually overwhelms her. She loves football and food and books. She hopes to win the lottery some day.
Categories: This and That, Wyo Sal
Tags: , blessings, Christmas, compromise, day, family, joy, support